Fotografia
Gallery. 120 Seconds Beauty by Bobby Bong. Upload.wikimedia.org/wikipedia/commons/c/c4/Hong_Kong_Night_Skyline_non-HDR.jpg. Qinglin fotografía | Noticias fotografía, la fotografía de retrato, fotografía de paisaje, naturaleza muerta de fotografía. Earthlights2_dmsp_big.jpg (2400×1200)
WhaleBAR_450x592.jpg (450×592) Paint_war_berlin.jpeg (1600×1066) Pictures of Moments Speak More than Thousand Words...... Picture can speak thousands of words.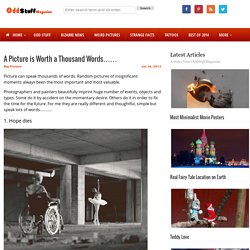 Random pictures of insignificant moments always been the most important and most valuable. Photographers and painters beautifully imprint huge number of events, objects and types. Some do it by accident on the momentary desire. Others do it in order to fix the time for the future. For me they are really different and thoughtful, simple but speak lots of words……… 40 Of The Most Powerful Photographs Ever Taken. The old man looks. Carved Book Landscapes by Guy Laramee. (click images for detail) For the better part of three decades multidisciplinary artist Guy Laramee has worked as a stage writer, director, composer, a fabricator of musical instruments, a singer, sculptor, painter and writer.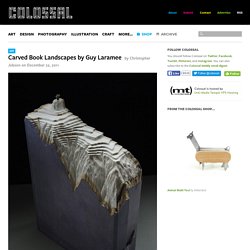 Among his sculptural works are two incredible series of carved book landscapes and structures entitled Biblios and The Great Wall, where the dense pages of old books are excavated to reveal serene mountains, plateaus, and ancient structures. NASA Science. Incredible Space Pics from ISS by NASA astronaut Wheelock.
Go Discovery!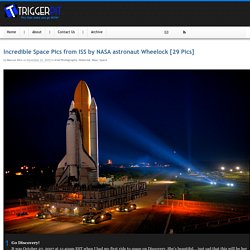 It was October 23, 2007 at 11:40am EST when I had my first ride to space on Discovery. She's beautiful… just sad that this will be her last voyage. Looking forward to climbing aboard the flight deck when Discovery arrives at the Space Station in November. (9-23-2010). Incredible Photos from Space: Larry Tanner, NASA. Special thanks: Bethbeck's blog. Tomita04.jpg (818×585) Colorful-chameleon.jpg (960×669) National Geographic Photo Contest 2011. National Geographic is currently holding its annual photo contest, with the deadline for submissions coming up on November 30.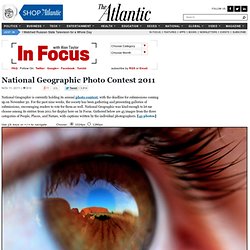 For the past nine weeks, the society has been gathering and presenting galleries of submissions, encouraging readers to vote for them as well. National Geographic was kind enough to let me choose among its entries from 2011 for display here on In Focus. Bolivia salt desert after the rain by Guy Nesher. Simen Johan. v22_0RTXV9FO.jpg (991×618) Sparks | Flickr: Intercambio de fotos. Bluebell-carpet-480.jpg (JPEG Image, 480x315 pixels)
---