Music production
Funny/Cute Images. Learn Mastering Technique in Free Videos: Limiting, M/S, Dubstep Bass. Mastering to me is a bit like applying stain to wood: done correctly, it brings out the definition of what's there rather than covering it up.
But making mastering effective is a really special art. Danny Wyatt, a veteran mastering engineer now working as an instructor with Dubspot, has some serious credentials both on the mixing and mastering side and as an educator. He's worked with a range of artists over the years (Wax Poetic featuring Norah Jones, Curtis Mayfield, Thievery Corp., the Roots, Ultra Records, and Mos Def, to name a few). But he also doesn't mystify his knowledge: he'll tell you straight what he believes, both face-to-face and as a teacher. Audiotuts+ | Audio and production tutorials, from beginner to advanced.
Tracker-based music composition tool with VST, ASIO and ReWire support. The time has come to unite the artists once again for a brand new and exciting Chainsong.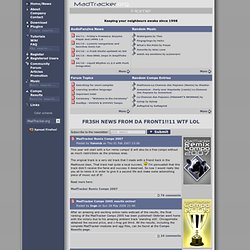 Factor and PyroZane, who are the admins of this project, invite you to join The MadTracker Chainsong 2006! The Chainsong has become one of the biggest events in the MadTracker community. This is the song that everyone talks about during its creation. If you join this project we can promise you a lot of fun, an exciting time, many of comments on your work, and huge amounts of PR! This song is all about fun so anyone can sign up, even if you don't have any expert skills with MadTracker.
Crafting New Twisted Tools: A Chat with Reaktor Patchers Making New Sonic Instruments. Ed.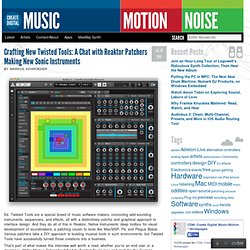 Twisted Tools are a special breed of music software makers, concocting wild-sounding instruments, sequencers, and effects, all with a distinctively-colorful and graphical approach to interface design. And they do all of this in Reaktor, Native Instruments' deep toolbox for visual development of soundmakers, a patching cousin to tools like Max/MSP, Pd, and Plogue Bidule.
Various patchers take a DIY approach to building musical tools in such environments, but Twisted Tools have successfully turned those creations into a business. Www.maxforlive.com - The Free Max for Live Device Library. Mastering Multi FX in Ableton Live | THE ABLETON COOKBOOK. In this Ableton tutorial, I'll show you how to make a multi effect in Ableton live.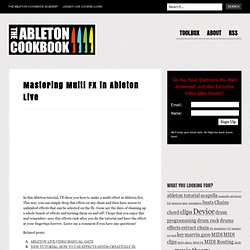 This way, you can simply drop this effect on any chain and then have access to unlimited effects that can be selected on the fly. Gone are the days of chaining up a whole bunch of effects and turning them on and off! I hope that you enjoy this and remember: save this effects rack after you do the tutorial and have the effect at your fingertips forever. Leave me a comment if you have any questions! How to use the Fruity Loops sampler in FL Studio | Video " Wonder How To. How to Use the Fruity Loops sampler in FL Studio Use the Fruity Loops sampler to create and fine-tune sounds for your music project.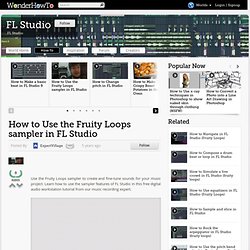 Learn how to use the sampler features of FL Studio in this free digital audio workstation tutorial from our music recording expert. Use the Fruity Loops sampler in FL Studio - Part 2 of 16 Click through to watch this video on expertvillage.com. REAPER | Audio Production Without Limits. We've added dozens of small improvements to help speed your REAPER workflow.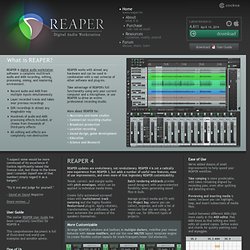 Take comping is more predictable, with takes remaining aligned by recording pass, even after splitting and deleting errors. Previewing and inserting media is easier, because you can highlight, loop, and insert subsections of media files. Switch between different MIDI clips more easily in the MIDI editor. Pool MIDI items so that editing one item edits all pooled copies. Define scales and chords for quickly painting runs and arpeggios. Chain Tape Collective. Top 10 2009 Tutorials About Mixing and Mastering | Audiotuts+ The covert operators - ableton stuffs. Mixing On Headphones.
Technique : Recording / Mixing It's often necessary to work on headphones in the home studio, even when mixing.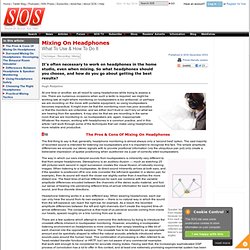 So what headphones should you choose, and how do you go about getting the best results? Hugh Robjohns At one time or another, we all resort to using headphones while trying to assess a mix. Blue Microphones Yeti Pro, microphone for professional USB & XLR recording. Blue Microphones has announced the Yeti Pro, the world's first USB microphone combining 24 bit/192 kHz digital recording resolution with analog XLR output.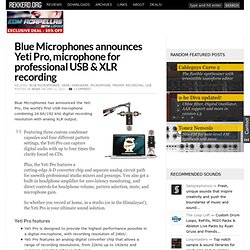 Featuring three custom condenser capsules and four different pattern settings, the Yeti Pro can capture digital audio with up to four times the clarity found on CDs.Plus, the Yeti Pro features a cutting-edge A-D converter chip and separate analog circuit path for usewith professional studio mixers and preamps. You also get a built-in headphone amplifier for zero-latency monitoring, and direct controls for headphone volume, pattern selection, mute, and microphone gain.So whether you record at home, in a studio (or in the Himalayas!) , the Yeti Pro is your ultimate sound solution. Yeti Pro features. Portable home recording with Ubuntu on a netbook | ouistiti. While an Asus EEE PC is perhaps not best suited for full-on intensive music production, it does have values which make it an ideal solution for portable recording.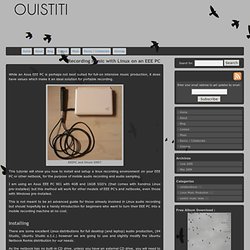 EEEPC and Shure SM57 This tutorial will show you how to install and setup a linux recording environment on your EEE PC or other netbook, for the purpose of mobile audio recording and audio sampling.
Recording. Photosounder.com - Image-sound editor &amp; synthesizer. Quota Top-Up. <p style="background-color:#ffff90;padding: 0em .5em 0em .5em;font-size:.9em"><strong>Warning:</strong> Your browser does not support JavaScript &#8211; RANDOM.ORG may not work as expected</p> Do you own an iOS or Android device?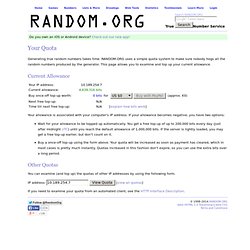 Check out our new app! Generating true random numbers takes time. RANDOM.ORG uses a simple quota system to make sure nobody hogs all the random numbers produced by the generator. This page allows you to examine and top up your current allowance. _loch8zBO2q1qb9lruo1_1280. Get The Brain Freeze. The Foley Diaries | Adventures in sound post production, cloth tracks and all. Tim Walston Special: Reader Questions. Here are the answers to the questions you made to Tim Walston during january. And stay tuned because there's one more article coming from Tim about his work on Star Trek. Designing Sound Reader: Hey Tim. Shaktiimart. Journey With Me - ピアノ. Welcome to YouTube! The location filter shows you popular videos from the selected country or region on lists like Most Viewed and in search results.To change your location filter, please use the links in the footer at the bottom of the page.
Click "OK" to accept this setting, or click "Cancel" to set your location filter to "Worldwide". Entering the Third Dimension: One Evocative Take on Real-Time Music Creation with a 3D Interface. AudioGL, a project teased in videos first in April and then again last week, is a new concept in designing a user interface for real-time music creation. Visuals and sound alike are generative, with the rotating, 3D-wireframe graphics and symbolic icons representing a kind of score for live synthesized music. The tracks in the video may sound like they've been pre-synthesized, polished, and sampled from elsewhere, but according to the creator, they're all produced in the graphical interface you see – what you see is what you hear.
The newest video, released this week, reveals in detail the project's notions of how to make a 3D, live music interface work. The UI itself is similar to other graphical patching metaphors, but here, like exploding a circuit diagram in space, routings and parameter envelopes are seen and edited in a freely-rotating view in three dimensions rather than on a flat plane.
There's a reason interfaces like this have been few. Behold The Lego Minimoog « BoomBoomPash. Designing Music, in an Art:21 Interview with Electronic Instrument Creator Todd Bailey. He's built an open-source, retro-tinged 8-bit sampler, "Where's the Party At?" (I'm been building the second generation now, so expect a review by early August.) He's had electronic instrument designs on shelves at the retail chain Target and on the walls of the Whitney Art Museum in New York. He just completed a set of luxury chandeliers, when he wasn't making waves in the circuit bending scene. Todd Bailey is the kind of Renaissance artist at the center of the new DIY scene. There was a time when engineers and artists were separate groups, and big laboratories worked how to get them together. From the Trenches of the Loudness Wars, A Broad Survey of Research. This goes to ele—augh, no, aside from over-compressing, we need to stop overusing that joke.
Photo (CC-BY) Orin Zebest. You've heard the gripes, and heard and seen the somewhat unscientific demos. Now it's time to examine the over-compression of music with – science! Earl Vickers of STMicroelectronics examines the Loudness Wars in an academic paper, as noted to us by reader photohounds. The Loudness War: Background, Speculation and Recommendations [PDF Link, sfxmachine.com] Programming Electronic Music in Pd.
Building home linux render cluster. Linux Music Workflow: Switching from Mac OS X to Ubuntu with Kim Cascone. Optimising your PC for audio on Windows 7 .: Focusrite Answerbase. LMMS - Linux MultiMedia Studio. Music and sound.
موسسه موسیقی سهم سیستم. Video Tutorials.
Forums
Online Schools. The Making of Energy by FOURPLAY. 41 Atalhos para o Ableton « Sound Shiver. Ableton Live 9 – Coming Soon? SOUNDMAN OKM II KLASSIK A3 - U.K. International Cyberstore. Cloud. Music Clouds. The #SoundDesign & film-music Daily. Create Digital Music. Create Analog Music: Buchla Love, Visiting the Studio of a Custom Modular Maker. NAMM 2011: Spectrasonics and Moog unveil the OMG-1. Portable Mini-Lyre. Free Weekly Ableton Live Rack #2 – "AfroDjMac Gibson Ebow Pad" and Live Video Performance from Brooklyn « AfroDjMac.
SunVox synthesizer. Black Viper's Web Site. Samples. Production Tip 13 : Using EQ 101. Where Math meets Music. Game Of Life Music Sequencer For iOS, Runxt Life. Music Scales - Frequency, Notes, Octaves, Tuning, Scales ... Networkedblogs. Music Generators.
Renoise - 2.5 Beta Testing Started. Teenage Engineering OP-1. Kenji Kojima / RGB MusicLab. Official Web Site. OSCulator. SEPIARVPRadio chat group - Paranormal Radio Chat Room. March 1st, 2012 on "The Vixens Vault" Experimental. Controllers. MATRIXSYNTH. D-touch. Hack a Day. Gleetchlab. Music of Sound » Sound Design for The Warrior's Way. Intro to Circuit Bending. SoundPunk.Com - Audio Tech And Engineering Community - Index. VST. (11) Mark Wojtaszek. Show Schedule for 2012/03/03. Audiotool.
Your Music, Film & Culture - Welcome. Make a Rubber Band Shock Mount for your Boom Mic for only $3! What's with Helmer, the 24 core Linux cluster? Saturday on Psychic Visions Radio/SEPIA RVP Radio.
---
dreagusproductions Dec 7 2011

Best place to come is www.psychicvsionsradio.com/psychicchat.html for the chatroom to hear Dreagus Tunez

dreagusproductions Dec 7 2011

I DJ for Psychic Visions Radio you can hear a lot of this kind of music on Dreagus Tunez of which is my endeavor Thursdays from 7-8PM EST and also 7-8PM EST then from 9-Midnight most Saturdays

fomaworld Nov 28 2011

Great resources! Keep up your great work
---