How to: Photoshop and Art
Amanda Rivera (Amanda. The Anatomy of a Perfect Landing Page. Lessons. Drawspace Pro Lessons are designed for artists of all levels and educators, and are logically organized into resources and activities.
Eventually, all lessons and E-books authored by Brenda Hoddinott will be available here: four to eight brand new lessons and newly-revised older lessons are being added every month! Upgrade Now: Download all 248 lessons and 4 e-books! Try for Free: Download lessons marked as "Free"! Free 1.1.R1 Glossary Of Art Terms. 24 Really Cool Photoshop Actions To Enhance Photography. Photoshop actions are the best — they save time and make you more productive during post-processing.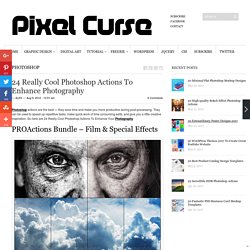 They can be used to speed up repetitive tasks, make quick work of time consuming edits, and give you a little creative inspiration. So here are 24 Really Cool Photoshop Actions To Enhance Your Photography These actions are not simple, filter-playing actions. The steps they take have been studied and thoroughly tested, making these actions true image enhancers. 30 Interesting PS Tutorial 2011 for Creating Movie Poster : Little Box of... Water ink - BDDP Unlimited and Solidarités International. Typography infographic charts - Wallpaper (#627904.
Separating Complex Objects from Background | PhotoshopStar. Welcome to PhotoshopStar.com!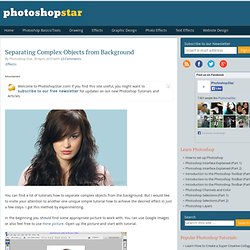 If you find this site useful, you might want to subscribe to our free newsletter for updates on our new Photoshop Tutorials and Articles. You can find a lot of tutorials how to separate complex objects from the background. But I would like to invite your attention to another one unique simple tutorial how to achieve the desired effect in just a few steps. I got this method by experimenting. Use Puppet Warp in Photoshop CS5 to Tweak Your Images. Photoshop CS5's new Puppet Warp feature can be extremely useful if you need to make minor adjustments to your photos.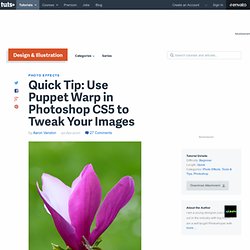 In today's quick tip tutorial we will demonstrate how to correct a Photo with this new tool in minutes. Let's get started! Step 1. 350 Photoshop Tutorials | Best Photoshop Tutorials. Photoshop is what makes the virtual world seem alive.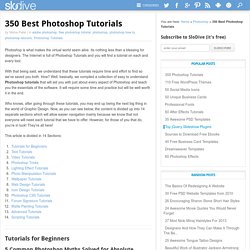 Its nothing less than a blessing for designers. The Internet is full of Photoshop Tutorials and you will find a tutorial on each and every tool. Make Custom Art from Your Own Fingerprints & Man Made DIY &... It's nearing Valentine's Day, and though my sweetheart and I don't usually do gifts, I wanted to make her something special.
We're not big on the whole Hobby Lobby, scrapbook-y, shrine to ourselves approach to artwork, but I did want to incorporate a personal element. I recalled the custom DNA portraits I'd seen, and when searching, found the fingerprint prints offered by the same company. While I wouldn't even begin to understand how to go about visualizing DNA, I figured the custom fingerprint approach was probably pretty achievable.
20 PSD Tuts That Will Turn You Into A Photoshop Guru :: Reflex Stock Pho... Many people can use Photoshop, but only a select few can call themselves gurus.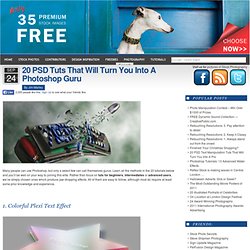 Learn all the methods in the 20 tutorials below and you'll be well on your way to joining this elite. Rather than focus on tuts for beginners, intermediates or advanced users, we've simply chosen ones which produce jaw-dropping effects. All of them are easy to follow, although most do require at least some prior knowledge and experience. 1. Colorful Plexi Text Effect. Analytical Figure Drawing SP08. 3D TODAY: How to write shape relief alphabet.
Drawing Tutorial: Male. How To Draw A Wave | Club Of The Waves. This art tutorial, kindly donated by surfing comic strip illustrator and surf artist Bob Penuelas covers how to draw a wave the Wilbur Kookmeyer way!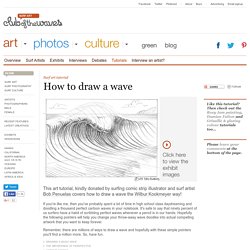 If you're like me, then you've probably spent a lot of time in high school class daydreaming and doodling a thousand perfect cartoon waves in your notebook. It's safe to say that ninety percent of us surfers have a habit of scribbling perfect waves whenever a pencil is in our hands. Photoshop | Pixel Curse | Visual inspiration for creative professional. 30 Christmas Holiday PSD & AI Flyer Templates The success of any event, being it a show, a sale, a party or a simple get-together, often depends on how well you can promote it.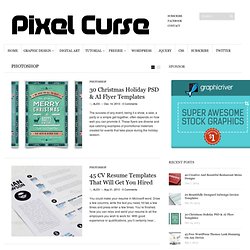 These flyers are diverse and eye-catching examples of promotional materials created for events that take place during the holiday season. 45 CV Resume Templates That Will Get You Hired You could make your resume in Microsoft word. Draw a few columns, write the text you need, hit tab a few times and press enter a few times. Zombie-Fication! The best 30 photo manipulation tutorials for Photoshop | dpxmag.com. DIY Friendship Necklace - HonestlyWTF.
As soon as Lauren and I saw this editorial in Flare Magazine, we knew we had to recreate these awesome, friendship bracelet-like necklaces.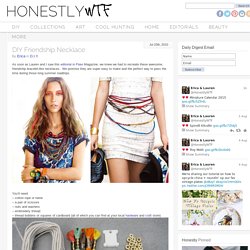 We promise they are super easy to make and the perfect way to pass the time during those long summer roadtrips. To make a 2-tone necklace, cut a long piece of rope and wrap two different colors of embroidery thread around its own bobbin. Tie a starter knot along with the two colored threads you are using, leaving at least 3 inches of slack, Tape down the slack to a flat surface or safety pin it something that will help keep it in place (feeling nostalgic yet?).
Lay the color that isn't being used (shown here in purple) in your left hand, along with the rope, and hold them taut. Learn the Basics of Photoshop: The Complete Guide. Lackadaisy Expressions. Boy, I didn't know what I was getting myself into when I started this. I've had requests for some sort of expressions tutorial dating back a while now, so I figured, "Sure! I can explain expression drawing...and it'll be way better than all those tutorials out there that are nothing but charts of generic expressions. Yeah! Just give me a day or two to whip something up... " Um.
---