SIG en ligne
SIT PNR
Observatoire des votes en France de 1992 à 2012 - Geoclip3 | Enseigner l'Histoire-Géographie
2013 HyperAtlas
Annuaire de la Géomatique et des SIG > France découverte par Géoclip O3
Édugéo — Éducnet
saratov.rekod
Maratlas
Flex Projector
Home | Global Risks Portfolio | Maps and indices
Alpage
Details ALPAGE (diachronic analysis of the Paris urban area: a geomatic approach) is a research program coordinated by Hélène Noizet ( LAMOP ), which is supported by the ANR . Based on the association of 4 laboratories, and collaboration of many partners, it brings together some twenty researchers or academics in humanities, social sciences and communication studies.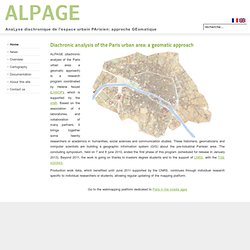 TargetMap.com Starting Steps by Carlos Mauri on Prezi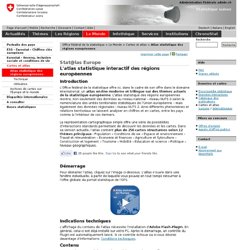 Introduction L'Office fédéral de la statistique offre ici, dans le cadre de son offre dans le domaine International, un atlas on-line moderne et trilingue sur des thèmes actuels de la statistique européenne . L'atlas statistique des régions européennes montre, non seulement des données au niveau national – niveau NUTS 0 selon la nomenclature des unités territoriales statistiques de l'Union européenne – mais également des données régionales - niveau NUTS 2. Ainsi différents phénomènes et relations territoriaux se laissent analyser en chiffres et en cartes, entre les pays comme à l'intérieur de ces derniers.
Statatlas Europe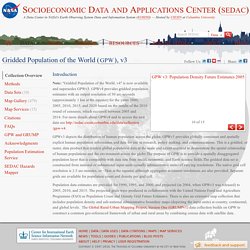 Introduction GPWv3 depicts the distribution of human population across the globe. GPWv3 provides globally consistent and spatially explicit human population information and data for use in research, policy making, and communications. This is a gridded, or raster, data product that renders global population data at the scale and extent required to demonstrate the spatial relationship of human populations and the environment across the globe.The purpose of GPW is to provide a spatially disaggregated population layer that is compatible with data sets from social, economic, and Earth science fields.The gridded data set is constructed from national or subnational input units (usually administrative units) of varying resolutions.
SIG - List