Forests
Wow ! Busy Busy, so dont have much time to get into Pearltrees often. Amazed at how many members in Forests now...........Thank you all for following and adding to this pearltree.............Goldy. goldy Feb 23
EXPLORE TREES
International Society of Arboriculture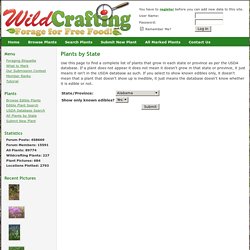 Use this page to find a complete list of plants that grow in each state or province as per the USDA database.
Climate - Weather - Extreme
Environment Secretary Caroline Spelman told MPs "I am sorry, we got this one wrong" as she abandoned plans to offload England's public forest estate to companies, communities and charities. The Commons was told she was halting the public consultation into the future of the 258,000-hectare estate, just 24 hours after David Cameron admitted he was unhappy with the plans at Prime Minister's Questions. Downing Street insisted Mr Cameron had full confidence in Ms Spelman, and she had not offered to resign over the issue. She told MPs she and the Prime Minister had made the decision together to abandon the plans.
HURRAY! Power to the People, but the fights not over yet.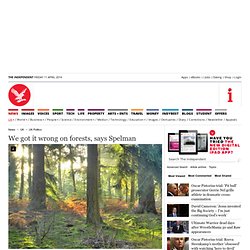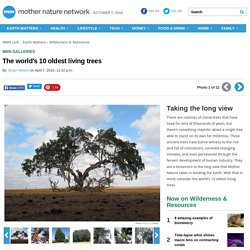 Skip to main content The world's 10 oldest living trees Photo 1 of 12 Photo: zest-pk /Flickr
The last time I forgot to water my outdoor potted plants and discovered them completely wilted and hanging on the cusp of near death, I decided it was time to take action. Some of the plants on my deck receive a full, searing sun all day long during the hottest mid summer days. While these plants thrive under such conditions if properly taken care of, they will die quickly if they don't receive enough water. Although it has been unusually rainy this year in these parts, full sun deck plants will still get extremely hot and dry very quickly. One of the best ways to provide a steady water supply to your plants without your constant attention is the gradual watering system or drip irrigation.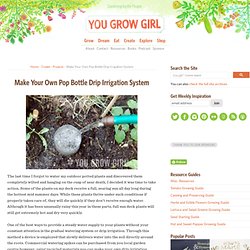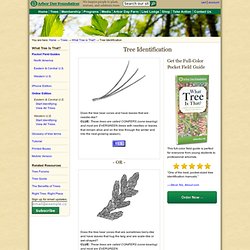 Tree Identification Guide at arborday
Does the tree bear cones and have leaves that are needle-like?
:: ICRAF :: Genetic resources of agroforestry trees
Global Justice Ecology Project: GlobalJusticeEcology.org , Hinesburg, VT
« Back to Articles Israeli biotech firm says its modified eucalyptus trees can displace the fossil fuel industry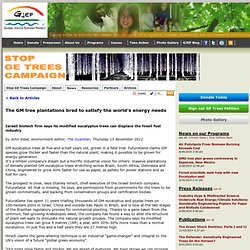 A recent study by Dutch scientists found that Wi-Fi radiation could be responsible for sickness in urban-populated trees. Image: baltimoresun What would life be like without Wi-Fi, bringer of high speed internet access? Probably pretty inconvenient considering that millions of computer users around the world use it at home, at work and other public places to get online. Having access to wireless networks makes our lives easier, but according to a Dutch study from Wageningen University, this access may be compromising the health of trees. The study began five years ago in the city of Alphen aan den Rijn.
Dutch Study Says Wi-Fi Makes Trees Sick
What can I do to help Save Our Forests? | Save Our Forests | Save Our Woods
3 February 2011 Last updated at 10:44 ET By Jon Kelly BBC News Magazine Plans to transfer ownership of many public forests in England have provoked a huge row. But why are we so protective of our woodlands? It's about the rustling of the leaves and the crunch of twigs underfoot. It's the sensation of the rough bark on your hands and the light dappling into a clearing. Above all, it's a place where nature takes priority over humans.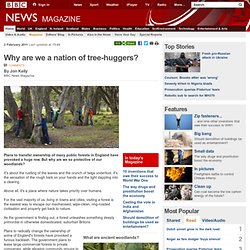 TreeHugger.com (TreeHugger) on Twitter
The Fruit Tree Planting Foundation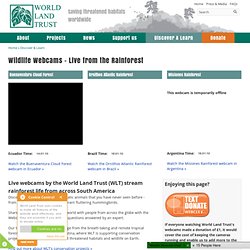 Wildlife Webcams - Live from the Rainforest | World Land Trust
Discover tropical birds and charismatic animals that you have never seen before - from greedy families of coatis to vibrant fluttering hummingbirds. Share your passion for the natural world with people from across the globe with the Webcam Chat and get your wildlife questions answered by an expert. Our three webcams show live footage from the breath-taking and remote tropical forests of Ecuador, Brazil and Argentina, where WLT is supporting conservation projects to protect some of the most threatened habitats and wildlife on Earth. Find out more about WLT's conservation projects »
Welcome
Rainforest Portal
The Brazilian Government: Save the Awa tribe and the Amazon from illegal logging industry
Teak Growth
This group next total support - the Amazon and its indigenous people are being raped and plundered. Act now folks! by bobgreenie Apr 20
i-Tree - Tools for Assessing and Managing Community Forests
List of national trees
redwood