Forests
Wow ! Busy Busy, so dont have much time to get into Pearltrees often. Amazed at how many members in Forests now...........Thank you all for following and adding to this pearltree.............Goldy. goldy Feb 23
European tree of the year
EXPLORE TREES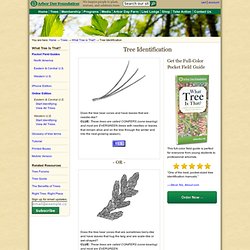 Does the tree bear cones and have leaves that are needle-like?CLUE: These trees are called CONIFERS (cone-bearing) and most are EVERGREEN (trees with needles or leaves that remain alive and on the tree through the winter and into the next growing season). Does the tree bear cones that are sometimes berry-like and have leaves that hug the twig and are scale-like or awl-shaped?CLUE: These trees are called CONIFERS (cone-bearing) and most are EVERGREEN.
:: ICRAF :: Genetic resources of agroforestry trees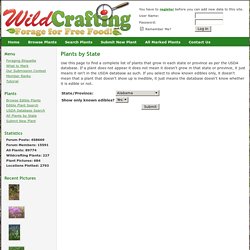 Use this page to find a complete list of plants that grow in each state or province as per the USDA database. If a plant does not appear it does not mean it doesn't grow in that state or province, it just means it isn't in the USDA database as such. If you select to show known edibles only, it doesn't mean that a plant that doesn't show up is inedible, it just means the database doesn't know whether it is edible or not.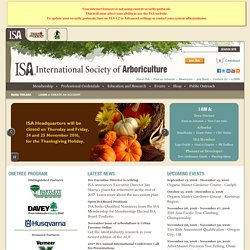 ISA is pleased to announce that individuals may now access their ISA Certification and Qualification exam results on our website. Login information is required to access this information and can be found by selecting 'My Profile' followed by 'Exam Results'. Results will become accessible once ISA has received and processed the results, simply noting a pass or fail status for certification exams and practical qualification exams, and a score for the written portion of the Qualification exam.
Society of American Foresters
Farming the Woods | Temperate Forest Farming & Permaculture Strategies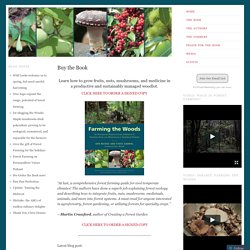 We promote Forest Farming and Mushroom production and share information so others can achieve success cultivating non-timber forest products. With this in mind, please enjoy the following articles, audio, and video presentations. Our campaign video explains the book and why we need your gift to promote the best practices in sustainable forest farming. Harvesting wild leek is not sustainable except at very modest levels… high-value woodland plants (Ramps included) are in danger of being overharvested, and because we have degraded our forests down so much, enjoying the food and medicinal aspects of these plants in the future may require us to grow them.
Global Justice Ecology Project: GlobalJusticeEcology.org , Hinesburg, VT
Israeli biotech firm says its modified eucalyptus trees can displace the fossil fuel industry by John Vidal, environment editor, The Guardian, Thursday 15 November 2012 GM eucalyptus trees at five-and-a-half years old, grown in a field trial. FutureGene claims GM species grow thicker and faster than the natural plant, making it possible to be grown for energy generation.It's a timber company's dream but a horrific industrial vision for others: massive plantations of densely planted GM eucalyptus trees stretching across Brazil, South Africa, Indonesia and China, engineered to grow 40% faster for use as paper, as pellets for power stations and as fuel for cars. The prospect is close, says Stanley Hirsch, chief executive of the Israeli biotech company FuturaGene. All that is missing, he says, are permissions from governments for the trees to be grown commercially, and backing from conservation groups and certification bodies.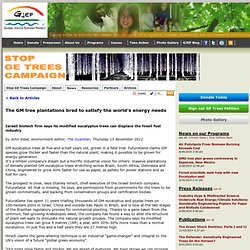 3 February 2011Last updated at 15:44 By Jon Kelly BBC News Magazine Plans to transfer ownership of many public forests in England have provoked a huge row. But why are we so protective of our woodlands? It's about the rustling of the leaves and the crunch of twigs underfoot. It's the sensation of the rough bark on your hands and the light dappling into a clearing. Above all, it's a place where nature takes priority over humans.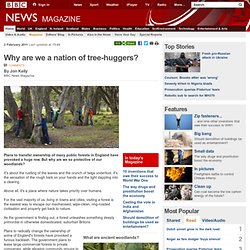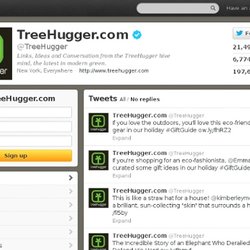 TreeHugger.com (TreeHugger) on Twitter
Language: English Bahasa Indonesia Bahasa Melayu Dansk Deutsch Español
The Fruit Tree Planting Foundation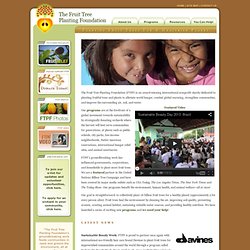 The Fruit Tree Planting Foundation (FTPF) is an award-winning international nonprofit charity dedicated to planting fruitful trees and plants to alleviate world hunger, combat global warming, strengthen communities, and improve the surrounding air, soil, and water. Our programs are at the forefront of a global movement towards sustainability by strategically donating orchards where the harvest will best serve communities for generations, at places such as public schools, city parks, low-income neighborhoods, Native American reservations, international hunger relief sites, and animal sanctuaries. FTPF's groundbreaking work has influenced governments, corporations, and households to plant more fruit trees.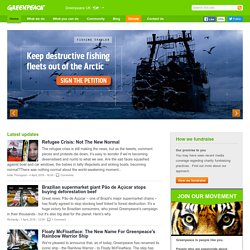 The cure for syphilis is… ...malaria The main headlines from the newly reformed and repentant Telegraph and Mail on the latest IPCC report (AR5 working group 3, on mitigation) were – Fracking can be part of the solution to global warming, say UN climate change experts Fracking can help to slow global warming admit UN scientists... and so can nuclear power So what exactly did the new report (IPCC AR5 WG3 SPM) say about fracking? You'll never guess.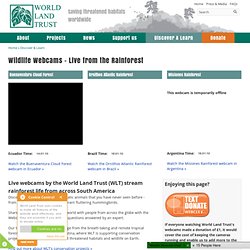 Wildlife Webcams - Live from the Rainforest | World Land Trust
Enjoying this page? If everyone watching World Land Trust's webcams made a donation of £1, it would cover the cost of keeping the cameras running and enable us to add more to the network! For example, text WEBC13 £3 ($5) to 70070 to donate £3 ($5) to World Land Trust's webcam fund. Donate with
Welcome
TAKE ACTION HERE NOW! Typhoon Haiyan, believed to be the biggest storm on record to make landfall, clearly demonstrates the risk posed by extreme super storms intensified by abrupt climate change. Yet the Intergovernmental Panel on Climate Change (IPCC) – the United Nations science body that assesses the state of climate science – is failing to carry out a comprehensive risk assessment that takes into account amplifying positive... TAKE ACTION HERE NOW! Next week California is to decide whether REDD+ [search] forest carbon offsets – which include funding for first time industrial logging of old-growth forests – is worthy of inclusion as a carbon credit under the state's carbon markets.
The Brazilian Government: Save the Awa tribe and the Amazon from illegal logging industry
Additional Photo Gallery pages From Trees to Beautiful Furniture - It is impossible to describe the joy of seeing trees that we planted just a little over 7 years ago being turned into attractive lumber, and then into beautiful furniture and accessories. Tree Owners with Their Trees - page 1 - One of our greatest joys is how proud and happy tree owners are when they see their trees.
Teak Growth
i-Tree - Tools for Assessing and Managing Community Forests
List of national trees
redwood
Tree Disease identification, symptoms, treatment options for tree diseases
Dutch Study Says Wi-Fi Makes Trees Sick
Climate - Weather - Extreme
HURRAY! Power to the People, but the fights not over yet.
General Guides & Databases