Forests
Wow ! Busy Busy, so dont have much time to get into Pearltrees often. Amazed at how many members in Forests now...........Thank you all for following and adding to this pearltree.............Goldy.
Mushrooms! Pictures, Types and Inspiration. Foraging. Mastic - Chios Travel Guide. Mastic is the brand product of Chios.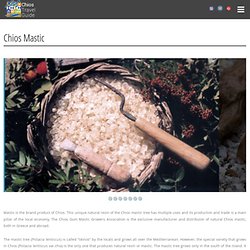 This unique natural resin of the Chios mastic tree has multiple uses and its production and trade is a main pillar of the local economy. The Chios Gum Mastic Growers Association is the exclusive manufacturer and distributor of natural Chios mastic, both in Greece and abroad. The mastic tree (Pistacia lentiscus) is called "skinos" by the locals and grows all over the Mediterranean. However, the special variety that grows in Chios (Pistacia lentiscus var.chia) is the only one that produces natural resin or mastic. Flowering plant. Tropical rain forest. European tree of the year. EXPLORE TREES. Tree Identification Guide at arborday. Does the tree bear cones and have leaves that are needle-like?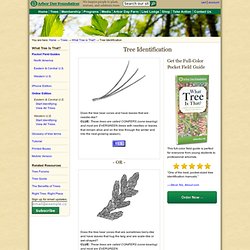 CLUE: These trees are called CONIFERS (cone-bearing) and most are EVERGREEN (trees with needles or leaves that remain alive and on the tree through the winter and into the next growing season). Does the tree bear cones that are sometimes berry-like and have leaves that hug the twig and are scale-like or awl-shaped? CLUE: These trees are called CONIFERS (cone-bearing) and most are EVERGREEN. :: ICRAF :: Genetic resources of agroforestry trees. Plant Search By US State. Use this page to find a complete list of plants that grow in each state or province as per the USDA database.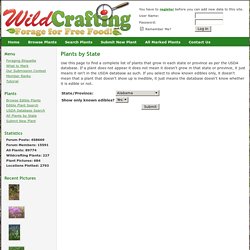 If a plant does not appear it does not mean it doesn't grow in that state or province, it just means it isn't in the USDA database as such. If you select to show known edibles only, it doesn't mean that a plant that doesn't show up is inedible, it just means the database doesn't know whether it is edible or not. Full Key for Plant Identification: Go Botany.
International Society of Arboriculture. Society of American Foresters. Farming the Woods | Temperate Forest Farming & Permaculture Strategies. Global Justice Ecology Project: GlobalJusticeEcology.org , Hinesburg, VT. Israeli biotech firm says its modified eucalyptus trees can displace the fossil fuel industry by John Vidal, environment editor, The Guardian, Thursday 15 November 2012 GM eucalyptus trees at five-and-a-half years old, grown in a field trial.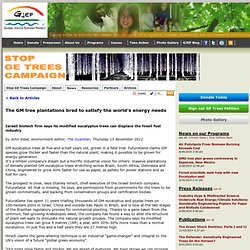 FutureGene claims GM species grow thicker and faster than the natural plant, making it possible to be grown for energy generation.It's a timber company's dream but a horrific industrial vision for others: massive plantations of densely planted GM eucalyptus trees stretching across Brazil, South Africa, Indonesia and China, engineered to grow 40% faster for use as paper, as pellets for power stations and as fuel for cars. The prospect is close, says Stanley Hirsch, chief executive of the Israeli biotech company FuturaGene.
All that is missing, he says, are permissions from governments for the trees to be grown commercially, and backing from conservation groups and certification bodies. Why are we a nation of tree-huggers? 3 February 2011Last updated at 15:44 By Jon Kelly BBC News Magazine Plans to transfer ownership of many public forests in England have provoked a huge row.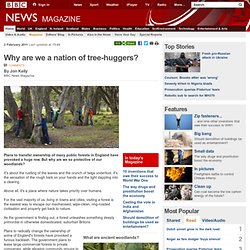 But why are we so protective of our woodlands? It's about the rustling of the leaves and the crunch of twigs underfoot. It's the sensation of the rough bark on your hands and the light dappling into a clearing. Above all, it's a place where nature takes priority over humans. TreeHugger.com (TreeHugger) The Fruit Tree Planting Foundation. Home page.
Greenpeace UK. Wildlife Webcams - Live from the Rainforest. Enjoying this page?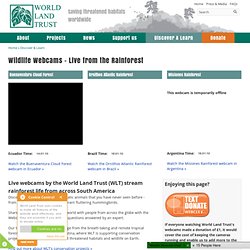 If everyone watching World Land Trust's webcams made a donation of £1, it would cover the cost of keeping the cameras running and enable us to add more to the network! For example, text WEBC13 £3 ($5) to 70070 to donate £3 ($5) to World Land Trust's webcam fund. Donate with. Welcome. Rainforest Portal. The Brazilian Government: Save the Awa tribe and the Amazon from illegal logging industry. Teak Growth. Additional Photo Gallery pages From Trees to Beautiful Furniture - It is impossible to describe the joy of seeing trees that we planted just a little over 7 years ago being turned into attractive lumber, and then into beautiful furniture and accessories.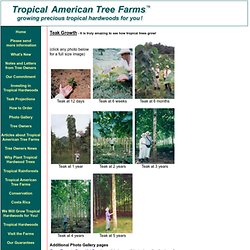 Tree Owners with Their Trees - page 1 - One of our greatest joys is how proud and happy tree owners are when they see their trees. Amazon Watch. Home — The Amazon Conservation Team. Rainforest - mongabay.com. I-Tree - Tools for Assessing and Managing Community Forests. List of national trees. Redwood. Tree Disease identification, symptoms, treatment options for tree diseases. There are many different diseases that affect landscape trees and shrubs.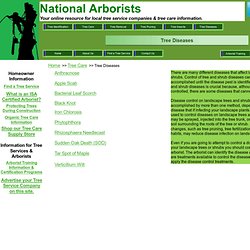 Control of tree and shrub diseases cannot be properly accomplished until the disease pest is identified. Identification of tree and shrub diseases is crucial because, although most diseases can be controlled, there are some diseases that cannot be controlled. Disease control on landscape trees and shrubs can sometimes be accomplished by more than one method, depending on the particular disease that if infecting your landscape plants. Dutch Study Says Wi-Fi Makes Trees Sick. A recent study by Dutch scientists found that Wi-Fi radiation could be responsible for sickness in urban-populated trees.
Image: baltimoresun What would life be like without Wi-Fi, bringer of high speed internet access? Probably pretty inconvenient considering that millions of computer users around the world use it at home, at work and other public places to get online. Having access to wireless networks makes our lives easier, but according to a Dutch study from Wageningen University, this access may be compromising the health of trees. The study began five years ago in the city of Alphen aan den Rijn. Trees. Seedlings.
Pearltrees videos
Forestry. NATURE. Climate - Weather - Extreme. HURRAY! Power to the People, but the fights not over yet. Environment Secretary Caroline Spelman told MPs "I am sorry, we got this one wrong" as she abandoned plans to offload England's public forest estate to companies, communities and charities.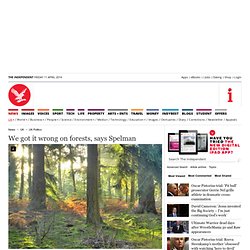 The Commons was told she was halting the public consultation into the future of the 258,000-hectare estate, just 24 hours after David Cameron admitted he was unhappy with the plans at Prime Minister's Questions. Downing Street insisted Mr Cameron had full confidence in Ms Spelman, and she had not offered to resign over the issue. She told MPs she and the Prime Minister had made the decision together to abandon the plans. Make Your Own Pop Bottle Drip Irrigation System | You Grow Girl. The last time I forgot to water my outdoor potted plants and discovered them completely wilted and hanging on the cusp of near death, I decided it was time to take action. Some of the plants on my deck receive a full, searing sun all day long during the hottest mid summer days. While these plants thrive under such conditions if properly taken care of, they will die quickly if they don't receive enough water.
Although it has been unusually rainy this year in these parts, full sun deck plants will still get extremely hot and dry very quickly. Linenandhempcommunity. General Guides & Databases. Gardening. Botanic Gardens. Plant Database. Trees. The world's 10 oldest living trees.
---
pdk117 Oct 2 2012

Siyamak2007 I was just saying you are a good looking person

siyamak2007 Oct 1 2012

دno you didnt offend me. actually i can speak english but a little and about the comment you wrote i couldnt understand what you mean so i just wrote okayyyyyyyyyy. that is it.

pdk117 Oct 1 2012

Well I am already part of your team so forget that part. You have me going crazy here.

pdk117 Oct 1 2012

Does that offend you? I am sorry if it does. I just had to say it. I would love to join your team.
---