Complexity & Generative Processes
Generative science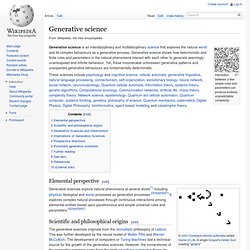 Few simple deterministic rules and parameters interact to generate seemingly infinite and complex unpredictable patterns of behavior Generative science is an interdisciplinary and multidisciplinary science that explores the natural world and its complex behaviours as a generative process.
Process philosophy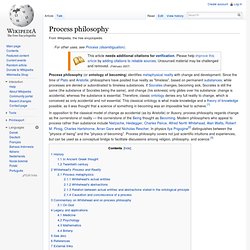 Process philosophy (or ontology of becoming ) identifies metaphysical reality with change and development. Since the time of Plato and Aristotle , philosophers have posited true reality as "timeless", based on permanent substances , whilst processes are denied or subordinated to timeless substances. If Socrates changes, becoming sick, Socrates is still the same (the substance of Socrates being the same), and change (his sickness) only glides over his substance: change is accidental, whereas the substance is essential.
Dynamics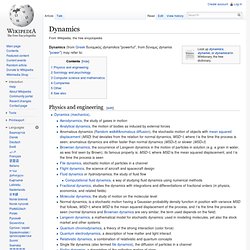 Dynamics (from Greek δυναμικός - dynamikos "powerful", from δύναμις - dynamis " power ") may refer to: [ edit ] Physics and engineering
Stigmergy is a mechanism of indirect coordination between agents or actions. [ 1 ] The principle is that the trace left in the environment by an action stimulates the performance of a next action, by the same or a different agent. In that way, subsequent actions tend to reinforce and build on each other, leading to the spontaneous emergence of coherent, apparently systematic activity. Stigmergy is a form of self-organization . It produces complex, seemingly intelligent structures, without need for any planning, control, or even direct communication between the agents. As such it supports efficient collaboration between extremely simple agents, who lack any memory, intelligence or even individual awareness of each other. [ 1 ] [ edit ] History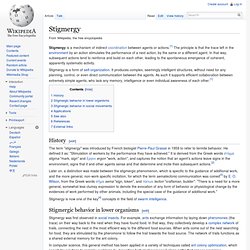 Visual control
Visual control is a business management technique employed in many places where information is communicated by using visual signals instead of texts or other written instructions. The design is deliberate in allowing quick recognition of the information being communicated, in order to increase efficiency and clarity.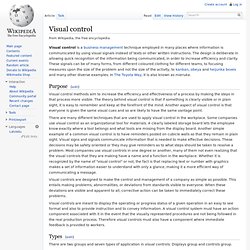 A theoretical construct for cross-cultural competence, language proficiency, and regional expertise.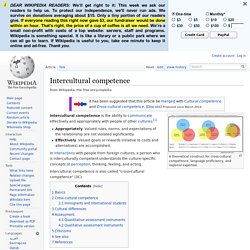 Intercultural competence
By STEVEN JOHNSON In the year following the 2004 tsunami, the Indonesian city of Meulaboh received eight neonatal incubators from international relief organizations. Several years later, when an MIT fellow named Timothy Prestero visited the local hospital, all eight were out of order, the victim of power surges and tropical humidity, along with the hospital staff's inability to read the English repair manual.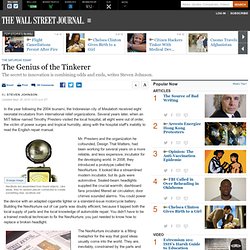 Positive feedback
Alarm or panic can spread by positive feedback among a herd of animals to cause a stampede .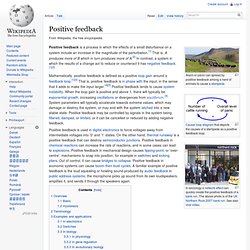 Emergentism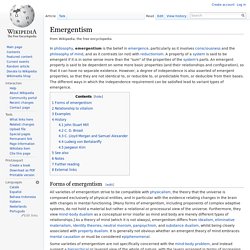 In philosophy , emergentism is the belief in emergence , particularly as it involves consciousness and the philosophy of mind , and as it contrasts (or not) with reductionism .
Self-actualization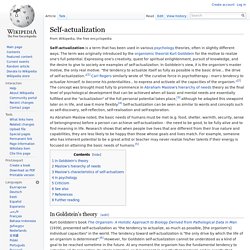 Self-actualization is a term that has been used in various psychology theories, often in slightly different ways. The term was originally introduced by the organismic theorist Kurt Goldstein for the motive to realize one's full potential.
Self-realization
Self-realization is an expression used in psychology , spirituality , and Eastern religions. The basic premise of self-realization is that there exists an authentic self which has to be discovered by psychological or spiritual self-striving. Self-realization can be a gradual or instantaneous phenomena depending on the school of thought but in all cases it involves extensive preparation of mind and emotions to recognize self-realization when it occurs.
Self-expression values
Self-expression values are part of a core value dimension in the modernization process. [ 1 ] Self-expression is a cluster of values that include social toleration, life satisfaction, public expression and an aspiration to liberty.
Distributed economies (DE) is a term that was coined by Allan Johansson et al. in 2005. [ 1 ] [ edit ] Definition
Distributed economy
Distributism
Distributism (also known as distributionism [ 1 ] or distributivism [ 2 ] ) is an economic philosophy that developed in Europe in the late 19th and early 20th century, based upon the principles of Catholic social teaching , especially the teachings of Pope Leo XIII in his encyclical Rerum Novarum and Pope Pius XI in Quadragesimo Anno . [ 3 ] According to distributists, property ownership is a fundamental right [ 4 ] and the means of production should be spread as widely as possible among the general populace, rather than being centralized under the control of the state ( state socialism ) or by accomplished individuals ( laissez-faire capitalism ). Distributism therefore advocates a society marked by widespread property ownership [ 5 ] and, according to co-operative economist Race Mathews , maintains that such a system is key to bringing about a just social order . [ 6 ]
Top-down and bottom-up are both strategies of information processing and knowledge ordering, used in a variety of fields including software, humanistic and scientific theories (see systemics ), and management and organization. In practice, they can be seen as a style of thinking and teaching.
Top-down and bottom-up design
Grassroots
Self-organization
Complexity theory and organizations
Living systems