Evolution
undermining biology, one class at a time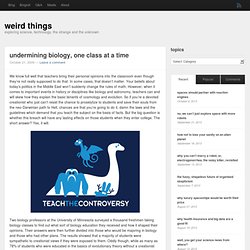 We know full well that teachers bring their personal opinions into the classroom even though they're not really supposed to do that. In some cases, that doesn't matter. Your beliefs about today's politics in the Middle East won't suddenly change the rules of math. However, when it comes to important events in history or disciplines like biology and astronomy, teachers can and will skew how they explain the basic tenants of cosmology and evolution.
Teachers | Resources For The Classroom
Do blue eyes stem from the Black Sea 8,000 years ago?
Teaching of Evolution in Schools - NSTA Position Statements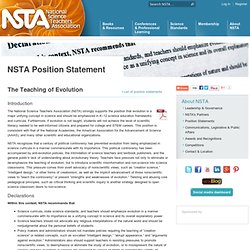 Introduction The National Science Teachers Association (NSTA) strongly supports the position that evolution is a major unifying concept in science and should be emphasized in K–12 science education frameworks and curricula. Furthermore, if evolution is not taught, students will not achieve the level of scientific literacy needed to be well-informed citizens and prepared for college and STEM careers. This position is consistent with that of the National Academies, the American Association for the Advancement of Science (AAAS), and many other scientific and educational organizations. NSTA recognizes that a century of political controversy has prevented evolution from being emphasized in science curricula in a manner commensurate with its importance.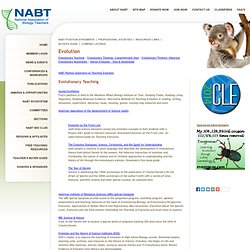 www.nabt.org/websites/institution/index.php?p=110
Evolution Evolutionary Teaching | Evolutionary Thinking- Comprehensive Sites | Evolutionary Thinkers- Historical Evolutionary Multimedia | Human Evolution - Sites & Multimedia NABT Position Statement on Teaching Evolution Evolutionary Teaching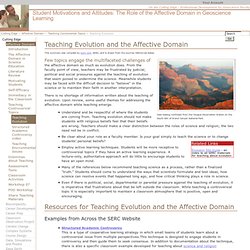 This summary was compiled by Karin Kirk, SERC, and is drawn from the sources referenced below. View looking northeast from the Yavapai Observation Station on the South Rim of Grand Canyon National Park. Few topics engage the multifaceted challenges of the affective domain as much as evolution does.
Teaching Evolution
Teaching Evolution
On Evolution, Biology Teachers Stray From Lesson Plan
K-12 Resources
A Suggested Project-Based Evolution Unit for High School: Teaching Content Through Application
American Society of Naturalists. (1997). The challenges and opportunities facing the science of evolution. Proceedings from the Working Committee Meetings of the American Society of Naturalists. Retrieved March 22, 2008, from http://www.rci.rutgers.edu/~ecoevol/fulldoc.html . Anderson, R. ( 2007 ).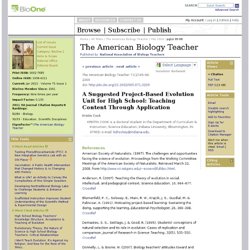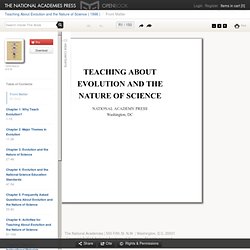 Teaching About Evolution and the Nature of Science
Below are the first 10 and last 10 pages of uncorrected machine-read text (when available) of this chapter, followed by the top 30 algorithmically extracted key phrases from the chapter as a whole.Intended to provide our own search engines and external engines with highly rich, chapter-representative searchable text on the opening pages of each chapter. Because it is UNCORRECTED material, please consider the following text as a useful but insufficient proxy for the authoritative book pages. Do not use for reproduction, copying, pasting, or reading; exclusively for search engines. OCR for page R1 Teaching About Evolution and the Nature of Science TEACHING ABOUT EVOLUTION AND THE NATURE OF SCIENCE NATIONAL ACADEMY PRESS Washington, DC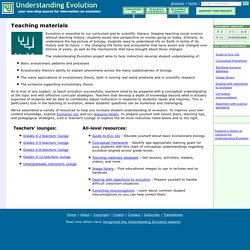 Teaching materials
Teaching materials Evolution is essential to our curriculum and to scientific literacy. Imagine teaching social science without teaching history; students would lack perspective on events going on today. Similarly, to understand the big picture of biology, students need to understand life on Earth in terms of its history and its future — the changing life forms and ecosystems that have arisen and changed over billions of years, as well as the mechanisms that have brought about those changes. The Understanding Evolution project aims to help instructors develop student understanding of:
Evolution
Name:______________________________________________ Objective: Simulate changes in moth population due to pollution and predation, and observe how species can change over time. Introduction: Charles Darwin accumulated a tremendous collection of facts to support the theory of evolution by natural selection.
Peppered Moth Simulation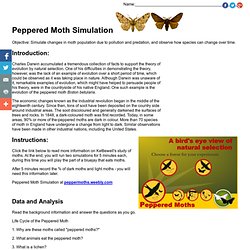 Peppered moth simulation
What is the evidence?
Age Estimation Questions-and-Answers • Creation SuperLibrary™ at ChristianAnswers