Architektenwebsites
WERNER SOBEK Engineering & Design. Schlaich bergermann und partner. FlyingArchitecture - Free 3D models, textures, tutorials for Rhino, Fryrender and V-Ray. Genius architect... Portfolio-Architektur. Buro Happold - International engineering consultants. BIG | Bjarke Ingels Group. Studio Daniel Libeskind | The Buckminster Fuller Institute | Buckminster Fuller Institute. OMA- Home. Zaha Hadid Architects.
Frei Otto. Frei Otto. NSO. ARCHIGRAMM | Architects & Consulting Engineers. SuperTEX. Kokkugia. Le Corbusier : architect biography. Le Corbusier Le Corbusier was born Charles Edouard Jeannerct on October 6, 1887, in LaChaux-de-Fonds, Switzerland.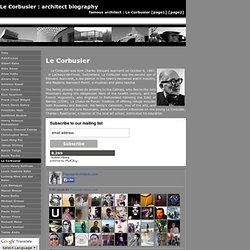 Le Corbusier was the second son of Edouard Jeanneret, a dial painter in the town's renowned watch industry, and Madame Jeannerct-Perrct, a musician and piano teacher. Möbel & Polstermöbel - KAPO Unternehmensgruppe - Fenster, Türen, Möbel und Polstermöbel. Cedric Price. CEDRIC PRICE (1934-2003) was one of the most visionary architects of the late 20th century.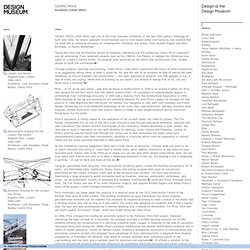 Although he built very little, his lateral approach to architecture and to time-based urban interventions, has ensured that his work has an enduring influence on contemporary architects and artists, from Richard Rogers and Rem Koolhaas, to Rachel Whiteread. Taking the view that architecture should be enabling, liberating and life-enhancing, Cedric Price's approach was all-embracing. From landmark projects such as the 1960-61 Fun Palace, to designs for Christmas tree lights on London's Oxford Street, his projects were governed by the belief that architecture must "enable people to think the unthinkable?. Herzog et de Meuron.
Architecture. JEAN NOUVEL - ATELIERS. SANTIAGO CALATRAVA. Ar|plan ARCHITEKT. Verti kal go – Vertikales Wohnen im Getreidespeicher Das Projekt beschäftigt sich mit der Umnutzung des unter Denkmalschutz stehenden Getreidespeichers "Silo 3" für Wohnzwecke.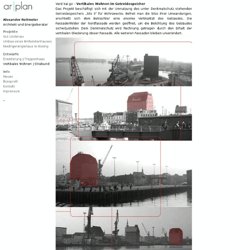 Befreit man die Silos ihrer Umwandungen, erschließt sich dem Betrachter eine enorme Vertikalität des Gebäudes. Die Fassadenfelder der Nordfassade werden geöffnet, um die Belichtung des Gebäudes sicherzustellen. Massimiliano Fuksas Architetto. Home. The Frank Lloyd Wright Foundation maintains its international headquarters at Taliesin West, in Scottsdale, Arizona.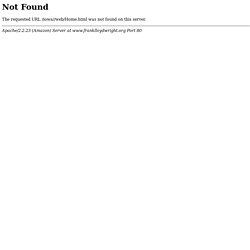 As the organization founded by Wright to be the repository of his life's work and ideas and the first to bear his name, the Foundation is engaged in a broad range of activities to preserve Wright's legacy; provide opportunities for the public to learn about the principle ideas embodied in his work; increase public awareness of the importance of architecture to society and the individual; and stimulate a demand for excellence in architecture and design. The Foundation owns Taliesin West (designed 1937-59) and Taliesin (designed 1911-59) in Wisconsin.
Both properties served as Wright's personal homes, studios, and architectural laboratories and are integral to understanding his genius. The Foundation works in partnership with the Wisconsin-based non-profit organization, Taliesin Preservation Inc. , to conduct programs related to preservation and public access at Taliesin. NOX | Lars Spuybroek. Bernard Tschumi Architects. Daniela Brink » Lückenlos. Wohnen und Arbeiten in Köln - Beplanung einer schmalen Baulücke aa aaaaDer Ort / Die Aufabe Die schmale Baulücke verbindet zwei Straßen miteinander und bietet daher die doppelte Tiefe auf.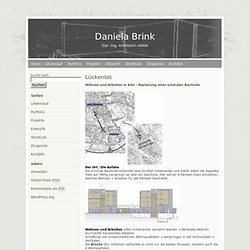 Architectuur Nederland, de beroemde nederlandse architekt Piet Blom, bekend van de kubuswoningen in Rotterdam en Helmond. Volker Giencke - Giencke & Company Architects - Graz / Austria. Coop Himmelb(l)au. Stefano boeri. Cino Zucchi Architetti. Oscar niemeyer. Diller scofidio + renfro. Nl architects. UNStudio Amsterdam / Shanghai / Hong Kong. Plasma studio architects london.
Superstudio Group. Kazuyo Sejima + Ryue Nishizawa / John Lautner, Architect. Lebbeuswoods.net. Toyo Ito & Associates, Architects. Endo Shuhei Architect Institute. Columbosnext. Zvi Hecker | architect | berlin. MVRDV. Morphosis Architects. Tatiana Bilbao.
---