Architecture 1
Urgence. Liens. Methodologie. Videos. Design Milk: Art, Architecture, & Design. Dezeen architecture and design magazine. Portrait d'archis - Agence TER : savoirs technique et empirique pour une invention sensuelle de l'espace. Portrait d'archis. Tang & Yang Architecture LLC. Accueil. TrendsNow. Kosmopolites. La Revue de l'Urbanisme. Professionnels et particuliers Étudiants et universitaires Mes avantages abonnés Accès au dernier numéro en ligne Jusqu'à 50 % de réduction sur les anciens numéros.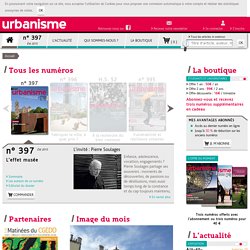 Studio Aisslinger. Vicente Guallart. 藤本壮介建築設計事務所 Sou Fujimoto Architects. Oi » Page 1 of 1. Oma.nl. Villa dall'Ava 1 - une vidéo Art et Création. Leblogdelaville. Laboratoire de théorie et d'histoire de l'architecture. DOMINIQUE PERRAULT ARCHITECTURE – Agence internationale d'architecture, d'urbanisme, de design. 5th Studio. Interactive Architecture. [ lnkscape.org v3.0 ] : Emerging Architecture. Estudi xavier tragant . arquitecte. JDS ARCHITECTS. New Trends of Architecture in Europe and Asia-Pacific 2008-2010 | ヨーロッパ・アジア・パシフィック建築の新潮流2008-2010. WORKS [ARCHITECTURE] Index11_VZ_HiRes. Amp; Associés S.A.
Studio Thomas Spiegelhalter. STEVEN HOLL ARCHITECTS. Frederick Fisher and Partners. David Chipperfield Architects. Will bruder+PARTNERS. 坂茂建築設計 Shigeru Ban Architects. Architecture. Intentionallies. JEAN NOUVEL - ATELIERS. Architektur-News, Architekten-Ranking, Fachinformationen, Magazin - BauNetz.
---