RECYCLER DETOURNER
Pallets For People: A Cheap and Ubiquitous Building Material (Roundup) A few years back, Schnetzer Andreas Claus and Pils Gregor won the Gaudi European Student design competition with the Pallet House, assembled from 800 pallets. it was a hit at the 2008 Venice Architecture Biennale.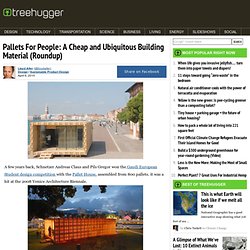 Pallets are ubiquitous, cheap and everywhere. The designers are now working in South Africa with the Ithuba Skills College to develop a pallet design that will cost about US$ 11 per square foot to build. Lego Greenhouse by Sebastian Bergne. London Design Festival 2011: This timelapse movie shows how British designer Sebastian Bergne constructed a Lego greenhouse in London's Covent Garden in one night for the London Design Festival .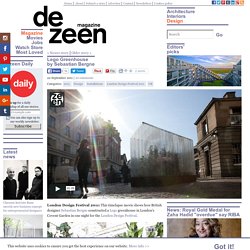 The pitched roof and walls of the hut are made entirely from transparent pieces of the toy brick, allowing it to function like a conventional greenhouse. Behind these plastic wall,s vegetables and flowers emerge from a bed of brown Lego blocks. The greenhouse will be on display until 25 September as part of the London Design Festival . Recyclable Crafts: Carton Wallet.
This photo originally appeared in FamilyFun Magazine Total Time 1 hour Ages school-age Recycle a milk or orange juice carton into a clever carrying case for change, trading cards, and more.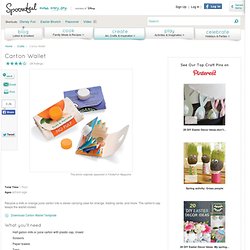 The carton's cap keeps the wallet closed. Regardez la boîte en carton du futur (dont devrait s'inspirer Ikea pour ses meubles) C'est une invention digne du concours Lépine: une boîte en carton censée «révolutionner l'industrie de l'emballage en carton», comme nous le présentent deux de ses concepteurs, des étudiants de la prestigieuse Cooper Union à New York, qui en font une démonstration dans cette vidéo postée le 22 décembre 2013.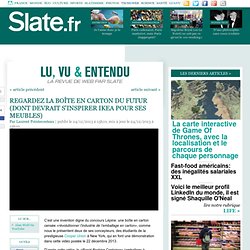 D'après cette vidéo, le «Rapid Packing Container» (emballage à empaquetage rapide) se veut la réponse à un problème: les 100 milliards de cartons produits chaque année aux États-Unis sont «dispendieux, difficiles à ouvrir et pénibles à assembler». publicité Ce carton-là, quant à lui, se plie plus rapidement (8 secondes à en croire la vidéo) à l'aide d'un support, se déplie d'un seul coup par une simple pression, et peut même être replié à l'envers «pour avoir un carton réutilisable sans étiquette». Le produit économiserait de surcroît 15 à 20% de carton par rapport à une boîte traditionnelle, «ce qui représente des millions d'arbres par an». À lire aussi sur Slate.fr. Creativity From Recyclable Materials By British Artist Nick Sayers (14 Photos) Seletti - The Toothpick Holder - Estetico Quotidiano - White | Seletti New Zealand, Australia, Hong Kong.
By means of a creative journey starting with the most familiar throwaway object and finishing with a refined object made in durable and fine material, seletti provides an innovative solution to the aesthetic and practical needs of daily life. estetico quotidiano is a collection of containers for food and drinks made by faithfully reproducing the shape of throwaway containers in durable materials, porcelain and borosilicate glass. oven, microwave and dishwasher friendly, the estetico quotidiano collection represents an opportunity to be original and to have fun setting the table.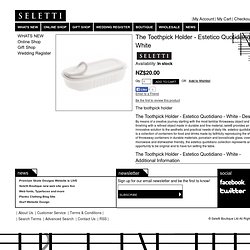 Soft Blocks – furniture made of soft brick › CuteDecision. iGNANT. Seattle-based designer Peter Bristol created a bag that looks like a giant version of a binder clip.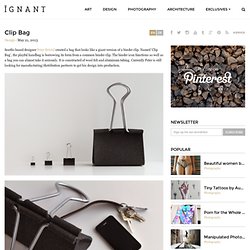 Named 'Clip Bag', the playful handbag is borrowing its form from a common binder clip. The binder icon functions so well as a bag you can almost take it seriously.
COMMUNIQUER
Designer Makes Fairytale Dress From Recycled Children's Books. Photos: Ryan Novelline Think children's books are only suitable for tots to read (or chew) on?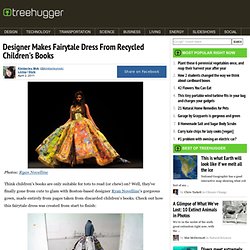 Well, they've finally gone from cute to glam with Boston-based designer Ryan Novelline's gorgeous gown, made entirely from pages taken from discarded children's books. Check out how this fairytale dress was created from start to finish: Designer Makes Fairytale Dress From Recycled Children's Books. Designer Makes Fairytale Dress From Recycled Children's Books.
- Meubles en récup. Une desserte en palette Si vous avez l'occasion de récupérer des palettes en bois, Songez à les empiler pour créer une desserte ou un plan de travail en extérieur.
Il suffira de poncer un peu de bois (pour éviter les échardes) et de passer une couche de vernis pour obtenir un résultat très original. Pour plus de commodité, fixez des roues sous la palette pour pouvoir la déplacer. Table à roulette en palette. Design Durable. Les australiens de Charles Wright Architecture ont été sollicités pour concevoir cette structure exceptionnelle baptisée « Stamp House », située en bordure de forêt tropicale dans le nord du Queensland.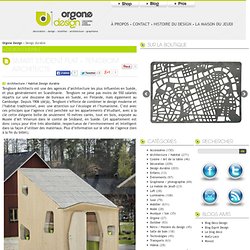 Ce projet hors du commun a été réalisé en vue d'obtenir un bilan carbone neutre, tout en s'intégrant parfaitement dans son environnement, sans le souiller. Tout est pensé dans ce projet pour littéralement intégrer la construction dans son écosystème d'eau, avec une ingénierie hydraulique, électrique, mécanique et paysagère élaborée en étroite collaboration avec les parcs nationaux, les agences environnementales, étatique comme locales. Eco Arts: Coffee table made from recycled wine bottle punts. Eco Arts: Coffee table made from recycled wine bottle punts Eco Factor: Coffee table is made up of recycled steel, glass and wine bottle punts.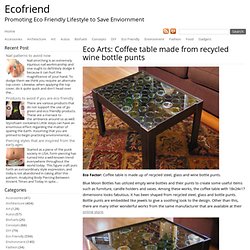 Blue Moon Bottles has utilized empty wine bottles and their punts to create some useful items such as furniture, candle holders and vases. Among these works, the coffee table with 18x24x17 dimensions looks fabulous. Table made of recycled paper rounds and plastic bottle mosaics! Table made of recycled paper rounds and plastic bottle mosaics! This colorful table is best fit for your garden, matching the vibrant colors of the annual plants and flowers around. Unique for its colors and design concept, the table also contributes towards the environment in its own way – it is made of recycled material, like used paper rounds and plastic bottle mosaics. It would surely add color to the room or garden – wherever you place it. Via: Art for housewives. Espace Soleya E-commerce. :: DIANE VENET :: Jewellery by artists.
Totally Geeky - The Key Bag - Made from recycled keyboard keys. The men who make houses explode (all for the sake of art) By Daily Mail Reporter Updated: 14:35 GMT, 11 October 2011 At first glance, these houses looks like they could have been the victim of a dramatic gas explosion. But the beat-up homes in Houston, Texas, are in fact an elaborate traffic-stopping work of art using the homes' own wood siding.
LARA : L'ATELIER DU RECYCLAGE ARTISTIQUE - les gobelets plastiques | lara34.rmc.fr. Balles de tennis : Idées recyclage de la semaine ! | Vente et collecte de livres d'occasion - RecycLivre.com. 28 mai Création/Design , balles de tennis, chaise, roland garros Vincent Certes, pas vraiment de rapport avec les livres mais ces idées de recyclage de balles de tennis collent avec l'actualité de Roland Garros !
On a voulu vous en faire profiter ! La p'tite chaise qui m'a l'air bien confortable pour regarder les matchs :) Abat-jour bouchons, esprit cabane, idees recup chic et pas chere. Avec une centaine de bouchons d'eaux minérales, un peu de carton et de patience, voilà ce que l'on peut facilement réaliser : un abat-jour déco, qui joue sur la blancheur et la transparence. Mettre de côté 128 bouchons d'eaux minérales blancs – on peut aussi utiliser des bouchons de couleurs. Si besoin, les faire tremper dans une eau savonneuse et les faire sécher.Pour percer facilement les bouchons, dessiner une ligne sur un bout de planche. La planche servira de martyr et la ligne servira de repère pour aligner les trous. Percer un premier trou en calant un clou sur le bord du bouchon. Aligner ce premier trou et le centre du bouchon (il y a un repère de plastique au centre du bouchon) pour repérer l'emplacement du second trou. Luminaire en bouchons - * * *
Tabourets de Bar > Moderne > Tabouret de bar moderne Capsule. IMM Cologne 2009: Irmela by Johannes Hemann. Abat jour "boite à oeuf" | La récup' Wrappie Lamp by Tomasz Pydo. CAVALLUM wine-lamp Limited Edition. Lampe de Ciclus. Des tabourets originaux trouvés sur le web ! - Miss Couettes, le blog. Astuces perso, idées déco, partageons-les ! Jennifer Maestre. Un nouveau compacteur de canettes, bouteilles PET & gobelets pour CKFD. Compacteur de canettes | Environnement. Un sac a dos en pneu pour votre Mac portable. 10 Fantastic Ways To Recycle Tyres. Autres objets - Association Re-création. Sac Chambre à Air et Pneu Recyclé - Messenger Bob - Ethical Trade Shop.
PO! Paris chic, Balcanic madness, icons Albanian style, design, furniture, chairs, cushions, lamps, in recycled and new materials, albania. Le recyclage des matériaux.
---