Halloween
Photos de Melanie Dawn. Buddy The Elf - Photos du journal. Clark Griswold - Photos du journal. Betty Crocker - Photos du journal. Buddy The Elf - Photos du journal. Beautiful and Healthy Food - Female Fitness Motivation. Photos du journal. Facebook. Photos du journal. Monster Page of Halloween Project Links. Gingerbread Skeletons Photo at Epicurious. Photo by Eric Staudenmaier yield Makes about 15-20 cookies, depending on the size of the cookie cutters Gingerbread skeletons can be found in desserts around the world.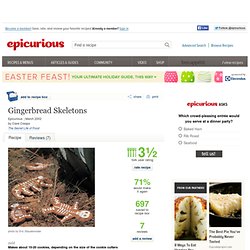 (8) Facebook. 50 Pumpkin Recipes. It's time to get ready for Fall!!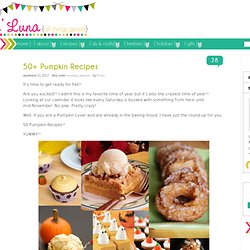 Are you excited?! I admit this is my favorite time of year but it's also the craziest time of year!! Looking at our calendar it looks like every Saturday is booked with something from here until mid-November. No joke. Untitled. Halloween Marshmallow and White Chocolate Pretzel Skeletons | Cake Pops and Cup Cakes. Posted by admin on Sep 6, 2012 in Cup Cakes | 0 comments I love these cupcakes because they look so much harder to make then they really are.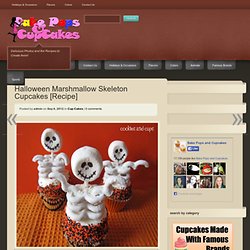 The key to this is the white chocolate covered pretzel bodies. When you first glance at the skeleton, you can quickly see that the head is a marshmallow but it's hard to tell what the ribcage is made from, until you know it's a pretzel, in fact 3 pretzels. Upon closer look you can see the arms are pretzels as well. Pure Genius. Spooky Shepherd's Pie Recipe - Food.com - 189511. 29 Creepy, Spooky, Scary, Gross and Disgusting Halloween Recipes. It's time to start thinking what to prepare for the Halloween parties!
Here are some famous recipes you might have seen, some recipes from myself and lots more creative Halloween food ides that I found. Can you find something you like here? - Meatloaf hand from Not Martha. Halloween Recipes. My repertoire of recipes has acquired more and more body parts over the years, and since my Mad Scientist display has also grown recently, I have begun to arrange all the edible body parts together as a mad scientist experiment in process, complete with microscopes, notebooks, periodic tables, and lab coat hanging on the wall waiting for the doctor to return.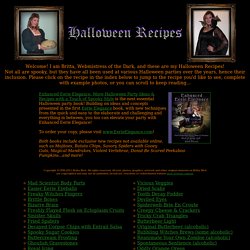 Not only does this enhance the mad scientist theme nicely, but it also frees space other tables for even more food, especially when guests bring their own revolting recipes! :) The Eerie Eyeballs, Bizarre Brain, and Haunted Human Heart are featured separately in this list. Halloween Deviled Eggs. Demons' Eyeballs: Hard-boil 12 eggs.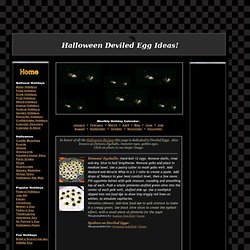 Remove shells, rinse and dry. Slice in half lengthwise. Remove yolks and place in medium bowl. Spooky Halloween Recipes for Kids : Recipes and Cooking. Spooky Halloween Recipes - AllYou.com. (1) Facebook. Our Favorite Halloween Party Recipes Halloween at Epicurious. Haunted Forest Platter. 7 Eco-Friendly Halloween Crafts. Each year around this time when the leaves start to change and I start to feel that crisp little bite in the air on a morning run, I get all tingly with excitement.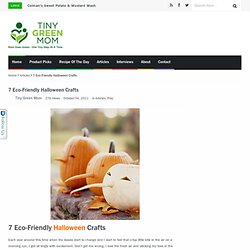 Don't get me wrong, I love the fresh air and sticking my toes in the warm sand as much as the next person, but there is something special about cuddling with a snuggly old blanket, sipping on a warm drink, and working on a new craft at the kitchen table. Many of my favorite crafts are made of things that I already have lying around the house. Here are five projects you can do with your kids that are cheap, eco-friendly, and fun! Click through the images to find instructions. Day 137: witches broomsticks. Day 137 and its witches broomsticks today. i am absolutely loving all the things that you can eat and make halloween icons out of so easily!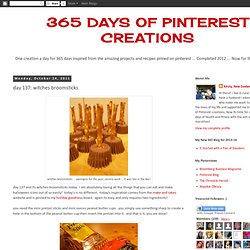 Today's is no different. today's inspiration comes from the make and takes website and is pinned to my holiday goodness board. again its easy and only requires two ingredients! You need the mini pretzel sticks and mini reeces peanut butter cups. you simply use something sharp to create a hole in the bottom of the peanut butter cup then insert the pretzel into it. and that is it, you are done! Outcome: they may be easy but don't they look so neat and perfect for halloween! Another short and sweet entry for pinterest 365 today, just like todays creation ;) Halloween Party Appetizers: Fun Snacks and Recipes for Halloween. Sure, Halloween parties are about costumes, spooks, and scares.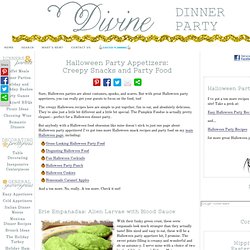 But with great Halloween party appetizers, you can really get your guests to focus on the food, too! The creepy Halloween recipes here are simple to put together, fun to eat, and absolutely delicious. They're also just a little bit different and a little bit special. The Pumpkin Fondue is actually pretty elegant-- perfect for a Halloween dinner party.
Eek, Shriek and be Scary Halloween Collection. Eek, Shriek and be Scary this Halloween!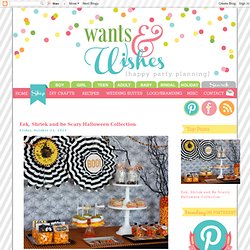 I'm so excited to share my Halloween Collection with you, as it is filled with fun, easy and creative DIY creations. We had triple dipped candycorn carmel apples (that brightened up the table). These were a huge success and turned out fabulous! Our Brownie and pretzel skeletons were a spooktacular edition.
We made a pan of brownies in a square pan because we wanted them thick, cutting them into squares (don't forget to cut the edges off). When Chefs Get Bored | Slick Men. DIY: Make your own Halloween dinnerware - StumbleUpon. So now you've seen my interpretation of a Raven themed dinner party, I wanted to show you how I made the dinnerware.
If you are like me you probably oogle over the holiday themed dishes but quickly shy away since you don't want to shell out for a whole set just for one celebration. (I don't even have real china so I think its safe to say I won't be buying any themed kind either) So when this idea of making my own for next to nothing came to mind, I just had to try it. Obviously this interpretation is quite macabre but you could totally mix it up to make it your own - think nursery rhymes for baby showers, holiday song lyrics for christmas, bible passages for easter, dirty doodles for hen nights... Not martha - Meat Hand. I made something gruesome and delicious. No, really, it was good. This is meatloaf. Meatloaf with cheese on top. And some ketchup. The nails are made of onion. Buttered Beere 1588 Recipe. Small Goblets Of Buttered Beere From A 1588 Tudor Recipe This is an authentic Tudor Buttered Beere (Butter Beer) recipe from 1588 and a rich, creamy ale (beer) is called for – but don't get an ale which is too sweet, as we are adding in sugar as well as egg yolks.
The best ales (beer) to buy are traditional 'real-ales' (or cask conditioned ales) from a British brewery with a good reputation (see the end of the post for recommendations).
---