Education
This is my first pearltree. It's a collection of information that will be useful in the classroom. Jan 20
Download RideMax Planning Software for Disneyland and Walt Disney World
New report identifies habits that make for successful school leaders
Five practices of effective principals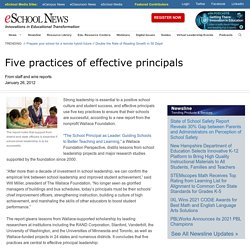 Nik's Quickshout
Launching an iPad 1-to-1 Program: A Primer
iPad and Games for Learning
After seeing the chart on of Bloom's Taxonomy on bloomsapps , I thought I could make a more thorough table. I like the headings that were used in the chart. Creating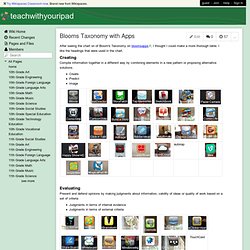 Using Blooms Taxonomy in education is a highly effective way to scaffold learning for the students. With the recent popularity and pervasive nature of iOS devices in school districts it is essential for educators to understand how to implement Blooms in the classroom using the apps that are available. While this list is by no means fully comprehensive, it will assist educators in getting started when implementing iOS devices in the classroom. This site will change almost daily as it will be updated with new and exciting apps! If you find any that you have worked with in your classroom please email dmileham@e1b.org or tweet @bloomsapps or @dmileham75 with your suggestions.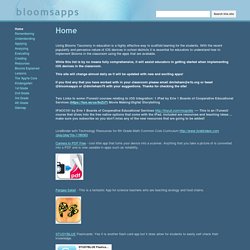 iPad Resources For School Administrators
Functions eBook Reader Could be amazing if publishing houses get their acts together. The iPad could be perfect for educational text books. Web Research Apart from no Flash video, browsing should be as good as a laptop yet more personal and flexible.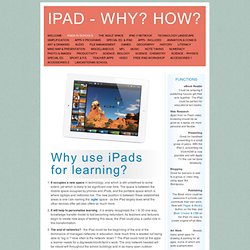 School Video News
iPad for Teaching & Learning