Web mashups & APIs
Overview The Diigo API allows you to build apps that interact with the Diigo service. You can use the API to fetch or post bookmarks for a user. Different API versions are namespaced by a URL prefix.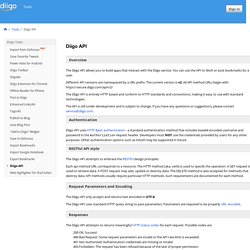 API
visualizing earthquakes
Mashery API Network - Welcome to the Mashery API Network!
API Network - API Explorer
Developer Network - APIs & Tools
Site Explorer Web Services
Yahoo! Site Explorer has moved to Bing Webmaster Tools.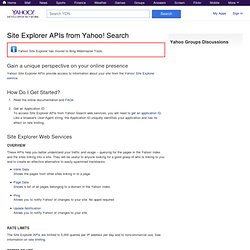 foursquare API Explorer
What do you want to do? - foursquare
<?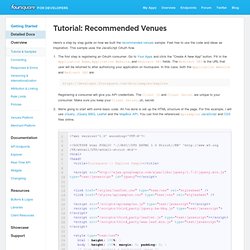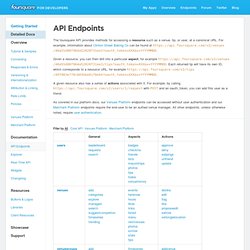 The foursquare API provides methods for accessing a resource such as a venue, tip, or user, at a canonical URL.
API Endpoints
Graph API Explorer
Google Analytics Tools - Query Explorer
Yahoo! Pipes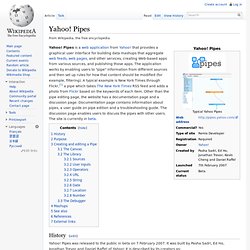 Yahoo!
Earlier this year http://babelfish.yahoo.com was shut down.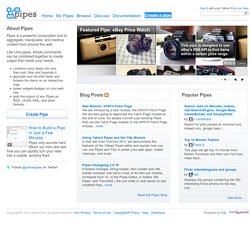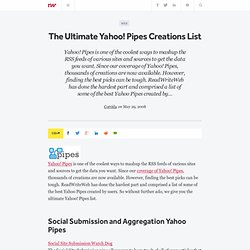 Yahoo! Pipes is one of the coolest ways to mashup the RSS feeds of various sites and sources to get the data you want. Since our coverage of Yahoo! Pipes , thousands of creations are now available. However, finding the best picks can be tough.
Twitter was one of the first to see what happened when traffic to the site came more from the API than the Web. It now has more than 65 million tweets per day, most coming from services that use the Twitter API. Twitter has made numerous changes to fix its API. Those experiences have taught providers what mistakes not to make when launching a service. But there is still a lot for providers to learn. Considering this, we asked developers and service providers to help us prepare a list of 10 common mistakes made by API providers.
10 Common Mistakes Made by API Providers
Mashup (Internet)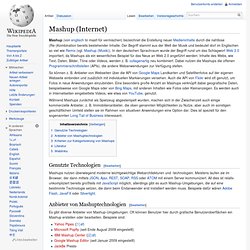 Mashup (von englisch to mash für vermischen) bezeichnet die Erstellung neuer Medieninhalte durch die nahtlose (Re-)Kombination bereits bestehender Inhalte.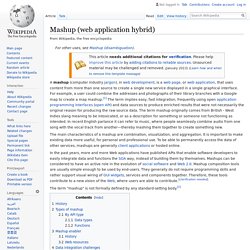 A mashup , in web development , is a web page , or web application , that uses and combines data , presentation or functionality from two or more sources to create new services. The term implies easy, fast integration, frequently using open application programming interfaces (API) and data sources to produce enriched results that were not necessarily the original reason for producing the raw source data.
Mashup (web application hybrid)
Eine Programmierschnittstelle ( englisch application programming interface , API ; deutsch Schnittstelle zur Anwendungsprogrammierung ) ist ein Programmteil, der von einem Softwaresystem anderen Programmen zur Anbindung an das System zur Verfügung gestellt wird. Im Gegensatz zu einer Binärschnittstelle (ABI) definiert eine Programmierschnittstelle nur die Programmanbindung auf Quelltextebene. [1] Neben dem Zugriff auf Datenbanken oder Hardware wie Festplatte oder Grafikkarte kann eine Programmierschnittstelle auch das Erstellen von Komponenten der grafischen Benutzeroberfläche ermöglichen oder vereinfachen.
Programmierschnittstelle
An application programming interface ( API ) is a protocol intended to be used as an interface by software components to communicate with each other.
API / Programmierschnittstelle
Try Google APIs From the Browser with Google APIs Explorer
8,000 APIs: Rise of the Enterprise
Enterprises rarely move as quickly as the rest of the web. Many, including us at ProgrammableWeb, have been saying for some time that big companies will embrace the open API movement. It appears this may be happening in earnest now, as our directory hits the milestone of 8,000 APIs.