APIs
Twitter: 75% of Our Traffic is via API (3 billion calls. There were plenty of stats doled out by Twitter's founders during Chirp Conference keynotes today.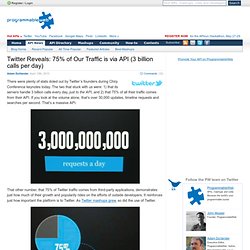 The two that stuck with us were: 1) that its servers handle 3 billion calls every day, just to the API, and 2) that 75% of all their traffic comes from their API. If you look at the volume alone, that's over 30,000 updates, timeline requests and searches per second. Twitter's 1 API Gave Birth to 43 New APIs. While Twitter mashups continue their tremendous growth, there's another area we're also noticing blossom: APIs that are based on the Twitter API.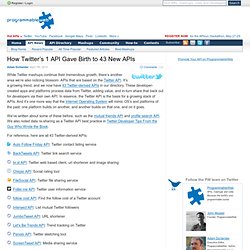 It's a growing trend, and we now have 43 Twitter-derived APIs in our directory. These developer-created apps and platforms process data from Twitter, adding value, and in-turn share that back out for developers via their own API. The API Billionaires Club. We write a lot about the growth in the number of APIs on ProgrammableWeb.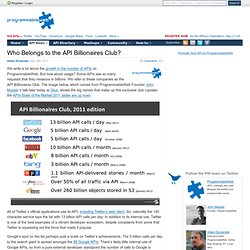 But how about usage? Some APIs see so many requests that they measure in billions. Why startup needs API. There is a long list of things people will tell you that you need as a startup: You need a working product.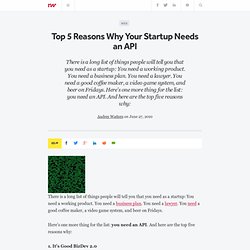 You need a business plan. You need a lawyer. You need a good coffee maker, a video game system, and beer on Fridays. Here's one more thing for the list: you need an API. And here are the top five reasons why: 10 Common Mistakes. Twitter was one of the first to see what happened when traffic to the site came more from the API than the Web.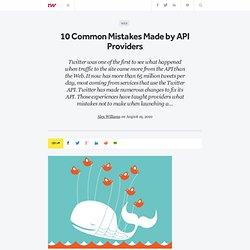 It now has more than 65 million tweets per day, most coming from services that use the Twitter API. Twitter has made numerous changes to fix its API. Another 10 Mistakes. There was a recent post on ReadWriteCloud about 10 common mistakes made by API providers.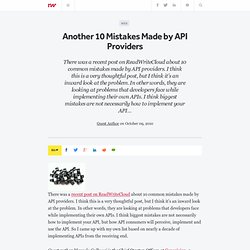 I think this is a very thoughtful post, but I think it's an inward look at the problem. In other words, they are looking at problems that developers face while implementing their own APIs. I think biggest mistakes are not necessarily how to implement your API, but how API consumers will perceive, implement and use the API. So I came up with my own list based on nearly a decade of implementing APIs from the receiving end. I'm done building Facebook apps. I started building Facebook apps about three years ago, when I first started doing web development consulting full-time.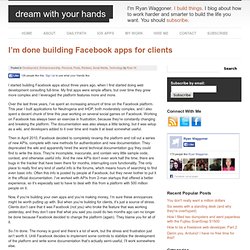 My first apps were simple affairs, but over time they grew more complex and I leveraged the platform features more and more. Over the last three years, I've spent an increasing amount of time on the Facebook platform. This year I built applications for Neutrogena and IHOP, both moderately complex, and I also spent a decent chunk of time this year working on several social games on Facebook. Marketing. Last week, Alex Williams posted a list in ReadWriteWeb's Cloud Computing channel of the "!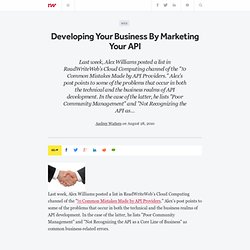 0 Common Mistakes Made by API Providers. " Alex's post points to some of the problems that occur in both the technical and the business realms of API development. In the case of the latter, he lists "Poor Community Management" and "Not Recognizing the API as a Core Line of Business" as common business-related errors. Weekly bugs report. We have received a great deal of feedback recently about things we should do to improve Facebook Platform.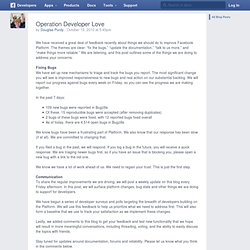 The themes are clear: "fix the bugs," "update the documentation," "talk to us more," and "make things more reliable." We are listening, and this post outlines some of the things we are doing to address your concerns. Fixing Bugs We have set up new mechanisms to triage and track the bugs you report. Attracting Developers. This guest post comes from Alex Willen, Business Analyst at Box.net.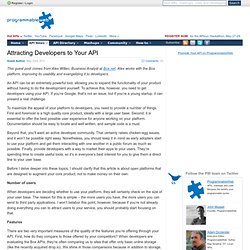 Alex works with the Box platform, improving its usability and evangelizing it to developers. An API can be an extremely powerful tool, allowing you to expand the functionality of your product without having to do the development yourself. To achieve this, however, you need to get developers using your API. APIs Enterprise Ready. Typically, when anyone talks about APIs, they talk about internal or enterprise APIs and external or open APIs. But as the cloud services become more widely adopted, we'll see an interest in more hybrid situation, where internal IT departments use external APIs or other services as part of a broader architecture. What does this mean for developers?
Hackathon. This guest post comes from Jimmy Jacobson, a developer and advocate with Zappos IP, Inc's API team. Shiny. That's what your API is. Brand new.
Twitter kills whitelists. Last night, Twitter made official what many members of the developer community had long suspected - there would be no more whitelisting for data-hungry apps. For some developers, this either means that they have to come up with creative work-arounds or, for others, that their projects are dead in the water. So why did Twitter kill the exception to the rule and what does it mean for the future of Twitter apps and the developers who create them? What Is Whitelisting? Appstore. This guest post comes from Alex Willen, Developer Advocate at Box.net. Alex works with the Box platform, improving its usability and evangelizing it to developers. So you've decided to put together an API, an excellent choice which I applaud. Appstores.com.
Business Models. Business models were nascent in 2005, when ProgrammableWeb listed only 105 APIs in our directory. There were only four basic models, according to John Musser's talk this morning at Glue. Fast forward six years and those same business models exist, but there's a lot more detail, as the now 3,000+ APIs have refined the ways an API can make money. 2005 API Business Models 2011 API Business Models (larger version) Limiting API Usage? Pricing Data in the overload age. :D Marijuana APIs.
---