Ink/Watercolor
Artist Carne Griffiths works primarily with calligraphy ink, graphite and liquids, such as tea, brandy, vodka, and our personal favorite at EK…whiskey. "Carne's images explore both human and floral forms, figuratively and in an abstract sense. He is fascinated by the flow of line and the 'invisible lines' that connect us to the natural world.
Carne Griffiths
All sizes | Fire Sunset to Saint-Raphael, Var ~ France ~
Rapture series by James Roper
Illustrations by Budi Satria Kwan
Nadia Moss
Rebecca Bird
Will Barras
Justin Lee Williams
Philip Govedare
Fredrik Akum
Liu Maoshan well-known landscape artist, member of the Chinese Artists Association, Vice-President of the Suzhou Academy of Chinese Painting, was born in Suzhou in 1942. He was graduated from the Suzhou Institute of Arts and Crafts in 1962. Having mastered a solid and intensive understanding of the works of classical European masters and modern impressionism, he later changed his interest to the creation of Chinese landscape painting. In recent years, he has visited Japan, Britain, America, Hong Kong and other places where he held his one-man shows and participated in cultural exchanges. His works received high acclaim and are now in permanent collections in museums and galleries in China and abroad.
Liu Maoshan paintings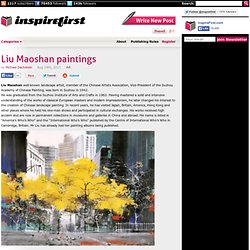 I came across Dmitriy Rebus Larin on Behance, Each piece of art seems to portray specific flaws in society, and I am sure that everybody can relate to them. Some are funny, some serious, but each put the point across. I particularly like the vector style that Dmitriy features throughout all of his watercolor paintings , very unique to his style and recognizably his own. If you enjoyed this post, please consider leaving a comment or subscribing to our RSS feed to have future articles delivered to your feed reader.
Watercolour Paintings by Dmitriy Rebus Larin – Inspiration Hut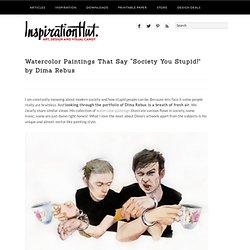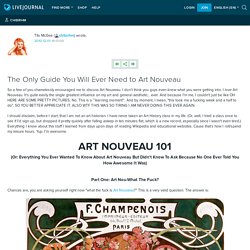 So a few of you shamelessly encouraged me to discuss Art Nouveau. I don't think you guys even knew what you were getting into. I love Art Nouveau. It's quite easily the single greatest influence on my art and general aesthetic... ever. And because I'm me, I couldn't just be like OH HERE ARE SOME PRETTY PICTURES. No.
chibirhm: The Only Guide You Will Ever Need to Art Nouveau
Logic takes care of itself; all we have to do is to look and see how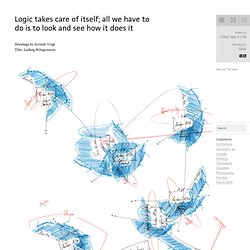 Logic takes care of itself; all we have to do is to look and see how it does it Drawings by Jorinde Voigt Title: Ludwig Wittgenstein 1 — The world is everything that is the case. 2 — What is the case, the fact, is the existence of atomic facts 2.01 — An atomic fact is a combination of objects (entities, things) 2.013 — Every thing is, as it were, in a space of possible atomic facts.
siscott-dalillama.jpg (JPEG Image, 600x806 pixels) - Scaled (91%)
Floppy Disk Art by Nick Gentry
Tate Britain | Turner Whistler Monet | Room 3
09-045L.jpg (JPEG Image, 583x600 pixels)