Whiteness
The Songhees Nation is now located in Esquimalt on Vancouver Island, 5 kilometers from Victoria, the capital of British Columbia. Historically, the original site of the Songhees Indian Reservation was located in Victoria's Inner Harbour. The main village. The Songhees Wellness Centre will be a focal point for Community activities and an opportunity to connect with the region.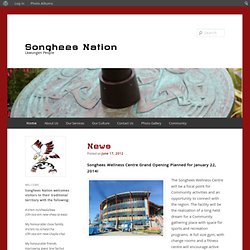 The facility will be the realization of a long held dream for a Community gathering place with space for sports and recreation programs. A full size gym, with change rooms and a fitness centre will encourage active lifestyles, offering a full range of recreational activities from fun leagues to serious training for current and future athletes. Hosting sports events with up to 300 people in attendance will be a source of Community pride.
Read more. The facility will create a venue for Songhees Nation to participate in the regional economy. Resources for non-native folks looking to relate, get involved and act in solidarity & alliance w/ Indigenous rights movement. e2809clisten-take-direction-and-stick-around1.pdf (application/pdf Object) I benefit from colonialism « uncomfortably canadian. About a month ago a pair of white South Africans ignited an international discussion about race and responsibility when they printed 10 t-shirts with the words "I benefited from apartheid" written boldly across the chest.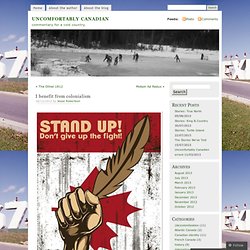 Those 10 were distributed at an art installation and were spoken for so quickly that another 30 were quickly produced. The gesture, a response to reactionary criticism of a supermarket's hiring policy, elicited all manner of responses. Un-Settling Settler Desires | Unsettling America. By Scott Morgensen, Unsettling Ourselves My presentation to the Dakota Decolonization class echoed my broader teaching and writing by centering the principles of Indigenous feminist thought and its ties to women of color and Third World feminism.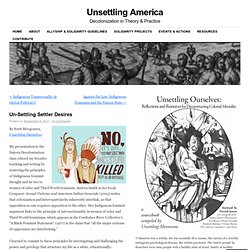 Andrea Smith in her book Conquest: Sexual Violence and American Indian Genocide (2005) writes that colonization and heteropatriarchy inherently interlink, so that opposition to one requires opposition to the other. Her Indigenous feminist argument links to the principle of intersectionality in women of color and Third World feminisms, which appears in the Combahee River Collective's "A Black Feminist Statement" (1977) in the claim that "all the major systems of oppression are interlocking." I learned to commit to these principles by investigating and challenging the power and privilege that structure my life as a white, educationally-privileged, US American male, non-transgender and (temporarily) able-bodied. Kanehsatake 270 Years of Resistance by Alanis Obomsawin. From the playlist : Manifesto for Interventionist Media - because Art is a Hammer Manifesto Point # 1: The original project idea and goals come from the community partner.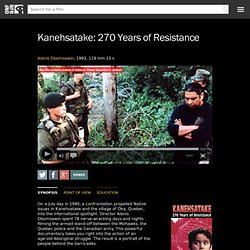 Kanehsatake 270 Years of Resistance is arguably Alanis Obomsawin's most important film, documenting the military 1990 siege of a Mohawk reserve near Oka, Quebec, and its causes. I chose this film here because the celebrated Abenaki filmmaker told me recently: "For me a real documentary is when you are really listening to somebody. They are the ones that tell you what the story is. I'm a settler. Decolonizing together. Canada's state and corporate wealth is largely based on subsidies gained from the theft of Indigenous lands and resources.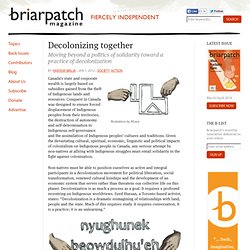 Conquest in Canada was designed to ensure forced displacement of Indigenous peoples from their territories, the destruction of autonomy and self-determination in Indigenous self-governance and the assimilation of Indigenous peoples' cultures and traditions. Given the devastating cultural, spiritual, economic, linguistic and political impacts of colonialism on Indigenous people in Canada, any serious attempt by non-natives at allying with Indigenous struggles must entail solidarity in the fight against colonization. Non-natives must be able to position ourselves as active and integral participants in a decolonization movement for political liberation, social transformation, renewed cultural kinships and the development of an economic system that serves rather than threatens our collective life on this planet.
Implementing Adaptive Capacity : T'Sou-ke Nation. Inclusive Leadership. The Problem With Men Explaining Things. This story first appeared on the TomDispatch website.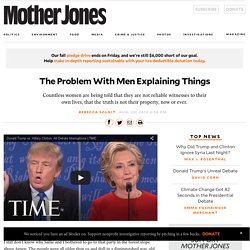 I still don't know why Sallie and I bothered to go to that party in the forest slope above Aspen. The people were all older than us and dull in a distinguished way, old enough that we, at 40ish, passed as the occasion's young ladies. The house was great—if you like Ralph Lauren-style chalets—a rugged luxury cabin at 9,000 feet complete with elk antlers, lots of kilims, and a wood-burning stove. We were preparing to leave, when our host said, "No, stay a little longer so I can talk to you. " He was an imposing man who'd made a lot of money. Beyond Whiteness — A Resource for Dismantling White Privilege and Racism.
---