whiteness
Get flash to fully experience Pearltrees
About a month ago a pair of white South Africans ignited an international discussion about race and responsibility when they printed 10 t-shirts with the words "I benefited from apartheid" written boldly across the chest. Those 10 were distributed at an art installation and were spoken for so quickly that another 30 were quickly produced. The gesture, a response to reactionary criticism of a supermarket's hiring policy, elicited all manner of responses.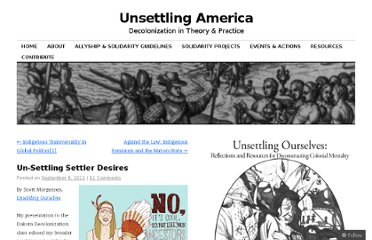 By Scott Morgensen, Unsettling Ourselves
From the playlist : Manifesto for Interventionist Media - because Art is a Hammer
Chief Spence on Victoria Island.
Canada's state and corporate wealth is largely based on subsidies gained from the theft of Indigenous lands and resources.
Sign up
This story first appeared on the TomDispatch website. I still don't know why Sallie and I bothered to go to that party in the forest slope above Aspen.