Books
Get flash to fully experience Pearltrees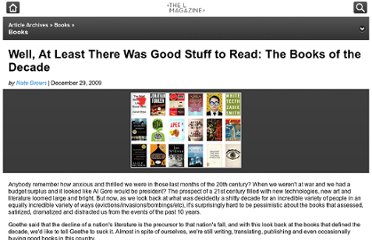 Anybody remember how anxious and thrilled we were in those last months of the 20th century? When we weren't at war and we had a budget surplus and it looked like Al Gore would be president? The prospect of a 21st century filled with new technologies, new art and literature loomed large and bright. But now, as we look back at what was decidedly a shitty decade for an incredible variety of people in an equally incredible variety of ways (evictions/invasions/bombings/etc), it's surprisingly hard to be pessimistic about the books that assessed, satirized, dramatized and distracted us from the events of the past 10 years. Goethe said that the decline of a nation's literature is the precursor to that nation's fall, and with this look back at the books that defined the decade, we'd like to tell Goethe to suck it.
1. Why are there doubts about the Authorship? 2. Haven't previous generations been quite happy with the Stratford man? 3.
If you're a fervent reader and nerd like I am, you've probably encountered quite a lot of writing online. However, most of them are either absolute garbage or entirely illegal. It's hard to find good, legal reads online – unless you know where to look.