Referencering
CrimeReports
Domania
Foreign Trade
Goods and Services Deficit Increased in February 2014 The Nation's international trade deficit in goods and services increased to $42.3 billion in February from $39.3 billion in January (revised), as exports decreased and imports increased. (April 3, 2014) Profile of U.S. Importing and Exporting Companies, 2011-2012The U.S.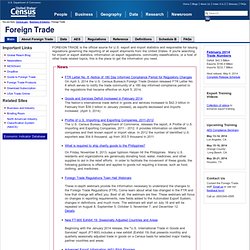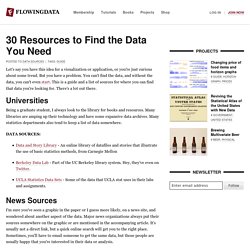 Let's say you have this idea for a visualization or application, or you're just curious about some trend. But you have a problem. You can't find the data, and without the data, you can't even start. This is a guide and a list of sources for where you can find that data you're looking for.
BU Cert
Boston University's Center for Professional Education (CPE) offers a variety of non-credit certificate programs in the classroom and online. Whether you're preparing for a professional certification exam, adding a BU CPE certificate to your résumé, or simply enrolling in a single course, you'll benefit from a comprehensive look at the tools, tips, and techniques in a specific profession. Ideal for current professionals, the self-employed, and those looking into new careers, CPE programs provide the knowledge and skills to help you stay current in your field, competitive in the workplace, and valued by your clients, colleagues, and employer.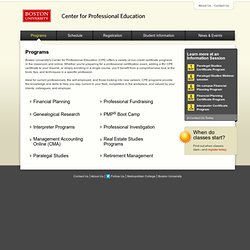 OER Grants
Minuteman Library
Emergency Room DB
Patent Lens
The Students.gov website was retired on October 2, 2011. You can find the information and resources listed on Students.gov at the following websites: StudentAid.gov —The U.S. Department of Education's federal student aid information website. Here are some helpful links:
Students.gov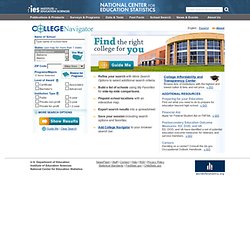 College Navigator
Additional Resources Preparing for your Education Find out what you need to do to prepare for education beyond high school. » GO Financial Aid Apply for Federal Student Aid on FAFSA. » GO Postsecondary Education Outcome Measures: ED, DOD, and VA
A Big-Ass List Of Student Loan Resources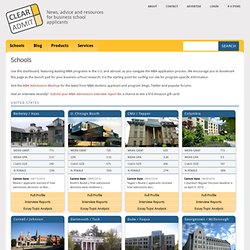 Use this dashboard, featuring leading MBA programs in the U.S. and abroad, as you navigate the MBA application process. We encourage you to bookmark this page as the launch pad for your business school research; it is the starting point for surfing our site for program-specific information. Visit the MBA Admissions Mashup for the latest from MBA student, applicant and program blogs, Twitter and popular forums. Had an interview recently? Submit your MBA admissions interview report for a chance to win a $10 Amazon gift card!
MBAdmitWiki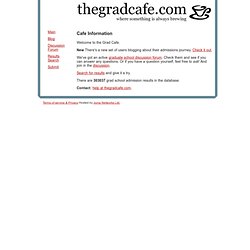 TheGradCafe.com
Cafe Information Welcome to the Grad Cafe. New There's a new set of users blogging about their admissions journey. Check it out. We've got an active graduate school discussion forum.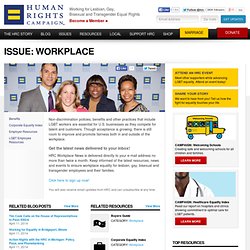 HRC Gov't and Corp Ratings
Non-discrimination policies, benefits and other practices that include LGBT workers are essential for U.S. businesses as they compete for talent and customers. Though acceptance is growing, there is still room to improve and promote fairness both in and outside of the workplace. Get the latest news delivered to your inbox! HRC Workplace News is delivered directly to your e-mail address no more than twice a month. Keep informed of the latest resources, news and events to ensure workplace equality for lesbian, gay, bisexual and transgender employees and their families. Click here to sign up now!
Covalence SA
MyFood-a-pedia
Food-A-Pedia Look up a food to get quick access to nutrition info for over 8,000 foods. Choose and compare 2 foods. * Calories from food components such as added sugars and solid fats that provide little nutritional value.
Robot Factery
Personal Info Search