Media
 Index
Big Issue - Home
JohnPilger.com - the films and journalism of John Pilger
New Internationalist
Ship of Fools
A daily TV/radio news program, hosted by Amy Goodman and Juan Gonzalez, airing on over 900 stations, pioneering the largest community media collaboration in the United States.
Alternative News Sources
AdbustersMonthly magazine devoted to the critique of consumerism and corporate media. Allegiant, The Seeking to question the establishment, encouraging dissidents and public intellectuals - with the purpose of eroding the influence of dogmatism, superstition and bigotry in the world. Alternative Electronic Information Network AEINAEIN utilizes shortwave radio, official news agencies, first-hand reporting and other methods to provide a range of news reports and analysis. AlterNetNews magazine and online community that creates original journalism and amplifies dozens of other alternative media sources.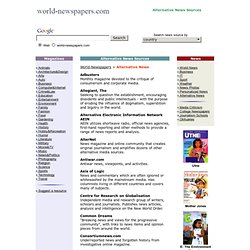 UK Indymedia
Home
Home