Skepticism and Critical Thinking
Skeptoid is a weekly science podcast dedicated to furthering knowledge by blasting away the widespread pseudosciences that infect popular culture, and replacing them with way cooler reality. Each weekly episode focuses on a single phenomenon — an urban legend, a paranormal claim, alternative therapy, or something just plain stupid — that you've heard of, and that you probably believe in. Skeptoid attempts to expose the folly of belief in non-evidence based phenomena, and more importantly, explains the factual scientific reality. From the sublime to the startling, no topic is sacred, politically incorrect though that may be. 173,000 weekly downloads.
Skeptoid: Critical Analysis Podcast
Urban Legends Reference Pages
Welcome to snopes.com, the definitive Internet reference source for urban legends, folklore, myths, rumors, and misinformation. Use the search box above to locate your item of interest, or click one of the icons below to browse the site by category. Urban Legends Reference Pages © 1995-2014 by snopes.com.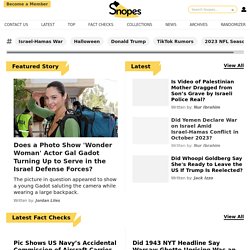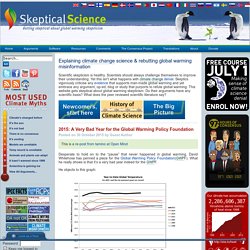 Scientific skepticism is healthy. Scientists should always challenge themselves to improve their understanding. Yet this isn't what happens with climate change denial. Skeptics vigorously criticise any evidence that supports man-made global warming and yet embrace any argument, op-ed, blog or study that purports to refute global warming.
Global Warming and Climate Change skepticism examined
From Abracadabra to Zombies - 754 entries | View All What's New? See the most recent entries, updates, and reader comments Sample the Skeptic's Dictionary In spiritualism, a medium is one with whom spirits communicate directly.
The Skeptic's Dictionary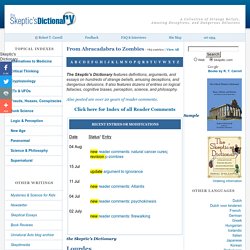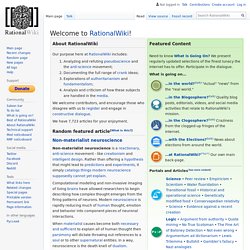 Main Page
Center: Ara-3, the bacterial population that evolved to use citrate. The Lenski affair was a poorly conceived stunt by Andrew Schlafly of Conservapedia to denigrate the groundbreaking research of National Academy of Science member Richard Lenski, in which Lenski and his student Zachary Blount actually observed evolution happening. Schlafly's stunt backfired completely and led to one of the best responses to creationism to date. It is now one of the most famous incidents in creation/evolution circles on the Internet. The fame of "the affair" left the safe confines of the Internet in September 2009 when it received a brief mention in Richard Dawkins' book The Greatest Show on Earth following a longer discussion of the results themselves.
One of the eternal questions for skeptics is – how can some people be so gullible? We have a standard answer which captures many of the factors: poor understanding of science, lack of an innate sense of probability, all the various mechanisms of self-deception, and the strong desire to believe in certain things. Further, some cons are just slick, and anyone can be fooled by a clever-enough deception.
How To Sell Magic Beans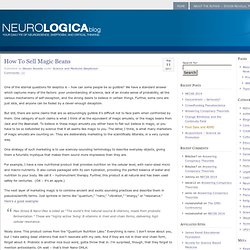 From Abracadabra to Zombies - 754 entries | View All What's New? See the most recent entries, updates, and reader comments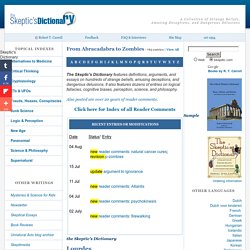 The Skeptic's Dictionary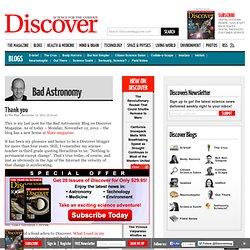 Well now, this is an interesting discovery: astronomers have found what looks like a "super-Earth" – a planet more massive than Earth but still smaller than a gas giant – orbiting a nearby star at the right distance to have liquid water on it! Given that, it might – might – be Earthlike. This is pretty cool news.
Bad Astronomy
The "Creation Museum" in Petersburg, Kentucky, ironically built upon rocks which disprove Noah's flood A foolish man, which built his house upon the sand—Matthew 7: 24-27.Speak to the earth and it shall teach thee—Job 12:8 During the Ham on Nye debate last February 4, Bill led off with a great example to throw Ken off balance. He pointed out that (ironically), the Creation "Museum" itself was built upon rocks which refuted flood geology!
Skepticblog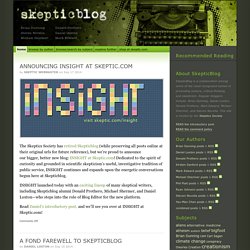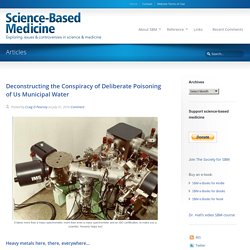 Science-Based Medicine
Announcing the Society for Science-Based Medicine We are proud to announce a new organization: The Society for Science-Based Medicine. A Society for a community of like-minded individuals, both in and out of health care, who support the goals of Science-Based Medicine. People should not suffer, die, go bankrupt, and lose time and hope because of complementary and alternative pseudo-medicine.
Skepchick -
Pharyngula
Probably not. But the New York Times reports: A review of studies has found that the health benefits of infant male circumcision vastly outweigh the risks involved in the procedure. Actually, it doesn't. Not at all.
Pharyngula
Quackwatch
Quackwatch has grown considerably. To help visitors with special areas of interest, we maintain 24 additional sites for autism, chiropractic, dentistry, multilevel marketing, and many other hot topics. We are also closely affiliated with the National Council Against Health Fraud, which cosponsors our free weekly newsletter, and with Bioethics Watch, which highlights issues of questionable research on humans. Our Internet Health Pilot site provides links to hundreds of reliable health sites. Our Casewatch site contains a large library of legal cases, licensing board actions, government sanctions, and regulatory actions against questionable medical products. These sites can be accessed through the "Visit Our Affiliated Sites" drop-down menu above.
James Randi Educational Foundation
Some people see human tragedies as a time for empathy, sympathy, or charity. Then there are those who see it as an opportunity. It didn't take long after Malaysia Airlines Flight 370 went missing on March 8, 2014, for Uri Geller to take to the airwaves and claim that he was asked to help in the search for the plane.
This day In Skepticism: SPAM; News Items: Chilis and Antivaxers, Crowdfunding Pseudoscience, Ocean under Enceladus, Looking Intelligent, Who's That Noisy, Your Questions and E-mails: Justina Case, Car Remotes; Science or Fiction Update Required To play the media you will need to either update your browser to a recent version or update your Flash plugin. Want access to exclusive content? Signup as a member gain access to discounts, premium podcasts and a members-only newsletter. Blogs Events
Home - The Skeptics' Guide to the Universe