Dessert
Apple. Nutter Butter Peanut Butter Pie | RecipeGirl.com - StumbleUpon. Nutter Butter- Peanut Butter Pie If you hadn't heard already, our food blogging friend Jennie lost her husband Mikey last week.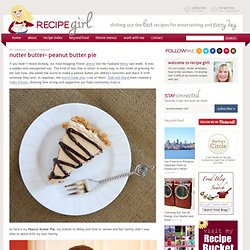 It was a sudden and unexpected loss. The kind of loss that is unfair in every way. In the midst of grieving for her lost love, she asked the world to make a peanut butter pie (Mikey's favorite) and share it with someone they love. In response, the world made pies. Oreo Chocolate Chip Cookie Caramel Brownies |&The Angieriver Show - StumbleUpon. OMG!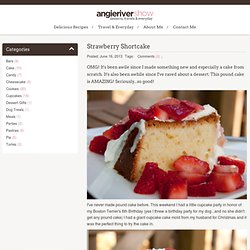 It's been awile since I made something new and especially a cake from scratch. It's also been awhile since I've raved about a dessert. This pound cake is AMAZING! Seriously...so good! Original Sin Bars | Making Life Delicious &8482; When I was young and poor, before Jimmer and I got married, we used to entertain ourselves by spending hours in used book stores.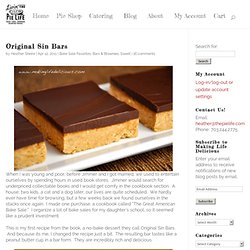 Jimmer would search for underpriced collectable books and I would get comfy in the cookbook section. A house, two kids, a cat and a dog later, our lives are quite scheduled. Warm Toasted Marshmallow Smores Bars Recipe from Betty Crocker. Made With Pink: A Little Bit Salty, A Little Bit Sweet - StumbleUpon. I always get asked the same question over and over again - "what do you with all your baking?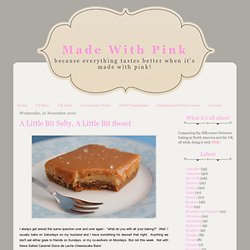 " Well, I usually bake on Saturdays so my husband and I have something for dessert that night. Anything we don't eat either goes to friends on Sundays, or my co-workers on Mondays. Marshmallow Crunch Brownie Bars. These are the most addictive baked good I've made in a long time.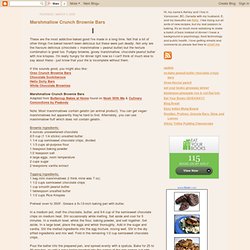 Not that a lot of other things I've baked haven't been delicious but these were just deadly. Not only are the flavours delicious (chocolate + marshmallow + peanut butter) but the texture combination is great too. Fudgey brownie, gooey marshmallow, chocolate peanut butter with rice krispies. I'm really hungry for dinner right now so I can't think of much else to say about these - just know that your life is incomplete without them. If this sounds good, you might also like:Oreo Crunch Brownie BarsChocolate ScotcheroosHello Dolly BarsWhite Chocolate Brownies. Strawberry Torte - StumbleUpon. This beautiful swirled torte is almost too pretty to eat.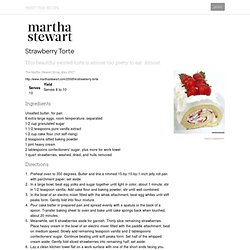 Almost. Photography: Grasshopper Brownie Bars. For the brownie base: 3/4 cups flour 1/2 teaspoon salt 1 tablespoon dark unsweetened cocoa powder (like Valrhona) 5 ounces good quality dark chocolate (60 to 72%), coarsely chopped 1/2 cup (1 stick) butter, cut into 1 inch cubes 3/4 cups sugar 1/4 cup firmly packed light brown sugar 3 large eggs, at room temperature 1 teaspoons vanilla extract For the buttercream: 3/4 cups sugar 2 tablespoons flour 3/4 cup milk 2 tablespoons heavy cream 1 1/2 sticks (3/4 cup) butter, softened but still cool, cut into small cubes 3 tablespoons creme de menthe 1 teaspoon peppermint extract For the chocolate glaze: 6 ounces good-quality dark chocolate (60 to 72%), coarsely chopped 1 teaspoon light corn syrup 1/2 cup (1 stick) unsalted butter, softened, cut into cubes.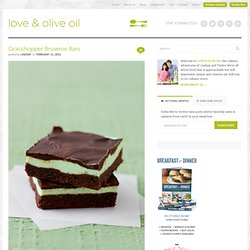 Martha Stewarts Cookies and Cream Cheesecakes Recipe | La Mia Vita Dolce - StumbleUpon. Posted by Grace Massa Langlois on Wednesday, 21st July 2010 I have yet to meet a person who doesn't like Oreo cookies or Cream Cheesecake Cupcakes.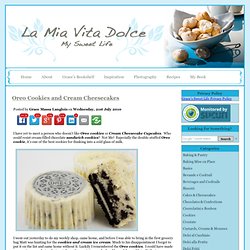 Who could resist cream-filled chocolate sandwich cookies? Not Me! Especially the double-stuffed Oreo cookie, it's one of the best cookies for dunking into a cold glass of milk. I went out yesterday to do my weekly shop, came home, and before I was able to bring in the first grocery bag Matt was hunting for the cookies and cream ice cream. Pip & Ebby - Pip &Ebby - Crack&brownies - StumbleUpon. Have you ever tried crack?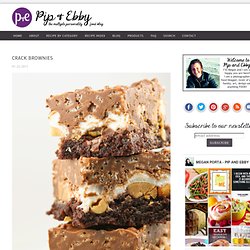 Yeah, me either. After eating these brownies, though, I feel like I would probably be less addicted to crack. I mean, how can that not be the case with brownies, peanuts, marshmallows, Reese's peanut butter cups, chocolate, peanut butter and Rice Krispies all present in a single bite?! How To Eat A Cupcake: Chocolate Cookie Dough Cupcakes. In honor of January 27 being National Chocolate Cake Day, last week's poll featured all chocolate cupcakes.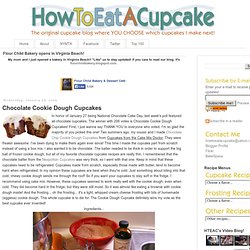 The winner with 206 votes is Chocolate Cookie Dough Cupcakes! First, I just wanna say THANK YOU to everyone who voted. Mini Peanut Butter and Nutella Cheesecakes | Just Everyday Me - StumbleUpon. 28 Dec 2011 One of the perks of being a student (and right now as I'm in the middle of college applications and interviews there don't seem to be many) is that you get a long Christmas break. This is what I've done since Christmas: Stayed in my PJs all day.
Cookie Dough Recipes - Bites From Other Blogs. Erin's Food Files & Lincoln's Red Velvet (Cheesecake) Cake. Wednesday, April 7, 2010 Lincoln's Red Velvet (Cheesecake) Cake Psssst…. there's a surprise inside this pale exterior! Oh yeah! Red Velvet Cake, with Cream Cheese Frosting… AND A LAYER OF CHEESECAKE IN THE MIDDLE! This cake has been in the planning process since February. Chocolate Clubs Chocolate Recipes from all Chocolate Types - StumbleUpon. Ben &Jerrys Homemade Ice Cream. The Brownie Project - StumbleUpon. Mint Chocolate Chip Cake - StumbleUpon. Chocolate cake and I have had a very interesting romance. I started off with quite an intense dislike of chocolate cake. I KNOW. But try not to judge me too harshly, I had many bad experiences with store-bought dry, dense mudcakes covered in grainy baking chocolate icing.
Campfire Delight: 6-Layer Rich Chocolate Malted & Toasted-Marshmallow Cake - StumbleUpon. There's something about layer cakes that always brings me great comfort–from both making them and eating them. To me, layer cakes are baked bliss, truly. Don't get me wrong, cupcakes are wonderful; cupcakes are sweet; cupcakes are darling (and perky), but they just aren't layer cakes. Perhaps part of the glory of layer cakes is the intrigue of what's beneath all of that swirled frosting, or the wonder of what fills the stacked layers under a perfectly composed exterior.
Ever notice how layer cakes will offer one or two little hints as to what's inside, without giving too much away? Think about a beautifully frosted pink cake with a few white sprinkles and a single strawberry on top: one could imagine that there are layers of vanilla cake inside with possible alternating layers of sweet pink strawberry cake, or maybe even layer up on layer of strawberry cake with fresh strawberry jam in between.
Dulce de Leche Brownies - StumbleUpon.
---