Game Based Learners
Game Design Theory: Play Mechanics
ERIC - Education Resources Information Center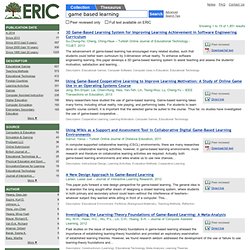 Showing 1 to 15 of 1,851 results Su,Chung-Ho; Cheng, Ching-Hsue – Turkish Online Journal of Educational Technology - TOJET, 2013 The advancement of game-based learning has encouraged many related studies, such that students could better learn curriculum by 3-dimension virtual reality. To enhance software engineering learning, this paper develops a 3D game-based learning system to assist teaching and assess the students' motivation, satisfaction and learning…
Michael Gove speaks to the Royal Society - The Department for Education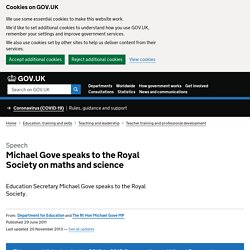 Accessible Media Player by Nomensa The timeline slider below uses WAI ARIA. Please use the documentation for your screen reader to find out more. Introduction
CBL_Paper.pdf (application/pdf Object)
Ollie Bray, LTS - Game Based Learning 2010
Our Main Event Roster... 9th AnnualGames for Health Conference Game-based solutions are providing compelling means to increase physical activity, advance personal health, improve hospital operations, train healthcare providers, and advocate important healthcare information. Learn and network through a broad range of featured content including specially developed tracks on Active Gaming, Medical Training & Education, Physical Therapy & Rehab, and Cognitive Gaming. For more info visit: http://www.gamesforhealth.org Serious Games Tutorial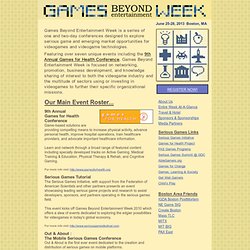 May 24-27, 2010 Boston, MA
Game To Learn: Take 2! » Recorded!
Tim Rylands - Game Based Learning 2010
gaming and how to solve real world problems
Cell phones and video games in the classroom
Video Resources for Educators
Education using Technology
Discover new ways to empower students at NEXT this June in Denver. Experience the power of a global learning community. Build connections and collaborate with your peers. Schoology lets you manage your classroom, engage your students, find resources, and connect to other teachers anytime, anywhere. Schoology offers a dynamic, scalable learning management system that both teachers and administrators love to adopt.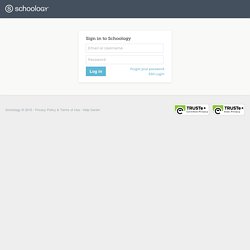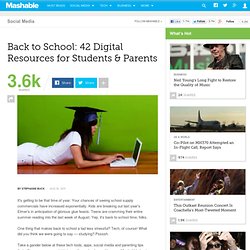 It's getting to be that time of year. Your chances of seeing school supply commercials have increased exponentially. Kids are breaking out last year's Elmer's in anticipation of glorious glue feasts. Teens are cramming their entire summer reading into the last week of August.
TEDxBloomington - The Wisdom of Play
Serious Games Showcase & Challenge
Serious Games Initiative
The Serious Games Initiative is focused on uses for games in exploring management and leadership challenges facing the public sector. Part of its overall charter is to help forge productive links between the electronic game industry and projects involving the use of games in education, training, health, and public policy. The Serious Games Initiative was founded at the Woodrow Wilson Center for International Scholars in Washington, D.C. Our Goals The goal of the initiative is to help usher in a new series of policy education, exploration, and management tools utilizing state of the art computer game designs, technologies, and development skills.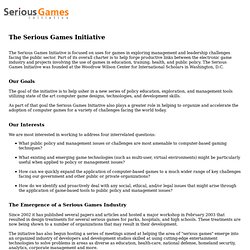 Terra Nova is an interdisciplinary weblog about the intersection of society, simulation, and play. We have been posting since September of 2003. A uthors include scholars and practitioners from a variety of disciplines.
About Terra Nova
Games in Education
Hot off the press… 2014 Games in Education Symposium will be held at Troy Middle School in Troy, NY on August 5th and 6th! Registration will open soon–in the meantime, join our mailing list and be the first to hear about exciting Symposium updates! Save the date and spread the word!
Quest Atlantis (QA) is a 3D multiuser, computer graphics learning environment that utilizes a narrative programming toolkit to immerse children, ages 9–15, in meaningful inquiry tasks (see QuestAtlantis.Org). Quest Atlantis combines strategies used in the commercial gaming environment with lessons from educational research on learning and motivation. The project is unique in its goals to combine the best aspects of learning, playing, and helping, as a means to motivate and engage students.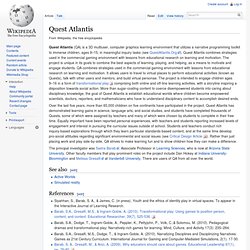 Quest Atlantis
In 2007 I completed my PhD thesis, enitited 'An Investigation into the Potential of Collaborative Computer Game-Based Learning in Higher Education'. My research questions were: What is the rationale for using computer games in Higher Education?How can computer games be designed to be usable and enhance learning?How can the educational effectiveness of games be measured?
play think learn » Thesis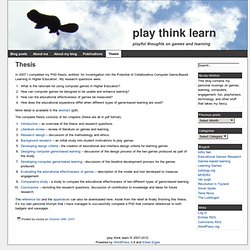 GLSIG
What People are Playing The first interactive project told from a Northern Cheyenne perspective. game details Experience hazards facing migrants and Border Patrol along border. game details Fight to be king of the (ant)hills in this real-time strategy game. game details
gamesforchange
(TED is on its annual two-week vacation. During the break, we're posting playlists from the TEDTalks archive. We'll be back with new talks on August 29th.)
Playlist: Male call | TED News
Shipping on time by Gamasutra Community [04.03.14] "How do we, as obsessive, design happy, feature happy, develop happy engineers actually ship something?" This blog post explains -- in detail. Programming, Production, Console/PC, Serious, Indie, Social/Online, Smartphone/Tablet Blog: The Unity Asset Store and the hidden cost of doing it yourself by Gamasutra Community [03.31.14] "One of the things that we often forget when developing a game, especially when you are an indie, is that everything has a cost. EVERYTHING." Programming, Production, Art, Console/PC, Serious, Indie, Social/Online, Smartphone/Tablet
Topic: Serious Games
Game Developers Conference | February 28-March 4, 2011 | Moscone Convention Center | San Francisco, California
Learning by Playing. Game-based Education System Design and Development
TEDxBloomington -- Edward Castronova -- "Be A Gamer"
Video Games and Learning
CEMP Conversations » Marc Prensky
Digital Youth Network: Empowering Youth Through Media
Social Impact Games :: Entertaining Games with Non-Entertainment Goals
e-Learning Software, Learning Management System, LMS tools | Trivantis
11.08.22_ROUNDS_EvolutionofGaming
GBL since 2009 @ Google Scholar
collerShernoffIJEE.pdf (application/pdf Object)
Marc Prensky - How do we persuade the public that kids playing games constitutes 'real' learning