Game Based Learners
Game Design Theory: Play Mechanics
ERIC - Education Resources Information Center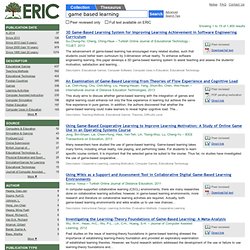 Descriptors: Activity Units ; Art History ; Social Systems ; Play ; Video Games ; Action Research ; Computer Games ; Educational Games ; Computer Literacy ; Studio Art ; Art Education ; Systems Approach ; Observation ; Course Descriptions ; Elementary School Students ; Middle School Students ; Educational Technology ; Curriculum Implementation ; Interviews Abstract: Having computer skills, let alone access to a personal computer, has become a necessary component of contemporary Western society and many parts of the world. Digital media literacy involves youth being able to view, participate in, and make creative works with technologies in personal and meaningful ways. Games, defined in this study as structured play, provided the foundation for many of the works from 20th century art movements, such as Dadaism, Surrealism, Situationism, and Fluxus.
Michael Gove speaks to the Royal Society - The Department for Education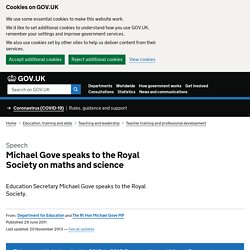 [Please note that this speech is taken from the speakers' notes and may not be his exact words.] Introduction Ladies and gentleman, I feel a little nervous in these surroundings.
CBL_Paper.pdf (application/pdf Object)
Ollie Bray, LTS - Game Based Learning 2010
Our Main Event Roster... 9th Annual Games for Health Conference Game-based solutions are providing compelling means to increase physical activity, advance personal health, improve hospital operations, train healthcare providers, and advocate important healthcare information. Learn and network through a broad range of featured content including specially developed tracks on Active Gaming, Medical Training & Education, Physical Therapy & Rehab, and Cognitive Gaming. For more info visit: http://www.gamesforhealth.org Serious Games Tutorial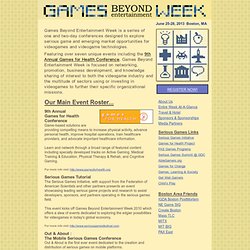 May 24-27, 2010 Boston, MA
Game To Learn: Take 2! » Recorded!
Tim Rylands - Game Based Learning 2010
gaming and how to solve real world problems
Cell phones and video games in the classroom
Video Resources for Educators
Education using Technology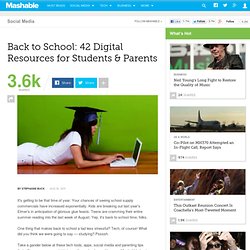 It's getting to be that time of year. Your chances of seeing school supply commercials have increased exponentially. Kids are breaking out last year's Elmer's in anticipation of glorious glue feasts. Teens are cramming their entire summer reading into the last week of August.
TEDxBloomington - The Wisdom of Play
Serious Games Showcase & Challenge
Serious Games Initiative
Hewlett-EdArcade - Powered by Google Docs
Terra Nova is an interdisciplinary weblog about the intersection of society, simulation, and play. We have been posting since September of 2003. A uthors include scholars and practitioners from a variety of disciplines.
About Terra Nova
Games in Education
Educational Games - Focus on the Noun | Games + Learning for Higher Education
Quest Atlantis (QA) is a 3D multiuser, computer graphics learning environment that utilizes a narrative programming toolkit to immerse children, ages 9–15, in meaningful inquiry tasks (see QuestAtlantis.Org ). Quest Atlantis combines strategies used in the commercial gaming environment with lessons from educational research on learning and motivation. The project is unique in its goals to combine the best aspects of learning, playing, and helping, as a means to motivate and engage students.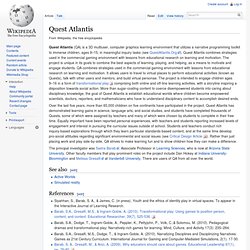 Quest Atlantis
In 2007 I completed my PhD thesis, enitited 'An Investigation into the Potential of Collaborative Computer Game-Based Learning in Higher Education'. My research questions were: What is the rationale for using computer games in Higher Education? How can computer games be designed to be usable and enhance learning? How can the educational effectiveness of games be measured?
play think learn » Thesis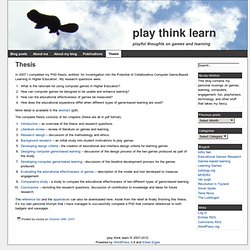 GLSIG
gamesforchange
Playlist: Male call | TED News
Topic: Serious Games
Game Developers Conference | February 28-March 4, 2011 | Moscone Convention Center | San Francisco, California
This book constitutes the refereed proceedings of the 4th International Conference on E-learning and Games, Edutainment 2009, held in Banff, Canada, in August 2009. The 56 revised full papers presented together with three related workshops were also held jointly and selected from a total of 116 submissions from 25 different countries. The papers are organized in topical sections on interactions in games, simulation and animation, digital museum and digital heritage, game design and development, social and cultural issues, storytelling and narrative in education, game-based learning/training, VR-based education/training, vision and imaging technology in games, educational robot and toy, and augmented reality in education/training. Content Level » Research
Learning by Playing. Game-based Education System Design and Development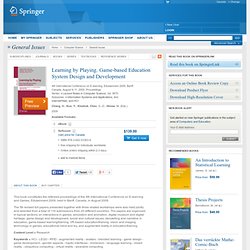 TEDxBloomington -- Edward Castronova -- "Be A Gamer"
Video Games and Learning
CEMP Conversations » Marc Prensky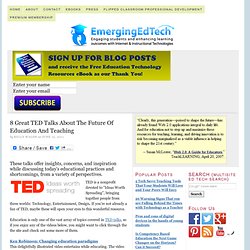 These talks offer insights, concerns, and inspiration while discussing today's educational practices and shortcomings, from a variety of perspectives. TED is a nonprofit devoted to "Ideas Worth Spreading", bringing together people from three worlds: Technology, Entertainment, Design . If you're not already a fan of TED, maybe these will open your eyes to this wonderful resource.
Digital Youth Network: Empowering Youth Through Media
Social Impact Games :: Entertaining Games with Non-Entertainment Goals
11.08.22_ROUNDS_EvolutionofGaming
GBL since 2009 @ Google Scholar
collerShernoffIJEE.pdf (application/pdf Object)
Marc Prensky - How do we persuade the public that kids playing games constitutes 'real' learning