To be reused (or not)
Joomladay - Rencontres francophone Joomla! Solutions Intranet et Travail Collaboratif. WebContent, the Semantic Web Platform - WebContent Project. An objective of the project is to be widely open to the scientific and industrial community.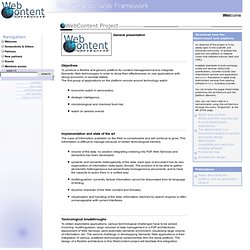 To achieve this goal the core platform is released under Free Software licences (BSD and LGPL). Available downloads include exchange model and services WSDL/XSD specifications, tutoriels to build Java WebContent services and applications and a C++ framework to easily build WebContent services from existing software in C++, including tutorials. You can browse the pages linked below presenting the architecture and the platform elements. Also, you can have a look to a demonstration using this architecture through the menu "Snapshots" at the left of this page.
Wolfram|Alpha. W3C Semantic Web Activity. The Semantic Web is a web of data.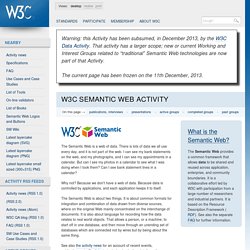 There is lots of data we all use every day, and it is not part of the web. I can see my bank statements on the web, and my photographs, and I can see my appointments in a calendar. But can I see my photos in a calendar to see what I was doing when I took them? Can I see bank statement lines in a calendar? Why not? Linked Data | Linked Data - Connect Distributed Data across the.
DIY Hardware. oEmbed provider. oEmbed. Linux (Ubuntu) Desktop. Brutforce with ubuntu cluster. Javascript. TechCrunch. Support for advanced RDFa markup in OGP - Open Graph Protocol | Save Jim - The ACTA negociator. Sauvez Jim - Le négociateur d'ACTA.
---