Communication
Voice - One phone number, online voicemail, and enhanced call fe. Voice Help. Voice. Gmail. Buzz. Google Buzz n'existe plus.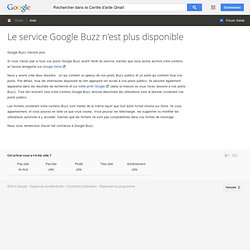 Si vous n'avez pas lu tous vos posts Google Buzz avant l'arrêt du service, sachez que nous avons archivé votre contenu et l'avons enregistré sur Google Drive. Nous y avons créé deux dossiers : un qui contient un aperçu de vos posts Buzz publics et un autre qui contient tous vos posts. Par défaut, tous les internautes disposant du lien approprié ont accès à vos posts publics. Ils peuvent également apparaître dans les résultats de recherche et sur votre profil Google (dans la mesure où vous l'avez associé à vos posts Buzz).
Wave - Communicate and collaborate in real time. Chat. Group conversations are better than ever Send photos or emoji, see when people are engaged in the Hangout and message friends anytime, even if they're not connected right now.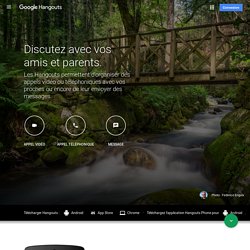 Video calls make Hangouts more fun. Google Translate. Google Transliteration.
---