Moteurs de recherche
Quora. PubGene. The Xapian Project. DataparkSearch Engine - an open source search engine. Brainboost. Brainboost is a metasearch engine designed to provide specific answers to questions asked in natural language.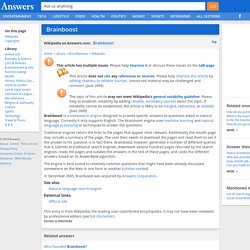 Currently it only supports English. The Brainboost engine uses machine learning and natural language processing AI techniques to answer the questions. Traditional engines return the links to the pages that appear most relevant. Additionally the results page may include a summary of the page. The user then needs to download the pages and read them to see if the answer to his question is in fact there.
Lexxe Search Engine - Home page. Welcome to Uclue. TEK: An Email-Based Web Browser. Topix: Your town. Your news. Your take. Daylife - Simply amazing cloud publishing. Newslookup.com - News Lookup Service. GlobalSpec - Engineering Search & Industrial Supplier Catalogs.
Yebol. Volunia. Spam free search. Practical Tools for Dynamic Search Suggestions. TechXtra: Engineering, Mathematics, and Computing. IncyWincy: The Invisible Web Search Engine. DeepPeep: discover the hidden web. Encyclopedia, Almanac, Atlas, Biographies, Dictionary, Thesaurus. Free online reference, research & homework help.
Discover over 70,000+ databases and specially search engines. Home. Vlib. Welcome to INFOMINE: Scholarly Internet Resource Collections. TurboScout. Hakia.com. Teoma Web Search. Gigablast. Yippy – Welcome to the Cloud. YubNub - YubNub.org. Www.servicedoc.info/730/support/support730commun0310.pdf. TinEye Reverse Image Search. Real-time search. Forum Search - Omgili. SearchTeam - real-time collaborative search engine.
People Search | Free People Search | Search For People At PeekYou.
---