Music
How-To Guide from Harmonic-Mixing.com
The Basics Harmonic mixing consists of two elements: knowing the key of every song that you play and knowing which keys are compatible. To get started, find the keys of your songs. You can detect keys with a piano, a good ear, and a background in music theory. To save time, you can use professional DJ software such as Mixed In Key. Mixed In Key scans your MP3 and WAV files, and shows you the key of every song.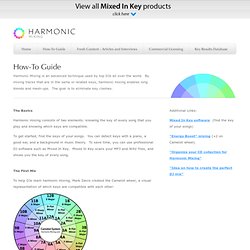 To be honest, I'm not sure what this sound is specifically… Some may call it bass, some may say it's more like a lead, but it's definitely something you can hear in many Electro House tracks. I got the inspiration for this while listening some sample cd's and after experimenting with FL Studio this is what I came up with: Is this something in a style of Mode Selektor, Daft Punk, etc? You tell me.
How To Create Electro... Lead? Bass? | How To Make Electronic Music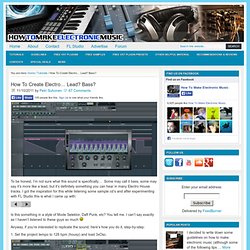 krftkds's sounds on SoundCloud - Create, record and share your sounds for free
The Compleat 12 Months of (Rare, Unreleased) OK Go The Compleat 12 Months of (Rare, Unreleased) … The 12 Months of (Rare, Unreleased) OK Go: 1. This Thing Has Started (2004 demo) 2. Make Up Your Mind (Tim demo with Andy Duncan) 3. I'm Not Through (all new unreleased song) 4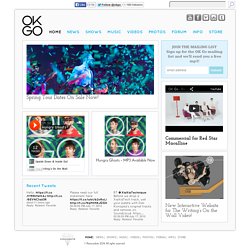 OK Go
Skrillex - The Mothership download zshare mediafire zippyshare rapidshare...
Dark. Smoke. Sex. Edge. | MonsterOfFolk | 8tracks
That Song by That DJ That Made Everyone Go CRAZY | Ptricky | 8tracks
banger by Thissongissick.com on SoundCloud - Create, record and share your...
Avicii Mixtape (Extended Version) by Kjuu5H on SoundCloud
Burnstudios Audiotool
Brickstep by Mart815 on SoundCloud - Create, record and share your sounds...
Kevin Rudolf feat. Lil Wayne- Let It Rock (WhiteNoise Remix) by WhiteNoise...
Drum Kit
Where did you find that remix? | PolarHood | 8tracks
Remove The Lyrics From MOST Songs
Still Alive by shakethedust on SoundCloud - Create, record and share your...
How does anger exist when there is music like this? | gamble | 8tracks
FilterMusic - Internet radio stations, electronic & house music, online...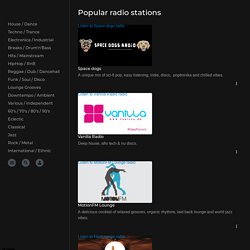 https://googledrive.com/host/0B99lcOwdwe5MUDRsdkgyWS1Kems/Bob.jpg https://googledrive.com/host/0B99lcOwdwe5MUDRsdkgyWS1Kems/chris-labrooy.jpg https://googledrive.com/host/0B99lcOwdwe5MUDRsdkgyWS1Kems/narenjestan-house-shiraz-iran.jpeg
Songs for the Dirty Dirty. | CookieCrispsss | 8tracks
Vupas Music Discovery
There's a lot of great music coming out this summer, and a few of the best albums will be from brand new artists. Here are five debuts you should be looking forward to. 1. Cults – CultsJune 7
12-june-2011-albums-worth-checking-out.html from pastemagazine.com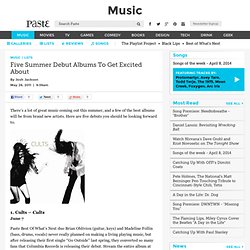 Mixes and Mashups #1s sounds on SoundCloud - Create, record and share your...
Bedroom music #1 | DwriteN | 8tracks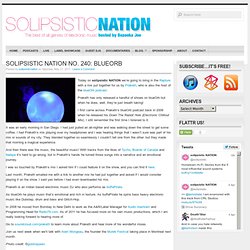 solipsistic NATION No. 240: blueOrb : solipsistic NATION
solipsistic NATION No. 240: blueOrb Posted by solipsisticnation on Saturday, May 21, 2011 · Leave a Comment Today on solipsistic NATION we're going to bring in the Rapture with a mix put together for us by Praketh, who is also the host of the blueOrb podcast. Praketh has only released a handful of shows on blueOrb but when he does, well, they're just breath taking!
Grooveshark - Listen to Free Music Online - Internet Radio - Free MP3 Streaming
INCREDIBOX [ Official website ]
The Tripatorium™ | Alice
Forkcast: Zomby: "Things Fall Apart" [ft. Panda Bear]
iWatchz Q Series watchband for iPod nano
▶ DROP TOP AND FIGURE - WE ARE WARRIORS (CALVERTRON REMIX) CLIP by calvertron
DJ Directory: Rank: 1 to 50 - The DJ List
Passion Pit - Sleepyhead (Abstrack Dubstep Remix) by Abstrack Dubstep on...
Summer House MIx | The Champagne Campaign
djtxt: Collaborative Party Playlists via SMS
Unhear it - get that damn song out of your head!
get that damn song out of your head Now playing: Things are all on Reddit New song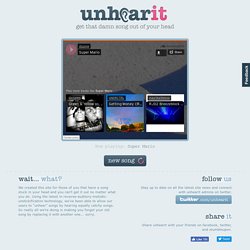 Music-Map - The tourist map of music
Mixes and Mashups #1s favorites on SoundCloud - Create, record and share...
Support for Internet Exporer 6 has been discontinued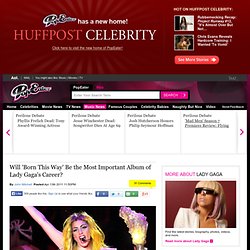 Will 'Born This Way' Be the Most Important Album of Lady Gaga's Career?
Lady Gaga is at once the biggest pop star in the world and not really a pop star at all -- at least not in the conventional sense. In myriad ways, she's unlike Britney Spears, who despite a recent string of hits and a well-received album seems about as removed from her own career as she can be while still being physically in the room with a mic strapped to her head. And she's a totally different animal than real-life friends Katy Perry and Rihanna, hit-makers who share an affinity for letting big-name producers and songwriters do their artistic heavy-lifting. Like her above-mentioned pop diva counterparts, Gaga works with top-notch producers to swaddle her songs in dance floor-ready beats, but her skills as a lyricist set her apart from the flock.
Ellie Goulding Lights (Bassnectar Remix) by Bassnectar with APEXvj
:: musikame dj player 1.0 beta :: the easiest way to dj your soundcloud...
Some of these websites have a community built around them, which gives fans the opportunity to interact directly with these new talents. Here is a list of 10 free sites to discover new music. TuneGlue TuneGlue is straightforward and easy to use. Put in the name of a musical artist you like in the search bar and before you know it, you'll have a whole web of musical artists that are in one way or another, similar to the band you started with.
Top 10 Free Ways To Discover New Music Online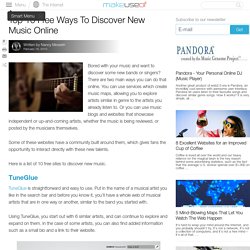 TV On The Radio - Nine Types of Light
The Bran Flakes - Audio - Music by The Bran Flakes
Tones: Generate a Composition
DJ - Create fun &easy DJ mix playlists with YouTube videos -...
1961 | clayachee | 8tracks
Qwerty Beats | Online Drum Machine | Keyboard Drum Loops | Remix | Samples |...
Indiebuzz Online Radio Player
Movies Harry Potter and the Deathly Hallows: Part 2 Snow Flower and the Secret Fan
When it drops | helping you keep track of the newest releases
Dirty Dubstep Remixes | billbo675 | 8tracks - StumbleUpon
Hey all! Long time no mix... Sorry :(This mix was given to me a while ago by the famous contributor Loaf. So her's is first on tonight's double feature!I am working on re-uploading the mixes to different services and I will be updating the links and also starting a page with all the links on one page :)
Dubstep Saved My Life
div h1 401 - unauthorized p you're not authorized to access that div h1 404 - page not found p we're having trouble finding what you want div h1 500 - internal error p something went horribly wrong. what did you do?! #search.welcome .hero-unit .span6 h2 Watch music videos on jukesy! p Get started above by searching Last.fm for an artist, album, or track. Or browse from lists of popular artists and tracks below. .span3 h2 Coming Soon ul li tag/genre radio li Last.fm scrobbling li favorites //p.alpha-warning.span9 // i.icon-warning-sign // | Jukesy is a beta release.
Jukesy - music player powered by youtube and last.fm
Whether you are annoyed by the ads on Pandora, the limited number of skips, or the abyss of cruel 30-second song teasers from Last.FM, many online listeners are growing weary of mainstream methods of hearing new music. While the Pandora algorithm is strong, and the Last.FM related artists tool is pretty useful, don't fool yourself in to thinking that there aren't other great ways to expose yourself to new music in the depths of cyberspace. Here are 7 alternatives to Pandora and Last.FM that will infuse your day with an uninterrupted stream of music that large record companies haven't managed to squash under their thumbs yet.
7 Alternatives to Pandora and Last.FM | Mystery Tricycle
Pogo |  MP3s
Get Darker presents... THIS IS DUBSTEP VOL.3
All sizes | Rock N Roll Metro Map v1.0 | Flickr - Photo Sharing!
frontpage?page=3
Pocket Hipster - The coolest music app ever, but youve probably never heard...
Listen to a Wall of rock Music
Isle of Tune