Articles/books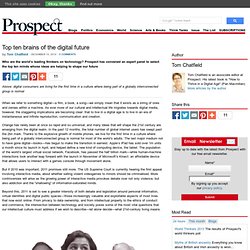 Who are the world's leading thinkers on technology? Prospect has convened an expert panel to select the top ten minds whose ideas are helping to shape our future Above: digital consumers are living for the first time in a culture where being part of a globally interconnected group is normal
Top ten brains of the digital future « Prospect Magazine
10 incredible social media infographics
Slideshare version of the fantastic
The Great Global Awakening has Arrived: Egypt, Revolution and the Drive to Control the Internet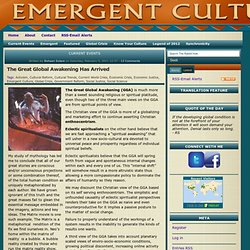 My study of mythology has led me to conclude that all of our great stories are conscious and/or unconscious projections or some combination thereof, of the total human condition as uniquely metaphoralized by each author. We have grown ignorant of this truth and the great masses fail to glean the essential message embedded in the imagery, actions and key ideas. The Matrix movie is one such example. The Matrix is a metaphorical rendition of the fix we find ourselves in.
by Maria Popova Last year, actor Rainn Wilson surprised us with his insightful and utterly un-Dwightlike thoughts on creativity. As it turns out, Wilson is scholar of human nature and the creative process. His newish book, SoulPancake: Chew on Life's Big Questions, explores the human condition from a rich and fascinating array of angles, spanning life and death, art and creativity, sex and relationships, the brain and the soul, science and technology, and just about everything in between. When I got so well-known for The Office, I just wanted to create something positive on the Internet. There's so much crap out there.
Rainn Wilson's SoulPancake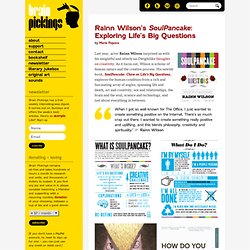 Museum of Possibilities - a set on Flickr
Internet Culture
SFA to screen 'Digital Nation' | www.thecherokeean.com | Cherokeean Herald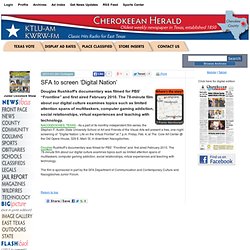 Where's the story? 2 Points Mentioned Douglas Rushkoff's documentary was filmed for PBS' "Frontline" and first aired February 2010. The 78-minute film about our digital culture examines topics such as limited attention spans of multitaskers, computer gaming addiction, social relationships, virtual experiences and teaching with technology. NACOGDOCHES, TEXAS - As a part of its monthly independent film series, the Stephen F.
World Map Of Social Networks Shows Facebook's Ever-Increasing Dominance
The WELL: State of the World 2011: Bruce Sterling and Jon Lebkowsky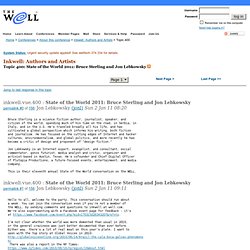 Bruce Sterling is a science fiction author, journalist, speaker, and citizen of the world, spending much of his time on the road, in Serbia, in Italy, and in the U.S. He's traveled broadly all his life, and has cultivated a global perspective which informs his writing, both fiction and journalism. He has focused on the cutting edges of Internet and hacker cultures, environmentalism, and global politics, and more recently he has become a critic of design and proponent of "design fiction." Jon Lebkowsky is an Internet expert, evangelist, and consultant, social commentator, gonzo futurist, media analyst and critic, organizer and activist based in Austin, Texas. He's cofounder and Chief Digital Officer of Plutopia Productions, a future-focused events, entertainment, and media company.
Mozilla Drumbeat: Open Web Meets Open Learning
What if the same energy, ideals, organizational effectiveness, global army of volunteers and code wizardry that created the Firefox web browser could be applied to learning and education? Don't forget that the Mozilla Foundation is all about maintaining the openness and generativity of the Web. Mark Surman, executive director of the Mozilla Foundation, told me recently "we need to do more than make a browser" for Mozilla to advance its larger goals. I asked him why Mozilla decided to turn its attention and formidable energies to education and learning.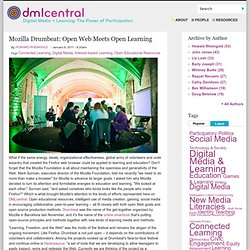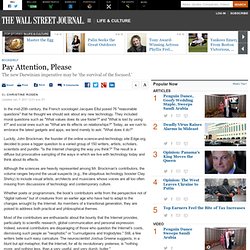 Book review: Is the Internet Changing the Way You Think?
Updated Jan. 7, 2011 12:01 a.m. ET In the mid-20th century, the French sociologist Jacques Ellul posed 76 "reasonable questions" that he thought we should ask about any new technology. They included moral questions such as "What values does its use foster?" and "What is lost by using it?"
"Within the discourse of the body, Tenner is Dr. Johnson, refuting Bishop Berkeley's solipsism by kicking a stone in the street. He is also an American original, a historian of technology with an unparalleled fund of knowledge about ordinary things--from baby bottles to Barcaloungers--and how they work (or do not work) in everyday life....Seldom has one encountered a more straightforward application of that much-misunderstood intellectual tradition known as American pragmatism. Tenner's method restores pragmatism's original meaning as an ethos rather than a doctrine, less a philosophy than a means of doing without one--a skepticism toward a priori assumptions, an openness to experiment, a willingness to evaluate ideas with respect to their consequences in everyday life. By reconstructing the pragmatic methods of inventors and designers, Tenner captures the dialectical interplay between body technology and body technique." -- Jackson Lears, The New Republic
Home - Edward Tenner
All Things Connected | Digital Culture
There are two big shifts happening in culture as we transition to digital – the move from individualism to being viewed as an individual, marketable data point, and the move to becoming a collaborative society. Beyond Tocqueville's Telescope: The Personalized Brand and the Branded Self, in the Fall 2011 issue of Hedgehog Review (article not available online) got me to thinking about another dynamic occurring as people establish their online identities. Marketing has effectively taken over the data behind the scenes in Social Media with every permission and access given.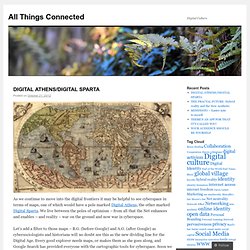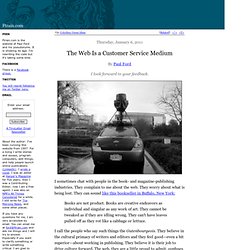 The Web Is a Customer Service Medium (Ftrain.com)
Thursday, January 6, 2011 By Paul Ford I look forward to your feedback. I sometimes chat with people in the book- and magazine-publishing industries. They complain to me about the web. They worry about what is being lost.
Mind Mapping Software
After working on some influencer identification product reviews and stories recently, I decided it might be useful to compile a list of influencer discovery tools for your use. If I'm missing any software platforms or services in this list, please drop a comment or send me an email and I will update as needed. Consider this an ever-growing resource and bookmark it or share with your networks.
List of Influencer Identification Tools
hrheingold: How I use Twitter, search, Diigo Delicious, DEVONthink, Scrivener to find, refine, organize information -->knowledge
Our Most Read Posts in 2010
HAPPY NEW YEAR! by 1suisse on Flickr (Creative Commons Attribution-NoDerivs 2.0 Generic) On Global Voices we work with a large volunteer community to publish stories about what is happening in blogs and citizen media around the world. Below, are some of the stories that have attracted the most attention in 2010 from our readers in English (our Lingua websites in different languages may have other results). Often the stories that are most popular are the ones that relate to a story that is making major headlines around the world, like the earthquake in Haiti, or the World Cup in South Africa. Other times, it's something the media isn't talking much about.
"The Anti-Social Network": Jon Stewart wonders why Facebook has one privacy policy for us and another for themselves! - UniqueVisitor
"Welcome to the workin' week. I know it don't thrill you, I hope it don't kill you." – Elvis Costello One of the great luxuries of the 21st century is vacation without e-mail. If I had to choose between a pampered resort with constant internet access or a dowdy motel without any cellphone service, I'd go for the motel every time. There is something truly decadent about turning off e-mail, quitting Twitter, signing off Facebook and going to the beach. The first few hours are a bit bumpy — I hallucinate the ping, ping, ping of my inbox — but I eventually get over the anxiety of my digital disconnectedness.
The Importance of Vacation | Wired Science 
Evan Williams: The Challenges of a Web of Infinite Info: Tech News «
COMIC CON 2008: Wil Wheaton talks internet culture
Twitter Directory and Search, Find Twitter Followers
Exploring and Defining Influence: A New Study
20 free, awesome social media monitoring tools
Le Web 2010 Wrap Up from Social Media Clubhouse 5 | From The Clubhouse
Collaborative Culture: Insights from Peter Senge on the Foundations of Organizational Learning « Driving innovation in a digital world
Human Rights in the Information Society: Utopias, Dystopias and Human Values by Giovanni Sartor
Google's Nifty Guide To Web Technology; It's iBooks-Like But Built With HTML5
Changing Times: Learning in a socially connected world
Digital Ethnography
10 Ways Social Media Will Change in 2011
Crap Detection 101: How to Distinguish Good and Bad Information Online - O'Reilly Media
The Mine! Project
World Values Survey
10 Best Data Visualization Projects of the Year – 2010
planetwork.net
Wake Up, Geek Culture. Time to Die | Magazine
SeeYourImpact.org
290+ Social Media Resources From 2010
You've Got to Have (150) Friends
Reflections on the year — Thoughts for the next
A vision of students today
The Augmented Social Network
Jon Udell
Our World Digitized: The Good, the Bad, the Ugly | MIT World
Social Networking: The Future
Crap Detection 101 : Howard Rheingold : City Brights
Crap Detection 101
OU makes e-Books available on iTunes - 10/29/2010 - Computer Weekly
Uncovered Gem: Marshall McLuhan on The Global Village
The Web 2.0 Summit Points of Control Map
Walking on Eggshells: Borrowing Culture in the Remix Age
Loose ties vs. strong: Pinyadda's platform finds that shared interests trump friendships in "social news"
Facebook's Social Inbox Wants to Take Over Your Email: Tech News «
How should we use data to improve our lives? - By Michael Agger
Can Twitter Make You Smarter?
The Case For Social Media in Schools
Top Trends of 2010: Social Shopping
The ethics of content theft in a digital world
Use of Social Network Sites and Instant Messaging ... [Cyberpsychol Behav Soc Netw. 2010] - PubMed result
The Digital Disruption: Connectivity and the Diffusion of Power
Everyone Forever Now: Subcultural Storytelling
The Chaos of Constant Connection?
?Year of the Rabbit? [video]
DIGITAL ACTIVISM – MY PEBBLE IN THE POND
Don't You Let Nobody Turn You Around by Steve Miller Band
The digital-culture Daily
The ted newcomb Daily
A Distracting Article About Digital Distraction
Visualizing Enlightenment-Era Social Networks
Welcome to digitalculturebooks | digitalculturebooks
Web 2.0 productivity tools
Long Live the Web: A Call for Continued Open Standards and Neutrality
What is Digital Culture?
INSC 598 Digital Culture
Cities Without Borders: Digital Culture and Decentralization
The Daily (daily) on Twitter
Don Tapscott: New York Times Cover Story on "Growing Up Digital" Misses the Mark
« Get ready. Social scoring will change your life. »» Social Media best practices, Social scoring, careers, personal branding »» Schaefer Marketing Solutions: We Help Businesses {grow}
The Trouble w/ Silos: Lessons from Charles Handy « Driving innovation in a digital world
Amber Case: We are all cyborgs now
Lewis Hyde, author of Common as Air: Revolution, Art, and Ownership
Everything's Connected - Why All Marketing Will Become Social
The Art of Immersion
Brain Pickings | Remix
Report warns of 'digital Dark Age' if digitisation is left to private sector | Books
Marshall McLuhan in Conversation with Mike McManus - Friday May 7 2010 2010 at 10:30 pm ET
Free Children's Books Online from A Story Before Bed - A Story Before Bed
Open Culture
Distracted pedestrians - chicagotribune.com
Bibliography | conference.archimuse.com
Q: What Does Quora Mean For The Future Of Blogging? A: Business As Usual
Evan Williams: The Challenges of a Web of Infinite Info: Tech News and Analysis «
Clive Thompson on Secret Messages in the Digital Age | Magazine
The Rise of Digital Multitasking [STATS]
An Audience with an Audience of Audiences « Brian Solis Brian Solis
Digital Lifestyle Archives
Geek Culture Will Never Die...or Be Popular
New Books in Digital Culture —
Internet Archive Wayback Machine
Facebook, Twitter and Groupon: The Next Economy or the Next Tech Bubble? - Derek Thompson - Business
The Evolution of the Geek
Preparing for Your Digital Death | Ideafeed | January 20, 2011