Articles/books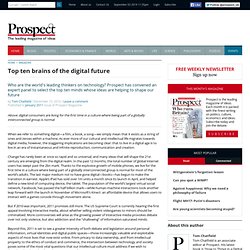 Who are the world's leading thinkers on technology? Prospect has convened an expert panel to select the top ten minds whose ideas are helping to shape our future Above: digital consumers are living for the first time in a culture where being part of a globally interconnected group is normal
Top ten brains of the digital future « Prospect Magazine
10 incredible social media infographics
Slideshare version of the fantastic
The Great Global Awakening has Arrived: Egypt, Revolution and the Drive to Control the Internet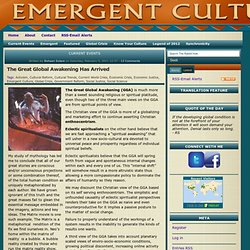 My study of mythology has led me to conclude that all of our great stories are conscious and/or unconscious projections or some combination thereof, of the total human condition as uniquely metaphoralized by each author.
by Maria Popova Last year, actor Rainn Wilson surprised us with his insightful and utterly un-Dwightlike thoughts on creativity.
Rainn Wilson's SoulPancake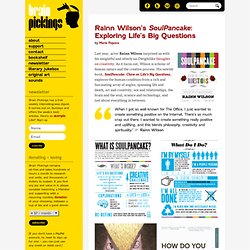 Museum of Possibilities - a set on Flickr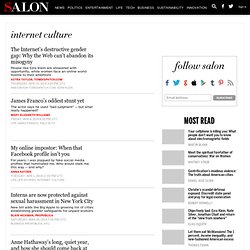 Internet Culture
How baby boomers screwed their kids — and created millennial impatience
SFA to screen 'Digital Nation' | www.thecherokeean.com | Cherokeean Herald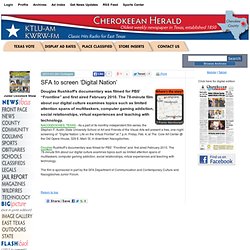 Douglas Rushkoff's documentary was filmed for PBS' "Frontline" and first aired February 2010.
World Map Of Social Networks Shows Facebook's Ever-Increasing Dominance
The WELL: State of the World 2011: Bruce Sterling and Jon Lebkowsky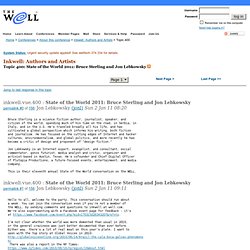 Bruce Sterling is a science fiction author, journalist, speaker, and citizen of the world, spending much of his time on the road, in Serbia, in Italy, and in the U.S.
Mozilla Drumbeat: Open Web Meets Open Learning
What if the same energy, ideals, organizational effectiveness, global army of volunteers and code wizardry that created the Firefox web browser could be applied to learning and education?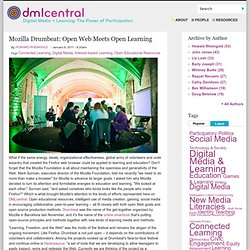 Book review: Is the Internet Changing the Way You Think?
Home - Edward Tenner
So you still think the internet is free...
All Things Connected | Digital Culture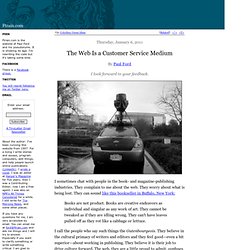 The Web Is a Customer Service Medium (Ftrain.com)
Thursday, January 6, 2011 By Paul Ford
Mind Mapping Software
After working on some influencer identification product reviews and stories recently, I decided it might be useful to compile a list of influencer discovery tools for your use. If I'm missing any software platforms or services in this list, please drop a comment or send me an email and I will update as needed. Consider this an ever-growing resource and bookmark it or share with your networks.
List of Influencer Identification Tools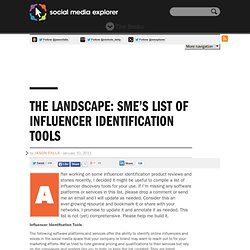 hrheingold: How I use Twitter, search, Diigo Delicious, DEVONthink, Scrivener to find, refine, organize information -->knowledge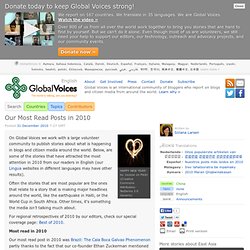 Our Most Read Posts in 2010
HAPPY NEW YEAR! by 1suisse on Flickr (Creative Commons Attribution-NoDerivs 2.0 Generic)
"The Anti-Social Network": Jon Stewart wonders why Facebook has one privacy policy for us and another for themselves! - UniqueVisitor
"Welcome to the workin' week. I know it don't thrill you, I hope it don't kill you." – Elvis Costello One of the great luxuries of the 21st century is vacation without e-mail.
The Importance of Vacation | Wired Science 
Evan Williams: The Challenges of a Web of Infinite Info: Tech News «
Evan Williams and I have known each other for a long time.
COMIC CON 2008: Wil Wheaton talks internet culture
Twitter Directory and Search, Find Twitter Followers
Exploring and Defining Influence: A New Study
inShare99 Influence is bliss… The socialization of media is as transformative as it is empowering. As individuals, we're tweeting, updating, blogging, commenting, curating, liking and friending our way toward varying levels of stature within our social graphs. With every response and action that results from our engagement, we are slowly introduced to the laws of social physics: for every action there is a reaction – even if that reaction is silence. And, the extent of this resulting activity is measured by levels of influence and other factors such as the size and shape of nicheworks as well as attention aperture and time.
Tweet Take the pulse of the social Web by hitting these rich targets Target audience: Nonprofits, cause organizations, brands, businesses, NGOs, educators, independent publishers, individuals.
20 free, awesome social media monitoring tools
Le Web 2010 Wrap Up from Social Media Clubhouse 5 | From The Clubhouse
Collaborative Culture: Insights from Peter Senge on the Foundations of Organizational Learning « Driving innovation in a digital world
The changing flavour of the internet: the next billion come online
Human Rights in the Information Society: Utopias, Dystopias and Human Values by Giovanni Sartor
Google's Nifty Guide To Web Technology; It's iBooks-Like But Built With HTML5
Changing Times: Learning in a socially connected world
Digital Ethnography
10 Ways Social Media Will Change in 2011
Crap Detection 101: How to Distinguish Good and Bad Information Online - O'Reilly Media
The Mine! Project
World Values Survey
10 Best Data Visualization Projects of the Year – 2010
planetwork.net
Wake Up, Geek Culture. Time to Die | Magazine
SeeYourImpact.org
290+ Social Media Resources From 2010
You've Got to Have (150) Friends
Reflections on the year — Thoughts for the next
A vision of students today
The Augmented Social Network
Jon Udell
Our World Digitized: The Good, the Bad, the Ugly | MIT World
Social Networking: The Future
Crap Detection 101 : Howard Rheingold : City Brights
Crap Detection 101
OU makes e-Books available on iTunes - 10/29/2010 - Computer Weekly
Uncovered Gem: Marshall McLuhan on The Global Village
The Web 2.0 Summit Points of Control Map
Walking on Eggshells: Borrowing Culture in the Remix Age
Loose ties vs. strong: Pinyadda's platform finds that shared interests trump friendships in "social news"
Facebook's Social Inbox Wants to Take Over Your Email: Tech News «
How should we use data to improve our lives? - By Michael Agger
Can Twitter Make You Smarter?
The Case For Social Media in Schools
Top Trends of 2010: Social Shopping
The ethics of content theft in a digital world
Use of Social Network Sites and Instant Messaging ... [Cyberpsychol Behav Soc Netw. 2010] - PubMed result
The Digital Disruption: Connectivity and the Diffusion of Power
Everyone Forever Now: Subcultural Storytelling
The Chaos of Constant Connection?
?Year of the Rabbit? [video]
DIGITAL ACTIVISM – MY PEBBLE IN THE POND
Don't You Let Nobody Turn You Around by Steve Miller Band
The digital-culture Daily
The ted newcomb Daily
A Distracting Article About Digital Distraction
Visualizing Enlightenment-Era Social Networks
Welcome to digitalculturebooks | digitalculturebooks
Web 2.0 productivity tools
Long Live the Web: A Call for Continued Open Standards and Neutrality
I think so. That is why I love this project and its potential. by nukem777 Dec 5
What is Digital Culture?
INSC 598 Digital Culture
Cities Without Borders: Digital Culture and Decentralization
The Daily (daily) on Twitter
Don Tapscott: New York Times Cover Story on "Growing Up Digital" Misses the Mark
« Get ready. Social scoring will change your life. »» Social Media best practices, Social scoring, careers, personal branding »» Schaefer Marketing Solutions: We Help Businesses {grow}
The Trouble w/ Silos: Lessons from Charles Handy « Driving innovation in a digital world
Amber Case: We are all cyborgs now
Lewis Hyde, author of Common as Air: Revolution, Art, and Ownership
Everything's Connected - Why All Marketing Will Become Social
The Art of Immersion
Brain Pickings | Remix
Report warns of 'digital Dark Age' if digitisation is left to private sector | Books
Marshall McLuhan in Conversation with Mike McManus - Friday May 7 2010 2010 at 10:30 pm ET
Free Children's Books Online from A Story Before Bed - A Story Before Bed
Open Culture
Distracted pedestrians - chicagotribune.com
Bibliography | conference.archimuse.com
Q: What Does Quora Mean For The Future Of Blogging? A: Business As Usual
Evan Williams: The Challenges of a Web of Infinite Info: Tech News and Analysis «
Clive Thompson on Secret Messages in the Digital Age | Magazine
The Rise of Digital Multitasking [STATS]
An Audience with an Audience of Audiences « Brian Solis Brian Solis
Digital Lifestyle Archives
Geek Culture Will Never Die...or Be Popular
New Books in Digital Culture —
Internet Archive Wayback Machine
Facebook, Twitter and Groupon: The Next Economy or the Next Tech Bubble? - Derek Thompson - Business
The Evolution of the Geek
Preparing for Your Digital Death | Ideafeed | January 20, 2011