Attractions/Places To See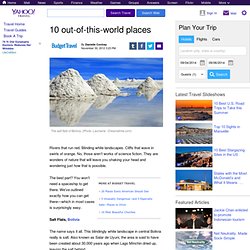 The salt flats of Bolivia.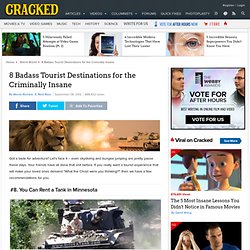 8 Badass Tourist Destinations for the Criminally Insane
Got a taste for adventure? Let's face it -- even skydiving and bungee jumping are pretty passe these days. Your friends have all done that shit before. If you really want a tourist experience that will make your loved ones demand "What the Christ were you thinking!?" then we have a few recommendations for you.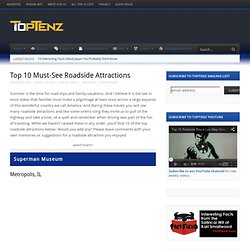 Top 10 Must-See Roadside Attractions
You are here: Home / Misc / Photos / Top 10 Must-See Roadside Attractions Summer is the time for road trips and family vacations. And I believe it is the law in most states that families must make a pilgrimage at least once across a large expanse of this wonderful country we call America.
North Korea (Photo: Wikipedia Commons) There are certain countries in this world that inspire thoughts of trepidation rather than tourist excitement. But don't cross them off your travel bucket list just yet, especially if you are an experienced traveler.
10 taboo tourist destinations (and how to visit them)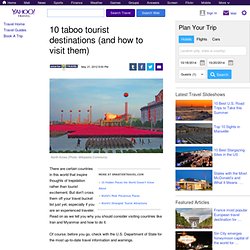 Wall Drug, South Dakota (www.walldrug.com) America's top roadside attractions are highway accidents of a good kind. They're small, conventional businesses that grew, thanks to desperation-driven innovation and a little luck, into legendary, multi-generational family concerns that draw mind-boggling traffic and profits that their founders little imagined. More surprising still is that these products of the automobile's golden age continue to thrive in a time of air travel and triple-digit gas prices.
Outrageous American Roadside Attractions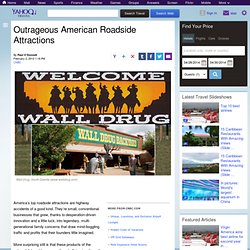 Awesomeness around the world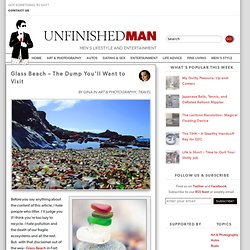 Before you say anything about the content of this article, I hate people who litter. I'll judge you if I think you're too lazy to recycle. I hate pollution and the death of our fragile ecosystems and all the rest.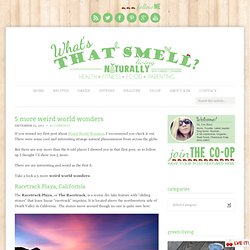 If you missed my first post about Weird World Wonders , I recommend you check it out. There were some cool and interesting strange natural phenomenon from across the globe. But there are way more than the 6 odd places I showed you in that first post, so to follow up I thought I'd show you 5 more.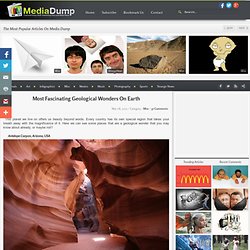 This planet we live on offers us beauty beyond words. Every country has its own special region that takes your breath away with the magnificence of it. Here we can see some places that are a geological wonder that you may know about already, or maybe not? Antelope Canyon, Arizona, USA Antelope Canyon is one of the world's most beautiful canyons. Called Tse bighanilini in Navaho, which means "the place where water runs through rocks", it is found in the state of Arizona.
Nov 1, 2012 12:18:55 PM Robert Reid Lonely Planet Author Who cares if London's hotels and restaurants tend to be on the expensive side?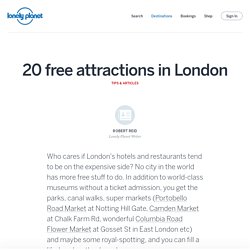 Tenth place – Protaras (Cyprus) – Resort for romantics. It is synonymous with fine golden sand and rocky coves of Mediterranean Sea, which in these parts of saturated turquoise. The most famous beach resort – Fig Tree Bay. Cape Greco is not to impress divers for its sea caves and picturesque villages with binding windmills will please romantics.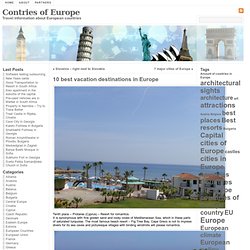 Although designed and built for the prominent purpose of defense, today the castles seem like somewhat unrealistic constructions straight from the fairytale world. From solid strongholds to oriental fortresses and highly decorative palaces, the castles are our connection to the past, where legends mix with history and reality blends with a fairyland. This fairytale castle is the historical seat of the Prussian Kings and German Emperors. Its origin dates back to the Middle Ages - it was built in the 11th century, then completely destroyed in 1423 and reconstructed in 1461.
If you like this story feel free to share... Grand Canyon: One of the beautiful places of the world, Grand Canyon is the steep-sided gorge carved by the Colorado River in Arizona State of United States. The powerful sources that cause an impact on the Grand Canyon is erosion, first is by water and second is by wind. Nearly 5 million people visit the 1 mile deep Grand Canyon every year.
Greensburg, KS Courtesy of Michael Mohr Once in a while, you discover a town that has everything—great coffee, food with character, shop owners with purpose.
10 Coolest Small Towns in America 2011
☞ THE MOST UNUSUAL RESTAURANTS IN THE WORLD - Unique Restaurants Directory, Exotic, Strange, Weird, Wacky, Odd, Eccentric, Quirky Food, Service
不寻常的餐厅, ungewöhnlich, ασυνήθιστη εστιατόρια, חריג מסעדות, olağandışı restoranlar, 異常なレストラン, необычные рестораны, عادي المطاعم, 레스토랑 All selected establishments are listed free of charge. Restaurant listings and links are provided for reference only, and do not imply any endorsements or affiliations with these restaurants, web sites, reviews.
Whether it's sipping lattes in a treehouse or devouring seafood at the bottom of the ocean, dining at these bizarre restaurants deserves a spot on your "Things to do before I die" list. If you've got a penchant for eating in eye-popping circumstances, keep an eye out for these restos on your travels… 1. Ithaa Restaurant, Indian Ocean No, it's not a typo, the Ithaa (translation: pearl) is totally underwater and can comfortably seat 14 diners in a transparent acrylic bubble that allows you to have a 270° panoramic view of the ocean life all around you.