Knowledge
Kottke.org - home of fine hypertext products. Kottke.org - home of fine hypertext products. PSFK - the go-to source for new ideas and inspiration. Brain Pickings. Edge : Conversations on the edge of human knowledge. WebWise - Computer Basics - Computer basics.
Think.com, Oracle Education Foundation, Projects | Competition | Library. The American Scholar, the magazine of the Phi Beta Kappa Society. Award entries. The problem is that most of the people take a lot of time taking a shower, like five minutes-fifth teen minutes.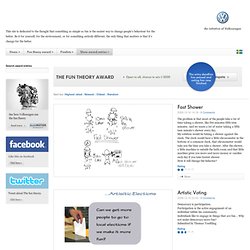 And we waste a lot of water taking a fifth teen minute's shower every day. My solution would be taking a shower against the clock. The clock would have a little chronometer in the bottom of a common clock, that chronometer would take you the time you take a shower. After the shower, a little machine is outside the bath room and that little machine gives you more and more money or candies each day if you take fastest shower. Khan Academy. Big Think | Blogs, Articles and Videos from the World's Top Thinkers and Leaders. Educate-Yourself.org:The Freedom of Knowledge; The Power of Thought. StumbleUpon.com: Discover the Best of the Web. TED: Ideas worth spreading. Information is Beautiful.
---