After Effect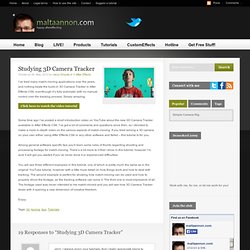 Posted on 28. May, 2012 by Jerzy Drozda Jr in After Effects I've tried many match-moving applications over the years, and nothing beats the build-in 3D Camera Tracker in After Effects CS6, eventhough it's fully automatic with no manual control over the tracking process. Simply amazing. Click here to watch the video tutorial
Studying 3D Camera Tracker | maltaannon.com
After Effects Moving Photo Tutorial | VFX Bro
PART I. Making Bones for Puppets in After Effects on Vimeo
The After Effects Man of Flame
VIDEO COPILOT | After Effects Tutorials, Plug-ins and Stock Footage for Post Production Professionals
Tutorial after effects : decapitation resident evil on Vimeo
Create a Cloudy Moonlit Night - After Effects Tutorial
Particle Playground: Fire | maltaannon.com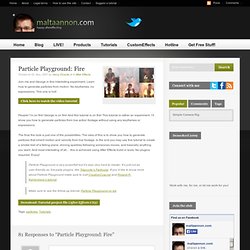 Posted on 02. Nov, 2007 by Jerzy Drozda Jr in After Effects
Calage sur la musique dans After Effects CS4 | Formations vidéo pour réalisateurs vidéo
Tutorial - Apprendre à se servir de Colorista II sous AE
Continuum Complete for Adobe Training Videos
TutorialClarity
Welcome to YouTube! The location filter shows you popular videos from the selected country or region on lists like Most Viewed and in search results.To change your location filter, please use the links in the footer at the bottom of the page. Click "OK" to accept this setting, or click "Cancel" to set your location filter to "Worldwide". The location filter shows you popular videos from the selected country or region on lists like Most Viewed and in search results. To change your country filter, please use the links in the footer at the bottom of the page. 2:50 After Effects Template - Real Shots (For 15K FB fans) 574 views 1 week ago
The Best FREE After Effects Projects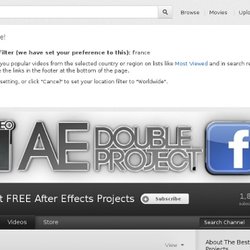 IOnlyShowYou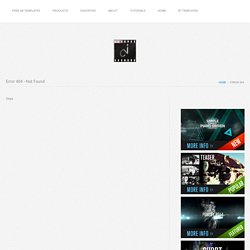 Free AE Templates | Cool Video Intro
Space Logo Reveal – FREE - AE CS5 + - no Plugins required (prerendered particles and Optical Flares) - 1080p - 5 colour presets (mint, blue, red, yellow, green) - Easy to customize (preferred ... Particular Sphere – Free Intro Hey guys just wanted to give you another free intro. - AE CS5+ - 1080p @ 25fps - Pre-rendered Particles (no plugins needed) - Help video here (same procedure ... BadTV – Intro Concept
IP_Hibou @Vacation
Tuto After Effect - Récupérer Plugins CS5/CS5.5 pour After Effects CS6 | Par SoftAE
Comments January 17th, 2012 at 1:02 pmDennis Pombo says: I must be doing something wrong... I followed every single step in this tutorial, but I keeps screwing up when I press the Create Scene...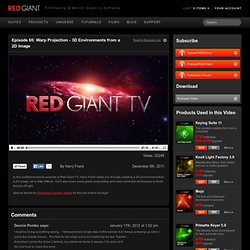 RGTV - Episodes
Fragmenting Hollow Mesh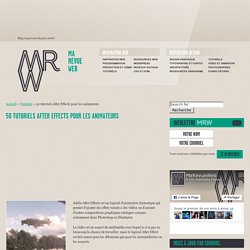 Adobe After Effects est un logiciel d'animation fantastique qui permet d'ajouter des effets visuels à des vidéos ou d'animer d'autres compositions graphiques statiques conçues notamment dans Photoshop ou Illustrator. La vidéo est un aspect du multimédia avec lequel je n'ai pas eu beaucoup la chance de travailler, mais le logiciel After Effect est fait autant pour les débutants que pour les intermédiaires ou les avancés. Voici donc, pour la première fois sur MaRevueWeb, un article regroupant plus de 50 tutoriels After Effects afin de créer divers types d'animations.
MAFtuto
Seth Worley
Dan Ebberts's resource for AE scripting and expressions
Peder Norrby on Vimeo
Introducing Boris Continuum Complete 7 AE: Video 1 of 4
Tutorials | I Click Stuff
effectsportal | film making for all
Episode 25: Creating a Crowd Scene with Particular 2 on Vimeo
DuIK Tools - Inverse Kinematics for After Effects! on Vimeo
Duik Spring Tutorial on Vimeo
Cycore Effects - Plug-ins - After Effects
(10) DropDrop.com
Explore - RED GIANT PEOPLE