Useful
Get flash to fully experience Pearltrees
post written by: Marc
Do As One invites you to use color therapy coupled with breathing to stimulate the entire spectrum of energy within your body temple.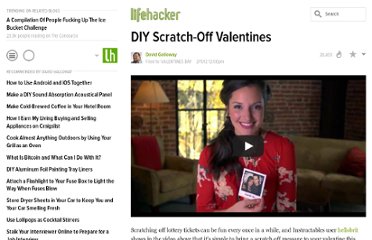 Scratching off lottery tickets can be fun every once in a while, and Instructables user hellobrit shows in the video above that it's simple to bring a scratch off message to your valentine this year. Making scratch-off paint is easy; just mix 2 parts acrylic paint to 1 part dish soap.
So you've decided you want to drop off the map and leave Big Brother behind.
Learning to pick locks is a fun exercise in learning about locking mechanisms, honing a useful skill, and getting a better understanding of how locks work and protect—or fail to protect—you and your stuff. Photo by Lanchongzi . If you've never picked a lock before, you're missing out.
Need to hack someone's Facebook password?
This is a repository of the most up-to-date versions of Deviant's lock diagrams and animations.
Almost everyone reading the articles on this site will have spare computers languishing about. The rapid growth and improvements in hardware means that we cycle through a whole machine in only a few years. If you have spare machines and parts languishing about, you can put them to good use!
There is something special about the tricks and tips people come up with to turn old or useless objects into something fresh and useful.
Here at List25 we love our readers and are very adamant about their safety. Nothing would break our hearts more than having to find out that one of you drowned in an ice hole or got ripped to shreds by a pack of wild, rabid dogs. So, we came up with a solution: train you in the art of disaster survival.