Poetry
Vertigo by Anne Stevenson : The Poetry Foundation
To sleep less and dream more --- Gabriel Garcia Marquez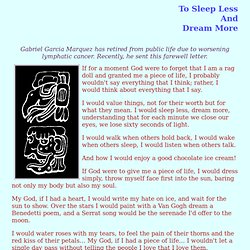 If for a moment God were to forget that I am a rag doll and granted me a piece of life, I probably wouldn't say everything that I think; rather, I would think about everything that I say. I would value things, not for their worth but for what they mean. I would sleep less, dream more, understanding that for each minute we close our eyes, we lose sixty seconds of light.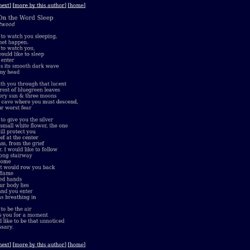 [previous] [next] [more by this author] [home] Variation On the Word Sleep Margaret Atwood
For Carl Solomon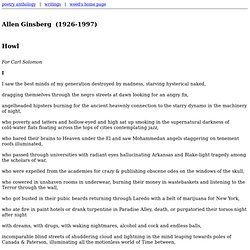 Allen Ginsberg - Howl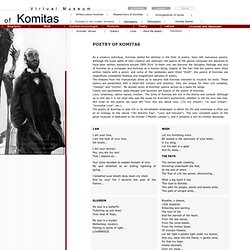 As a creative individual, Komitas tested his abilities in the field of poetry, have left marvelous poems. Although the exact dates of their creation are unknown, the poems of the genius composer are assumed to have been written sometime around 1905-1914.
SHAKE THE DUST.
Author Pablo Neruda Quote So I Wait For You Like A Lonely House
The Dream I dreamed that you had ceased to love me— not that you had come from other beds back to mine, or gone from mine to others, just that something in your heart had stopped. I willed myself awake to find you still beside me.
I don't love you as if you were a rose of salt, topaz, or arrow of carnations that propagate fire: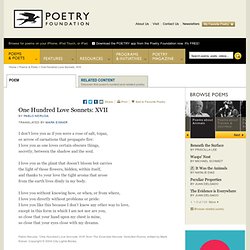 One Hundred Love Sonnets: XVII by Pablo Neruda : The Poetry Foundation [poem]
" First, Lord: No tattoos. May neither Chinese symbol for truth nor Winnie-the-Pooh holding the FSU logo stain her tender haunches.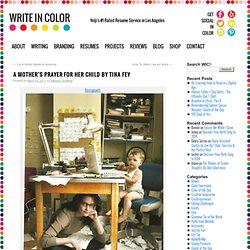 hope03_display