National Poetry Month
Poetry Online at Wired for Books
Martin Sheen reads Nobel laureate Rabindranath Tagore's famous poem, My Country Awake, at a rally for Appalachia in Nelsonville, Ohio.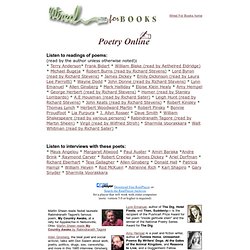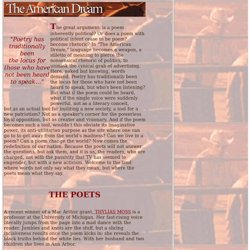 A recent winner of a Mac Arthur grant, THYLIAS MOSS is a professor at the University of Michigan. Her fast-rising voice literally jumps from the page into a mad dance with the reader. Jumbles and knots are the stuff, but a slicing incisiveness results once the poem kicks in: she reveals the black truths behind the white lies.
United States of Poetry: The American Dream
United States of Poetry: Portraits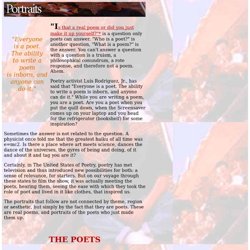 JULI YANCY is twenty-two and lives in Omaha.
Welcome to the United States of Poetry
April is National Poetry Month...and better late than never.
Ten National Poetry Month Activities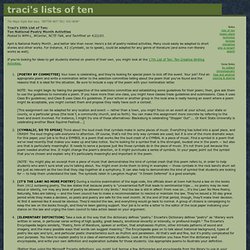 Fooling with Words with Bill Moyers: The Poets Read
Fooling with Words with Bill Moyers
poems that GO
Arts - Poetry
The Atlantic Online | An Audible Anthology
Couple at the Club (2001) Look Here (1994)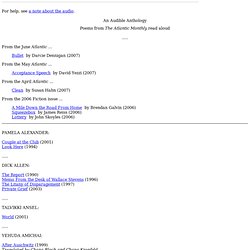 Voices & Visions Spotlight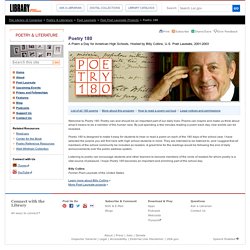 Welcome to Poetry 180. Poetry can and should be an important part of our daily lives. Poems can inspire and make us think about what it means to be a member of the human race. By just spending a few minutes reading a poem each day, new worlds can be revealed.
How to Read a Poem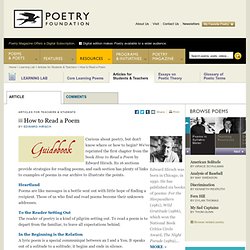 Curious about poetry, but don't know where or how to begin? We've reprinted the first chapter from the book How to Read a Poem by Edward Hirsch.
National Poetry Month: Poem-a-Day