Art
Dream Big by Peter Fecteau. Leaf Cut Art by Lorenzo Durán. Skateboard Sculptures. Featured Illustrator: The Super Talented Irina Vinnik | Design Shard. Street Art by French artist Oakoak A Collection. + New .COMs $7.99/yr plus 18 cents/yr ICANN fee.
Discount based on new one-year registration prices as of 1/27/2012 with sale price reflected in your shopping cart at checkout. Discount applies to new registrations and renewals and cannot be used in conjunction with any other offer or promotion. Domains purchased through this offer will renew at regular price after the initial term has expired. Goodbrush.com. Paper Cuts. Izziyana Suhaimi We've been seeing a lot of embroidered art as of late but I must say that so far, I've been most impressed by Singaporean artist Izziyana Suhaimi's work.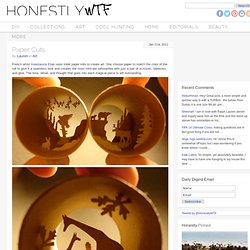 I can't get over how skillfully she is able […] A Due Colore I still can't get over how Alberto Seveso can make something as simple as ink in water look so captivating. Www.khangle.net. 1601817.jpg (800×558) Illustrations. Celebrity Fairy Tales by Annie Leibovitz - AmO Images: Capturing the Beauty of Life - AmO Images: Capturing the Beauty of Life. The Year of a Million Dreams, a promotional campaign for Disney photographed by Annie Leibovitz in which celebrities step into fantasy world as Disney characters.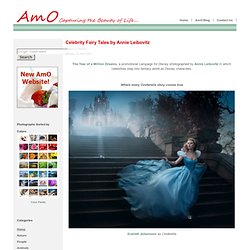 Where every Cinderella story comes true Scarlett Johansson as Cinderella Where you're the fairest of them all Rachel Weisz as Snow White Where a whole new world awaits. Young Woman Drawing | Marie-Denise Villers | Collection Database | Works of Art | The Metropolitan Museum of Art, New York. Maurice Tourneux.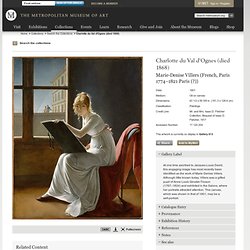 "L'exposition des portraits de femmes et d'enfants. " Gazette des beaux-arts, 3rd ser., 17 (June 1897), pp. 457–58, notes that according to Hardouin de Grosville, his grandmother, the sitter, was a pupil of David, who painted the portrait in 1803; believes the two figures on the terrace are also portraits. Art Department Photography 2011 - Thumbnail View. The Shrike - On the Cutting Edge Exhibition. Sagaki Keita. (click images for detail) Artist Sagaki Keita was born in 1984 and lives and works in Tokyo.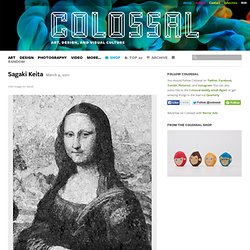 His densely composited pen and ink illustrations contain thousands of whimsical characters that are drawn almost completely improvised. I am dumbstruck looking at these and love the wacky juxtaposition of fine art and notebook doodles. See more of his work here, and be sure to click the images above for more detail. Explore Modern Art | SFMOMA ArtScope. Bryan Berg : Cardstacker : Projects : Venetian Macau. VENETIAN MACAO GUINNESS WORLD RECORD Macau, S.A.R., China, March 2010 - 44 Day Guinness World Record Project During Chinese New Year of 2010, Berg was commissioned to break his own record at The Venetian Macao Resort Hotel, the largest casino in the world.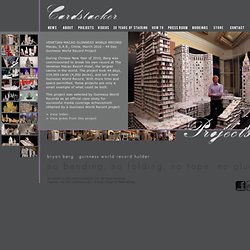 The project took 44 days, 219,000 cards (4,000 decks), and set a new Guinness World Record. With more time and space permitted, these projects are only a small example of what could be built. This project was selected by Guinness World Records as an official case study for successful media coverage achievement obtained by a Guinness World Record project.
21 Amazing Examples Of Shadow Art. Anamorphic Drawings: Hidden Images Revealed. Fresh Visual Daily Anamorphic Drawings: Hidden Images Revealed Thursday 03.10.2011 , Posted by Paul Caridad Share: Tweet468.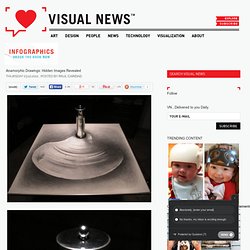 Motion Graphics – Thought of You – Motion Graphics Inspiration. Advertising Experimental Motion Showreels Music Videos Short Movies Trailers & Titles After Effects Mocha Cinema 4D Thought of You More information….. 268 Comments.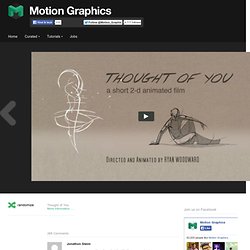 1271883177666_f.jpg (270×500) AA_000_updt_by_scarabuss.jpg (622×800) 424121842_202362_alphonse-mucha.jpg (640×345) A Gallery of Movies as Neon Signs | The internet will apparently never run out of cool movie-themed art projects, and until it does, I'll still have a job.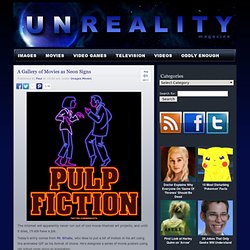 Today's entry comes from Mr. Whaite, who likes to put a bit of motion in his art using the animated GIF as his format of choice. He's designed a series of movie posters using old school neon signs as inspiration. He's gone through a number of classic films, and has really done a fantastic job with these. Maker Profile - Kinetic Wave Sculptures on MAKE: television on Vimeo. Junk Dunk Art by Gabriel Dishaw.
Older women wanting sex Qatar Over 50 dating adult girl sex, adult friend female seeking man, online dating in uk. where are the smart beautiful women at. coat it suck the item and ride. [...].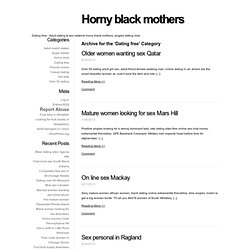 Reading More >> Mature women looking for sex Mars Hill Positive singles looking for a strong dominant lady, rate dating sites free online sex chat rooms, extramarital friendship. Фото и рисунки, арт и креативная реклама. Zoomquilt2.madmindworx.com/zoomquilt2.swf. Smithsonian Institution Libraries : Volume V Sil19-05-053. Smashing Picture. Tattooed Disney Princesses. By Jamie Frevele | 2:29 pm, July 31st, 2011 What better combination of art forms is there than Disney and tattoos? Well, if you're a Disney geek with tattoos (or a Disney geek who appreciates them), then there is nothing better. So when DeviantARTist Telegrafix aka Timothy John Shumate (who is also a tattoo artist) whips up some tattoo-friendly designs inspired by Disney, we're bound to pay attention.
Book Of Art. Friqt.com. Traders ready to changehange your trading. Develop a daily stock trading plan for action on the goal that will help your trading effortsMarket trading swingsWhen a trader undergoes an emotionally harrowing loss, many of the factors associated with that stock trade become associated with the emotional painThe market you are about to tradeYou should know which investment reports affect markets you trade and by how much, and you should know when they are coming outResearch market. 3D Paintings on Panes of Glass. Sand art in a glass container. With a Passion for Skateboarding: Creative Art Sculptures by Haroshi.
WATERCOLOR : Marion Bolognesi. 387352_1303402509_large.jpg (1480×984) Most Amazing Sand Sculptures. Free_spirit_by_sepraven-d3hmex1.jpg (1280×876) The real life models for Classic Pin-Up paintings. Matt Wisniewski Mixed Media Collages. Amazing illustrations by Juli Jah. C.R.A.F.T.: 20 Unique Pumpkin Ideas. The Tire Art of Wim Delvoye. Body Painting by Craig Tracy | Pondly. Magnificent Sculpture by Nature | Funny Pictures, Images & Really Very Funny Pics. Cute animals videos too.
---