Stuff
How to Make a Mind Map® The 'Laws of Mind Mapping' were originally devised by Tony Buzan when he codified the use of imagery, colour and association and coined the phrase 'Mind Mapping'.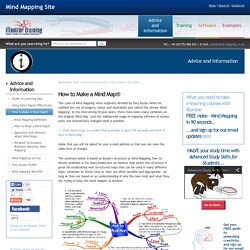 In the intervening 30 plus years, there have been many variations on the original 'Mind Map ' and the widespread usage of mapping software of various sorts, has dramatically changed what is possible. >> Click here to go to a video that provides a rapid (99 second) overview of how to Mind Map. (Note that you will be asked for your e-mail address so that you can view the video free of charge). The summary below is based on Buzan's structure (a 'Mind Mapping, how to' - details available in his many books) but we believe that whilst this structure is great for establishing well structured maps that can be used in many different ways, variations on these rules or 'laws' are often sensible and appropriate - as long as they are based on an understanding of why the laws exist and what they are trying to help the mind mapper to achieve.
Online Mind Mapping - MindMeister. 99 Mind Mapping Resources, Tools, and Tips. So, there you are staring at that black sheet of paper again.

Or perhaps it's a black Word document on your computer screen. Whichever it may be, it's obvious you're about to take notes for that big essay assignment or group project, and you're not too excited about getting started! The Mind Mapping Software Blog. 11 Free Mind Mapping Applications & Web Services.
Mind mapping is a way of taking notes, capturing ideas, exploring concepts and breaking down information into a more readily understood format.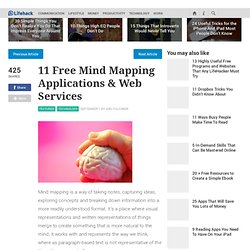 It's a place where visual representations and written representations of things merge to create something that is more natural to the mind; it works with and represents the way we think, where as paragraph-based text is not representative of the thought process at all. There are a million and one uses for mind mapping. You can use it to study for a big exam. You can use it brainstorm new article ideas, or flesh out what needs to be covered in the business plan for a new venture. Buzan: mind maps make you smarter.
Idea Mapping. 30+ Mind Mapping Tools. We all need to organize our thoughts sometimes, and there seems to be no better way to do it than in a visual fashion.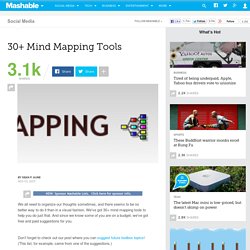 We've got 30+ mind mapping tools to help you do just that. And since we know some of you are on a budget, we've got free and paid suggestions for you. Mappio Mind Map Library. Lifehacker, tips and downloads for getting things done. Writing Original And Interesting Chord Progressions. Part I | Lessons. 8 Effects Every Photographer Should Know About. Photography seems easy at first glance.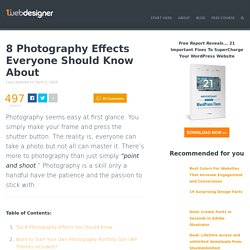 You simply make your frame and press the shutter button. The reality is, everyone can take a photo but not all can master it. There's more to photography than just simply "point and shoot." Photography is a skill only a handful have the patience and the passion to stick with. Photography students and enthusiasts must educate themselves with many technical terms such as aperture, shutter speed, focus and exposure.
Visual Music Search Engine. Personality. 33 Ways To Be Remarkable. Today I'm going to give you 33 ways to be a remarkable human being, one that stands out, is talked about and respected by many others.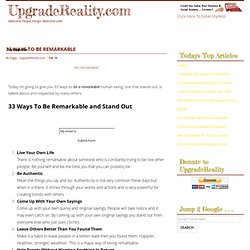 Live Your Own LifeThere is nothing remarkable about someone who is constantly trying to be like other people. Be yourself and be the best you that you can possibly be. Thinking like a Genius: Problem solving: creative solutions. Thinking and recall series Problem solving: creative solutions "Even if you're not a genius, you can use the same strategies as Aristotle and Einstein to harness the power of your creative mind and better manage your future.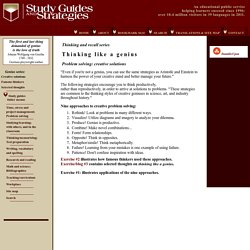 " The following strategies encourage you to think productively, rather than reproductively, in order to arrive at solutions to problems. "These strategies are common to the thinking styles of creative geniuses in science, art, and industry throughout history. " Wuala web Storage. Mind map library - Biggerplate. LiveBinders. MindMeister.
Manage Projects For Free With Wunderlist For iPad [iOS Tips. Keeping your projects organized is hard; whether they're for home, school, or work, projects tend to take on a life of their own.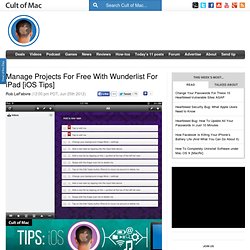 A good task manager can be essential to keeping the project moving, on time, and with a minimum of stress. wunderlist is available for the iPad, is free, and has some great features to boot, making it an obvious choice for many of us who need to manage our projects better. Once you've downloaded and installed wunderlist, it should open to a dual-paned view, with Lists on the left and tasks on the right.
The Inbox has tutorial tasks set up in it already to show you the ropes. Tap the first task in the list, "Tap to edit me." Book Creator. Book Creator | The simple way to create beautiful books on the iPad.
---