Useful IT
Photoshop CS5 Essentials. Gravatar - Globally Recognized Avatars. Picasa. Pogoplug: Cloud Storage. Evernote, Remember everything with Evernote. Move data in and out Google. Why is it important that I have access to this data?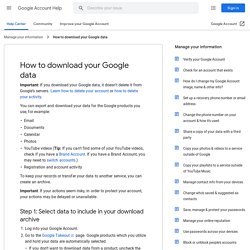 It's important that you can access your Google data when you want it, where you want it - whether is it to import it into another service or just create your own copy for your archives. People usually don't look to see if they can get their data out of a product until they decide that they want to leave. For this reason, we always encourage you to ask these three questions before starting to use a product that will store your data: Wikipedia. Wikispaces - about.
Box, Larger than dropbox. Sync, analog of dropbox. Conversations in the cloud. Prezi - Presentation Editor. SlideBoom - professional powerpoint. VUVOX - slideshows, photo, video and music sharing, Myspace codes. Ahead - presentations editor. Share powerpoint presentations. SlideRocket. Free online screen recorder for instant screen capture video sharing.
Firefox shortcuts. This is a list of keyboard shortcuts in Mozilla Firefox.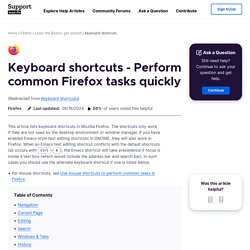 If you have enabled Emacs-style text editing shortcuts in GNOME, they will also work in Firefox. When an Emacs text editing shortcut conflicts with the default shortcuts (as occurs with Ctrl+K), the Emacs shortcut will take preference if focus is inside a text box (which would include the location bar and search bar). Cookies and privacy. Let's talk about cookies.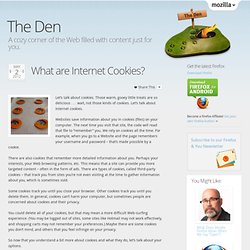 Those warm, gooey little treats are so delicious . . . wait, not those kinds of cookies. Let's talk about Internet cookies. Websites save information about you in cookies (files) on your computer.
---