Arch+Interior+Design
Old Garage turned Mini Dream Home! | Hello there!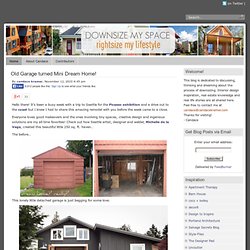 It's been a busy week with a trip to Seattle for the Picasso exhibition and a drive out to the coast but I knew I had to share this amazing remodel with you before the week came to a close. Everyone loves good makeovers and the ones involving tiny spaces, creative design and ingenious solutions are my all time favorites! Check out how Seattle artist, designer and welder, Michelle de la Vega, created this beautiful little 250 sq. ft. haven…
Interior. Architecture. Don't Throw That Old Pallet Away [35 PICS] 20 Ways to Use Color Psychology in Your Home. When you approach home design, you likely do so in a couple of different ways – choosing objects and colors that simply look attractive or using an existing pattern or decor theme to govern your decisions.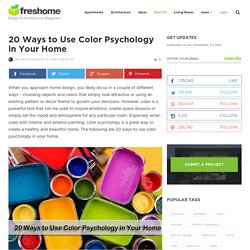 However, color is a powerful tool that can be used to inspire emotions, create space illusions or simply set the mood and atmosphere for any particular room. Especially when used with interior and exterior painting, color psychology is a great way to create a healthy and beautiful home. The following are 20 ways to use color psychology in your home. Outdoor Fireplace by Haugen/Zohar Architects.
Haugen/Zohar Architects have designed an outdoor fireplace in Trondheim, Norway.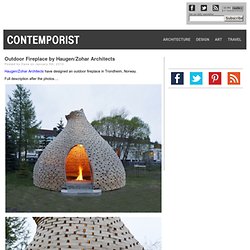 Full description after the photos…. Photography by Grethe Fredriksen & Jason Havneraas Outdoor Fireplace by Haugen/Zohar Architects. Reversible Picnic-Table Seats Flip Out into 4 Lounge Chairs. Sitting at a standard wood picnic table, one is afforded a few basic options – often, depending on the social setting, people end up facing outward.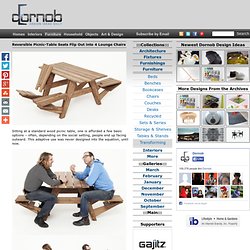 This adaptive use was never designed into the equation, until now. Unfortunately, a typical backrest is absent, leaving the thin-edged surface as the only (and somewhat painful) support. Inverted Warehouse Townhouse - New York. Much architectural jargon has been lavished on this Tribeca warehouse loft renovation but we just like the look of the cool, dynamic, elongated space.
This is not exactly a cozy home but its brutalist strength fits an old Manhattan warehouse well. The Inverted Warehouse Townhouse has received numerous U.S. awards. It is the creation of Dean-Wolf Architects of New York, where architect Charles Wolf and designer Eunjeong Seong were in charge of the project. We like the visible stairs that create a sense of lift and movement upward. Balloon Lamp by CrousCalogero.
New Banksy's and More at MOCA's Art in the Streets. Banksy's Stained Window Today, we witnessed history being made.

As the very first major U.S. museum exhibition of graffiti and street art, MOCA presented the media preview of Art in the Streets, an epic visual feast you must experience for yourself! Tracing the development of graffiti and street art from the '70s to where it is today, MOCA pulled out all the stops - educating us on the rich history, entertaining us with their "shows within a show" (live skateboarding, a re-creation of an urban street, etc) and inspiring us to find the artist within ourselves. Of course, the highlight of it all is seeing the art we've featured over and over again on My Modern Met, up close and personal. Build a house for less than $5000 | Cira Car.
The First Zombie-Proof House. Somehow, ritual drunk-conversation concerning team captains for the apocalypse has become a major part of the lives of 20-somethings.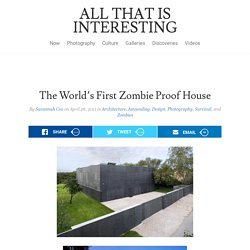 Having been matured in the Grandaddy-crowned masterpiece film (put "A.M. 180" on and forget that you have a job) 28 Days Later and the best-selling Zombie Survival Guide, we're all a little too ready to deal with the 2012 zombie apocalypse of our dreams. "The Safe House," designed by KWK Promes, starts to get eerily close to something I could work with, if say 200 bludgeoned members of the undead army came over to eat their way into borrowing some sugar. "The most essential item for our clients was acquiring the feeling of maximum security," begins the designers' website in the summary of the structure.
Who wouldn't feel safe in a concrete rectangle that folds in upon itself to become completely sealed? Even the windows are covered with a slab of concrete when the structure is on nap time. "Tear Off" Wallpaper by ZNAK. e17_00000014.jpg (JPEG Image, 991x582 pixels) 23 Fascinating and Forgotten Monuments from Yugoslavia. Podgaric – Photograph by Jan Kempenaers Below you will find an incredible collection of photographs by Jan Kempenaers.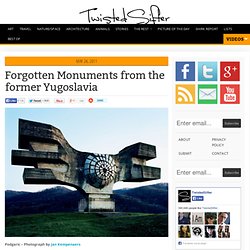 All of the images are from his book, simply titled Spomenik. Casa Mar Azul. Casa Mar Azul är som en blandning av skyddsbunker och modulhus och oj vad coolt det är.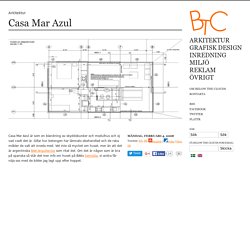 Gillar hur betongen har lämnats obehandlad och de raka möbler de valt att inreda med. Vet inte så mycket om huset, mer än att det är argentinska BAK Arquitectos som ritat det. Om det är någon som är bra på spanska så står det mer info om huset på BAKs hemsida , vi andra får nöja oss med de bilder jag lagt upp efter hoppet. > BAK Arquitectos. Blow-Up Architecture for Throwing Parties Anywhere. Inflate, a UK-based inflatable-architecture firm, has extended its business into the United States, which is fantastic news for those of you sick of partying at the same old crappy watering hole: Now, you can throw together your own chic little bar anytime, anywhere, just by blowing it up.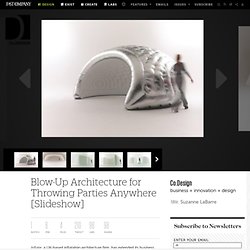 The company, founded in 1995, specializes in minimalist temporary structures, from ice cube-shaped huts to big, Bucky Fuller-esque domes. Most are made out of ripstop nylon, and they're inflated by intermittently blowing fans (instead of an inner tube), which makes them sturdier and more flexible than plastic inflatables. Mostly, they're used for business events: fashion shows, retail shops, trade shows, and the like, but you could totally buy 'em for private parties, too -- if you've got the cheese.
Inflate's U.S. rep Norman Roberts tells us: "the smaller units start around $1,300, the large 80' diameter domes run around $70,000 and there are many many options in between. " 20 Cool Home Library Design Ideas.
---