Literature
Secretive … an adult male European otter. Photograph: Nicole Duplaix/Getty Images/National Geographic Creative Otters are easy to love but difficult to know. Most of the love is mediated by those with more time, patience and skill than us; it is through books and film that the otter has squirmed its way into our hearts.
Otter Country by Miriam Darlington – review | Books
I've edited a monthly magazine for more than six years, and it's a job that's come with more frustration than reward. If there's one thing I am grateful for — and it sure isn't the pay — it's that my work has allowed endless time to hone my craft to Louis Skolnick levels of grammar geekery. As someone who slings red ink for a living, let me tell you: grammar is an ultra-micro component in the larger picture; it lies somewhere in the final steps of the editing trail; and as such it's an overrated quasi-irrelevancy in the creative process, perpetuated into importance primarily by bitter nerds who accumulate tweed jackets and crippling inferiority complexes. But experience has also taught me that readers, for better or worse, will approach your work with a jaundiced eye and an itch to judge.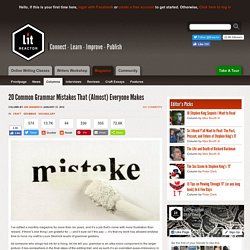 'Ulysses is a twit' … so says Paulo Coelho. Photograph: Martin Argles for the Guardian Samuel Johnson, in one of his great aperçus, responded to some pettifogging critic with the phrase: "A fly may sting a horse, but the horse will still be a horse, and the fly no more than a fly." That sentence sprang to mind the minute I read that Paolo Coelho had decided to take James Joyce to task .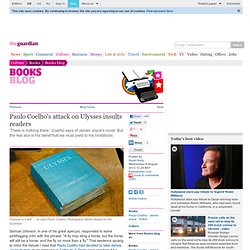 Paulo Coelho's attack on Ulysses insults readers | Books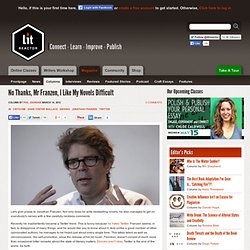 No Thanks, Mr Franzen, I Like My Novels Difficult
Let's give praise to Jonathan Franzen. Not only does he write bestselling novels, he also manages to get on everybody's nerves with a few carefully reckless comments. Recently he inadvertently became a Twitter trend. This is funny because he hates Twitter . Franzen seems, in fact, to disapprove of many things, and he would like you to know about it.
Everything in Writing and Life is Fiction
I don't know how to write. Which is unfortunate, as I do it for a living. Mind you, I don't know how to live either.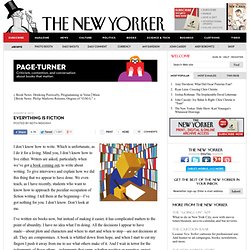 Bateau Press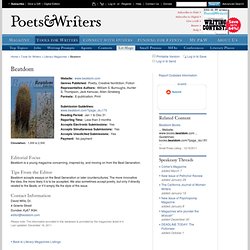 Circulation: 1,000 to 2,500 Genres Published: Poetry, Creative Nonfiction, Fiction Representative Authors: William S.
Beatdom | Literary Magazines Database
General Information EPOCH has been in continuous publication since 1947. The magazine is published by Cornell University, staffed by faculty and graduate students in the Department of English Program in Creative Writing, and edited by Michael Koch. EPOCH appears three times a year, in September, January, and May. Each issues runs 128 to 160 pages, in a 6 x 9 format, and features four-color cover art. EPOCH publishes fiction, poetry, essays, graphic art, and on occasion, cartoons and screenplays.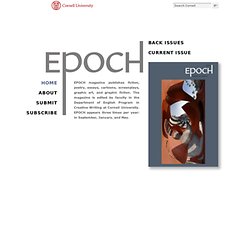 www.arts.cornell.edu/english/publications/epoch/#submissions
Ploughshares
Arcadia - Arcadia Magazine
Terrifying French children's books - in pictures | Books
Why fiction is good for you
Potomac Review home page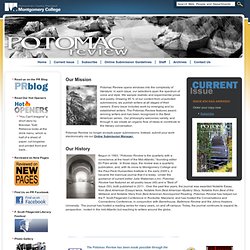 Our Mission Current Issue ISSUE #52 HAS ARRIVED! Order your copy now Potomac Review opens windows into the complexity of literature; in each issue, our selections span the spectrum of voice and style. We sample realistic and experimental prose and poetry.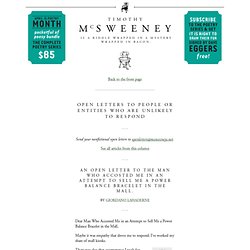 Dear Man Who Accosted Me in an Attempt to Sell Me a Power Balance Bracelet in the Mall, Maybe it was empathy that drove me to respond; I've worked my share of mall kiosks. There was also that countenance I took for desperation in your sweaty, bloated face, as you nodded at me knowingly and waved me down, asking how I was "doing tonight." That look, matched with your ill-fitting polo shirt and front-pleated khakis, evoked a sort of sublime pity in me. If only I'd known how misplaced my pity was!
Open Letters: An Open Letter to the Man Who Accosted Me in an Attempt to Sell Me a Power Balance Bracelet in the Mall.
HTMLGIANT | the internet literature magazine blog of the future
www.kaleidotrope.net
ZYZZYVA - The last word: West Coast writers and artists.
Camera Obscura Journal of Literature and Photography - A biannual literary review featuring Contemporary fiction and photography. Photography Contest. Writing Guidelines
Submit – Fiddleblack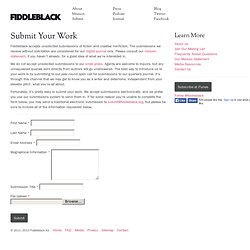 Fiddleblack accepts unsolicited submissions of fiction and creative nonfiction. The submissions we receive without solicitation are considered for our digital journal only. Please consult our mission statement , if you haven't already, for a good idea of what we're interested in. We do not accept unsolicited submissions to our small press .
Barrelhouse | Fiction. Poetry. Pop flotsam. Cultural jetsam.
The best answer we can give on inquiries relating to what kind of material the ANTIOCH REVIEW uses is, "read the magazine." Look through a few representative issues for an idea of subjects, treatment, lengths of articles, and stories we have used; it will be far more rewarding than any theories we might try to formulate. Unfortunately, we cannot honor requests for free sample copies. The REVIEW is expensive to produce and operates on a precarious financial margin. If copies are not available at your local newsstand or library, we will be happy to send you a back issue for $7.00, which includes postage and handling.
Writer's Guidelines - The Antioch Review
Global Short Story Competition
The Pinch Literary Journal
SYCAMORE REVIEW
The Normal School is a bi-annual journal featuring nonfiction, fiction, poetry, criticism and culinary adventure journalism. We are nestled happily into the California State University at Fresno like a comfy spore in a benign and mighty lung. We dig quirky, boundary-challenging, energetic prose and poetry with innovations in content, form, and focus, which isn't actually as high-falutin' as it sounds. We're just sort of the lit mag equivalent of the kid who always has bottle caps, cat's eye marbles, dead animal skulls, little blue men and other treasures in his pockets. To us, defining ourselves as The Normal School does not mean that we define ourselves as:
The Normal School
FICTION & NONFICTION We consider short fiction and personal essays with contemporary themes (no genre fiction or literary criticism). There is no specific word or page count; generally, however, Colorado Review prefers short stories and essays that are somewhere between 15 and 25 manuscript pages. Please submit one story or essay at a time. POETRY We consider poetry of any style. Please limit poetry submissions to no more than five poems at a time. BOOK REVIEWS We do not accept unsolicited book reviews.
Submission Guidelines | Center for Literary Publishing
Segue online literary journal
Carve Magazine - Submissions
Bellevue Literary Review | NYU Langone Medical Center | New York, NY
Ruby Thursday Fiction by Richard Adams Carey David laughed, leaning back in his chair and jabbing at his mouth with his napkin. "Okay, I think I know what this marriage stuff is about." Orrie's head snapped towards her father.
Fiction
SA Writers' College 2012 Short Story Writing Competition
2012 Annual Short Story Award For Emerging Writers in South Africa The Winners Congratulations to our three winners in the 2012 SA Writers' College Short Story Competition. As you will see from the results, there were only a few points separating the final positions.
Short Story Competition, Short Story Writing Contests
Monkeybicycle: Literary Goodness
Every Writer's Resource: Resources for Writers
Submit | New England Review
Luna Park