Life is weird
Ff-67.jpg (640×490) Mistaken Identity. In 1903, a prisoner named Will West arrived at Leavenworth.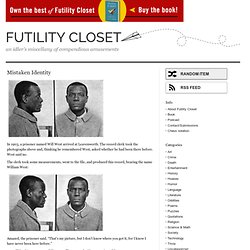 The record clerk took the photographs above and, thinking he remembered West, asked whether he had been there before. West said no. The clerk took some measurements, went to the file, and produced this record, bearing the name William West: Amazed, the prisoner said, "That's my picture, but I don't know where you got it, for I know I have never been here before." Most Extreme Landscapes on Earth. Our globe is home to some truly breathtaking and extraordinary sights.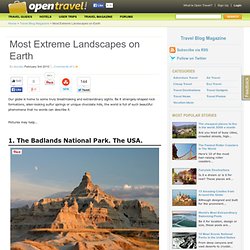 Be it strangely-shaped rock formations, alien-looking sulfur springs or unique chocolate hills, the world is full of such beautiful phenomena that no words can describe it. Pictures may help... Sharply eroded buttes, pinnacles, and spires are the main features of Badlands National Park, South Dakota, USA. The park is also the largest protected mixed grass prairie in the country. Beside the unique rock formations, this bizarre land of extreme temperatures (-40F to 116F), high winds and dramatic weather changes is also home to the bison, bighorn sheep, endangered black-footed ferrets, and the swift fox.
Project Avalon - Klaus Dona: The Hidden History of the Human Race. Click here for the PDF version of this interview (20 pages) Click here for the video presentation March 2010 **Ed note: Some transcripts contain words or phrases that are inaudible or difficult to hear and are, therefore, designated in square brackets.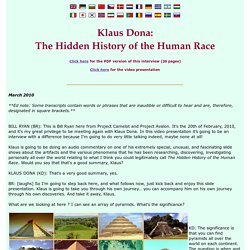 Pics. Would you spend $55,000 on a motorcycle that doesn't run?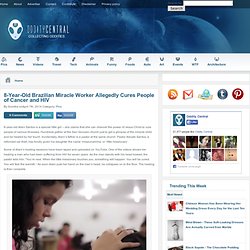 Before you make a decision on that, here's what you need to know – the motorcycle in question is actually made of animal bones. A Florida man created the beast using a lot of pieces from other dead beasts – three to four cow skulls, two to three alligator skulls, bones of goats, wolves, raccoons, turtles and pigs, and a cow spine for each of the wheels. The bike is rather cheekily named: 'Cowasaki'. Reese Moore, the bike's creator, said it takes him about a year to collect all the bones from dead animals on the side of the road, or carcasses from hunters and farmers. The Seven Wonders of the World. Snow.jpg (500×667) Airports-10-500x375-0210-lg.jpg (500×375) Abandoned Places: 10 Creepy, Beautiful Modern Ruins. Abandoned Places: 10 Creepy, Beautiful Modern Ruins Abandoned Places | We humans are explorers by nature.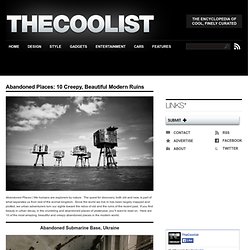 The quest for discovery, both old and new, is part of what separates us from rest of the animal kingdom. Since the world we live in has been largely mapped and plotted, we urban adventurers turn our sights toward the relics of old and the ruins of the recent past. If you find beauty in urban decay, in the crumbling and abandoned places of yesteryear, you'll want to read on. Here are 10 of the most amazing, beautiful and creepy abandoned places in the modern world. Would You Live In A Church? | Us Girls..Our Views. Wow. Incoming! The World's 10 Worst Invasive Species. The introduction of non-native species of plants and animals to a new ecosystem almost always results in environmental stress, degradation and sometimes even disaster.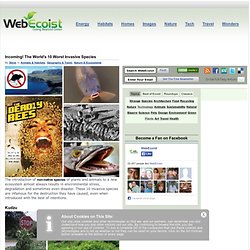 These 10 invasive species are infamous for the destruction they have caused, even when introduced with the best of intentions. Kudzu. Two Major Cities 64 Years After The Bomb Was Dropped, We Know Little About The Progress Made by the People of That Land During the Past 64 Years, and Ours? Amazing Difference! - yourbadneighbor. Conspiracy of Science - Earth is in fact growing. Wave Rock, Huge 'Wave' Made From Rock in Australia | Adventure Travel Tips. 10 Most Fascinating Holes on Earth. Great Blue Hole (Belize) Located in Belize's Barrier Reef Reserve System, the "Great Blue Hole" is about 60 miles away from Belize City and is believed to be the world's largest sea-hole.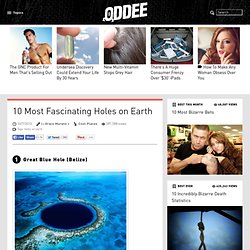 It's 125 meters deep and 300 meters wide. It was created as a cause of sea level increase about 65,000 years ago. Its almost perfect circular shape made it very popular among tourists who often visit this place, being the most attractive for scuba divers who are exploring its depths. Divers are also attracted with plenty of rare animal species and forms of life which can be found only in this place. Truck Spills. 1272460625_411.jpg (700×941) The Mariana Trench Shown To Unsettling Scale | Piggynap's Blog | Zoe Piper. The world's ten creepiest abandoned cities. 8 Abandoned Theme Parks Abroad "Open" for Exploration. Call it exoticism: theme parks outside the US seem just a smidgen creepier than those we grew up visiting.
Safety guidelines are questionable, attractions are a bit lees planned-out, and themes are chosen with a decidedly laissez-faire attitude. Although these factors might be a detriment to theme parks while they're still in business, they certainly increase foreign parks' appeal to urban explorers with an eye for the bizarre once they've been abandoned. Between South Korea's affinity for anthropomorphic roller coasters, Japan's misguided desire the please the Ruskies, and Berlin's story of a carnival master turned Peruvian drug smuggler, exploring international abandoned parks is a big notch on any urban explorer's camera strap. But take note!
Breaking into these parks is not for the faint of heart (or slow of step). Murphy's Law. College Museum of Ancient Inventions: Baghdad Battery. Battery, Baghdad, 250 BCE by Dennielle Downs,'00 and Ava Meyerhoff, '99 The Baghdad Battery is believed to be about 2000 years old (from the Parthian period, roughly 250 BCE to CE 250).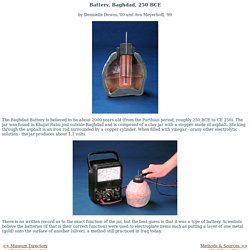 The jar was found in Khujut Rabu just outside Baghdad and is composed of a clay jar with a stopper made of asphalt. Sticking through the asphalt is an iron rod surrounded by a copper cylinder. Driftwood at La Push, Washington. Photographer: Phillip LachmanSummary Author: Phillip Lachman This "piece" of driftwood washed up on the beach at La Push, a small community in Clallam County, Washington.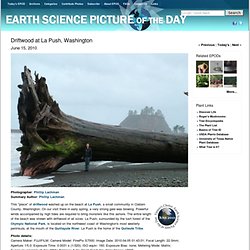 On our visit there in early spring, a very strong gale was blowing. Powerful winds accompanied by high tides are required to bring monsters like this ashore. The entire length of the beach was strewn with driftwood of all sizes. TOP TEN UNSOLVED PROBLEMS IN PHYSICS. Human World. Human World The women of the Tiwi tribe in the South Pacific are married at birth. When Albert Einstein died, his final words died with him. The nurse at his side didn't understand German. What would happen if I drilled a tunnel through the center of th"
Want to really get away from it all? The farthest you can travel from home (and still remain on Earth) is about 7,900 miles (12,700 kilometers) straight down, but you'll have to journey the long way round to get there: 12,450 miles (20,036 kilometers) over land and sea. Why not take a shortcut, straight down? You can get there in about 42 minutes -- that's short enough for a long lunch, assuming you can avoid Mole Men, prehistoric reptiles and underworld denizens en route. Granted, most Americans would end up in the Indian Ocean, but Chileans could dine out on authentic Chinese, and Kiwis could tuck into Spanish tapas for tea [sources: NOVA; Shegelski]. Amazing Underwater River : Cenote Angelita in Mexico. Captured: The Ruins of Detroit. Caught 1-1/2 miles offshore while Fishing!
---