Army Links
Go Army Homepage | GoArmy.com
ArmyStudyGuide.com - A FREE Online and Audio Army Board Study Guide for U.S. Army Promotion Boards and Soldier / NCO Boards. ...
U.S. Army Center Of Military History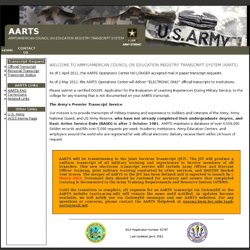 Army/American Council on Education Registry Transcript System (AARTS) Home Page
AARTS has been transitioned to the Joint Services Transcript (JST). Please update your bookmark or URL link. The JST will produce a uniform transcript of all military training and experiences to Service members of all branches. This new electronic transcript service will include Army Officer and Warrant Officer training, joint military training conducted by other services, and DANTES funded Test Scores. Personnel data should be reviewed for accuracy and ensure that completed training is documented in the Army Training Requirements and Resources System (ATRRS). For any questions or concerns, please contact the AARTS Helpdesk at usarmy.knox.hrc.mbx.tagd-aarts@mail.mil .
Army News, benefits, careers, entertainment, photos, promotions - Army Times HOME
Intelligence Knowledge Network (IKN) Portal
Squad-Leader.com | The US Army NCO Website, home of the noncommissioned officer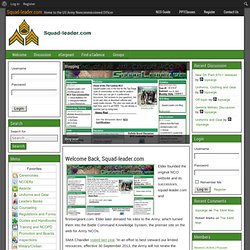 Elder founded the original NCO website and its successors, squad-leader.com and firstsergeant.com. Elder later donated his sites to the Army, which turned them into the Battle Command Knowledge System, the premier site on the web for Army NCOs. SMA Chandler stated last year "In an effort to best steward our limited resources, effective 30 September 2013, the Army will not renew the contract for many of our forums, which have been facilitated and supported by the Center for Army Lessons Learned. When possible, responsibility for some of these forums will be assumed by various agencies throughout the Army. Our NCO Net at https://nconet.army.mil will not be one of those supported."
Knowledge Online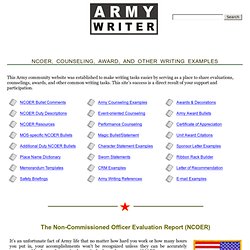 Armywriter.com Army Writing Instruction and Examples
This Army community website was established to make writing tasks easier by serving as a place to share evaluations, counselings, awards, and other common writing tasks. This site's success is a direct result of your support and participation. http://www.armywriter.com/unit-citations.htm The Non-Commissioned Officer Evaluation Report (NCOER) It's an unfortunate fact of Army life that no matter how hard you work or how many hours you put in, your accomplishments won't be recognized unless they can be accurately represented by the words contained on a single sheet of paper -your NCOER.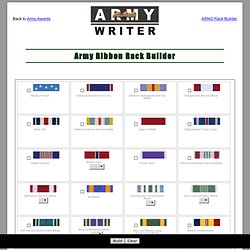 Presidential Unit Citation Navy Presidential Unit Citation Joint Meritorious Unit Award Valorous Unit Award Army Meritorious Unit Commendation
Army Ribbon Rack Builder
APD Home Page
Welcome to ArmyReenlistment.com - Your Source for Career Enhancement
Army Homepage
HRC Homepage
ArmyStudyGuide.com - A FREE Online and Audio Army Board Study Guide for U.S. Army Promotion Boards and Soldier / NCO Boards. ...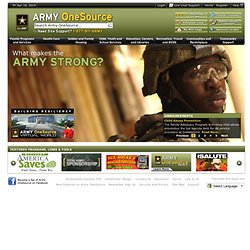 Child Abuse Prevention The Family Advocacy Program is making child abuse prevention the top agenda item for its service providers at Installations. Read More... 173rd (A) paratrooper to receive Medal of Honor Sgt. Kyle J.
Army OneSource Home Page