Recipes
White Chicken Enchiladas. Description The sauce is sooooo good Details Ingredients 10 soft taco shells2 cups cooked, shredded chicken2 cups shredded Monterey Jack cheese3 Tbsp. butter3 Tbsp. flour2 cups chicken broth1 cup sour cream1 (4 oz) can diced green chilies.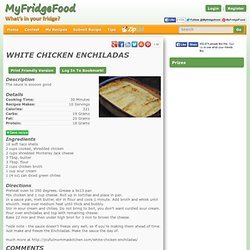 Creamy Basil-Chicken Pasta recipe from Pillsbury. A Cake You Can Eat for Breakfast and Dessert. Spinach Pasta Carbonara Recipe - Claire Robinson. Spaghettini with Mushrooms, Garlic, and Oil Recipe - Quick From Scratch Pasta. World's Best (and Easiest) Salmon Recipe by VRAKLIS. Quinoa-Black Bean Casserole Recipe by SP_STEPF. 50 Things to Grill in Foil : Recipes and Cooking. How to make a foil packet: 1.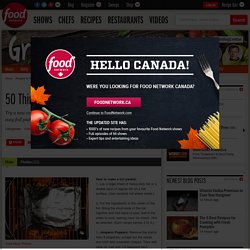 Lay a large sheet of heavy-duty foil or a double layer of regular foil on a flat surface. (Use nonstick foil where noted.) 2. Put the ingredients in the center of the foil. Pasta Carbonara with Zucchini Recipe. Hands-On Time: 10min Cook Time: 20min Ready In: 30min Pasta dinners can be a lifesaver -- not only are they quickly and easily prepared, but kids love them too.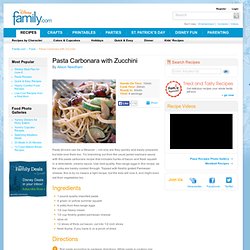 Try branching out from the usual jarred marinara sauce with this pasta carbonara recipe that includes hunks of bacon and fresh squash in a delectable, creamy sauce. Common Cooking Mistakes: Cooking Tips and Questions Answered. Every cook, being human, errs, bungles, botches, and screws up in the kitchen once in a while.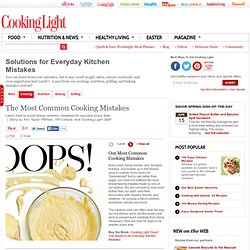 If you have not "caramelized" fruit in salt rather than sugar, you have not suffered the most embarrassing mistake made by one of our editors. We did not have to look much farther than our staff―and their encounters with readers, friends, and relatives―to compile a list of common, avoidable culinary boo-boos. Meatless Mecca Real Food Daily Cooks up Vegan Family Meals. Ann Gentry is the creator and founder of Real Food Daily (RFD), a mecca for organic, vegan cuisine in Los Angeles, where she and her staff serve up delicious, plant-based food to celeb devotees including Alicia Silverstone, Ellen DeGeneres, and Conan O'Brien.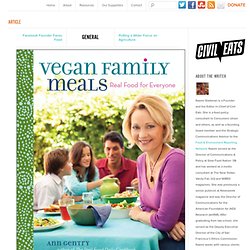 The executive chef to Vegetarian Times magazine, and star of her own cooking show, Naturally Delicious, Gentry is also the author of The Real Food Daily Cook Book. Her new cookbook, Vegan Family Meals: Real Food For Everyone, just out this week, offers more than 100 tasty recipes. 7 Favorite Do-Ahead Dinners for Winter (Recipe: Chocolate-Chip Chili. 30 Foods You'll Never Have To Buy Again. Marcella Hazan's Tomato Sauce with Onion and Butter recipe from Food52.
Author Notes: The most famous tomato sauce on the internet, from Marcella Hazan's Essentials of Classic Italian Cooking.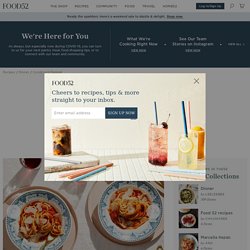 Editor's note: Marcella called for 2 cups of tomatoes when using canned, but feel free to use a whole 28-ounce can (closer to 3 cups), if you like. You can scale up the butter and onion, if you like, or don't -- it's genius either way. (less)Author Notes: The most famous tomato sauce on the internet, from Marcella Hazan's Essentials of Classic Italian Cooking. How to Make: Bacon, Egg and Cheese Brunch Ring from Pillsbury. Crescent dough is the base for this cheesy egg dish that looks impressive but is a cinch to make.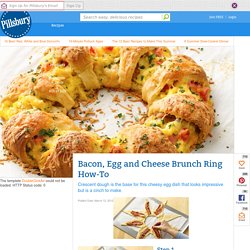 Step 1 Unroll the crescent dough; separate into 8 triangles. '5 minute' miso stew. Today I am off on a little holiday... to a cottage in the Derbyshire Dales with friends, and it's due to be very chilly and potentially snowy so I've packed all my thermals and waterproofs just in case!
Food was of course on my mind over the last few days- prepping lots of snacks and quick meals to take along with me.....so quick soups and granola bars it is then! Such that this post seemed quite appropriately timed. A few days ago I needed a really quick fix lunch. I had no soup to hand (other than in the freezer) and I didn't fancy a cold platter of salad or hummus and veg sticks. Like That? Try This: Creamy Avocado Pasta w/ Chicken Recipe | The Realistic NutritionistThe Realistic Nutritionist. AND BACON [well low-sodium, low fat turkey bacon, that is]!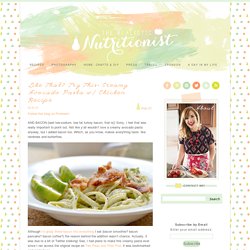 Sorry, I feel that was really important to point out. Not like y'all wouldn't love a creamy avocado pasta anyway, but I added bacon too. Which, as you know, makes everything taste like rainbows and butterflies. In the Pantry: Make Pad Thai at Home | In The Pantry. Looking for an ethnic recipe that is easy and that can be prepared faster than you can order it over the phone?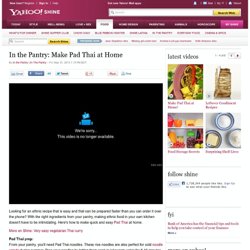 With the right ingredients from your pantry, making ethnic food in your own kitchen doesn't have to be intimidating. Here's how to make quick and easy Pad Thai at home. More on Shine: Very easy vegetarian Thai curry Pad Thai prep: From your pantry, you'll need Pad Thai noodles. These rice noodles are also perfect for cold noodle salads during summer. Linguine with Shrimp and White Wine Recipe | Food Recipes. Easy Crescent Taco Bake recipe from Pillsbury. Eat Well for Less: 7 Days of Dinners. It's no secret that a trip to the supermarket is getting more expensive, but watching your wallet doesn't mean you have to sacrifice eating healthy. "With a little creativity and planning, making affordable, good-for-you meals that taste great is surprisingly simple," says Michelle Dudash, RD, owner of Chef Dudash Nutrition in Gilbert, Arizona. Here, we've rounded up healthy dinners on the cheap for every day of the week.
Your wallet and waistline can thank us later. Sunday: Stuffed PotatoesServes 4, $1.73 per serving From the Pantry: 1/4 tsp salt 1/8 tsp pepper 1/4 tsp garlic powder. Loaded Alfredo with Chicken and Vegetables. How to Cook Bacon in the Microwave: 11 Steps. Edit Article Paper towel methodMicrowave Bowl Method Edited by CampSpot, Ben Rubenstein, Imperatrix, Sondra C and 56 others If you love crunchy, crispy bacon, you'll be glad to know that there's quick ways to cook bacon without making a greasy mess.
Creamy Pesto Pasta Recipe. Chai Pancakes. January 19, 2012 | Print | E-mail | Filed under chai As long as I can remember, I've always a loved pancakes. Well, maybe except for one summer growing up after a fateful camping trip with my family. Crock Pot Breakfast Casserole. Pecorino Crumbed Chicken. Baked Spicy Fries with Garlic Cheese Sauce. Healthy, Crunchy Asiago Chicken Nugget Recipe. MOVIE BITES – QUIDDITCH PLAYER'S PIE. Delicious Cheddar Puffs. Yellow Squash Casserole Recipe. Thai Beef Stir-Fry: Recipes.
Maggiano's Little Italy House Salad Recipe - Food.com - 166435. Chicken with Mushroom Sauce Recipe | Food Recipes. Corned beef hash. Garlic Cheese Wontons. Parmesan Roasted Potatoes Recipe. 34 Insanely Simple Two-Ingredient Recipes - BuzzFeed Mobile. Lucy Knisley - CHAI! Hot Apple Cider with Rum Recipe : Emeril Lagasse. Mulled Wine « Drinks.
Asian (Korean) Kitchen Helpers. 2AM Chili. Pots de Creme. Baked Chicken and Spinach Flautas | Healthy. Delicious. Melt-In-Your-Mouth Chicken. Cabbage Casserole Recipe - Food.com - 11816. Chicken with Apple Cider Sauce. Boy-Approved Spiked Pasta (Spaghetti with Vodka Cream Sauce) Easy Light Broccoli Cheese Stuffed Chicken Recipe. Curried Sweet Potato "Fries" Honey-Soy Broiled Salmon. Lasagna Rolls. Focaccia. Soy Balsamic Slow Cooker Chicken - Home - Kiss My Whisk. Honey-Mustard Salmon. Grilled Banana Sandwich : The New Abs Diet Cookbook : MensHealth.com.
---