Games
Old PC Games - homepage. [CPF: CAPTFOREVER.BAT     ] Index of. Another 20 games that make you think about life. First we gave you five.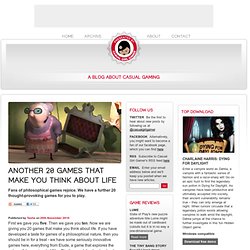 Then we gave you ten. Now we are giving you 20 games that make you think about life. If you have developed a taste for games of a philosophical nature, then you should be in for a treat - we have some seriously innovative games here, everything from Elude, a game that explores the nature of depression, to Ulitsa Dimitrova, a tale about a street-urchin in Russia. Popular games. Avoider. Ten games that make you think about life. At the start of this year, we decided to come up with a list of Flash casual games with a philosophical bent.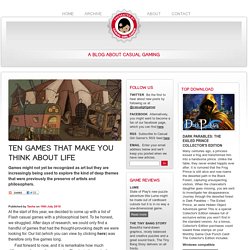 To be honest, we struggled. After days of research, we could only find a handful of games that had the thought-provoking depth we were looking for. Mushroom Life. Knoword | Expand your vocabulary! Top 30 best free games you should play today: 15 more of the best free games. 26.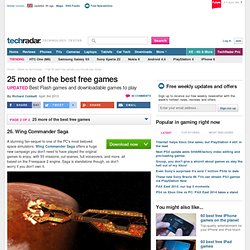 Wing Commander Saga A stunning fan-sequel to one of the PC's most beloved space simulators. Wing Commander Saga offers a huge new campaign you don't need to have played the original games to enjoy, with 55 missions, cut-scenes, full voiceovers, and more, all based on the Freespace 2 engine. Saga is standalone though, so don't worry if you don't own it. Battle Dawn Game Review. Battle Dawn is a 2D browser based strategy game whose servers come in three themes; Earth, Mars, and Fantasy.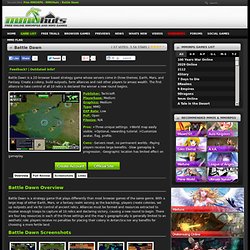 Create a colony, build outposts, form alliances and raid other players to amass wealth. The first alliance to take control of all 10 relics is declared the winner a new round begins. Dark Orbit Game Review. Dark Orbit Reloaded is a 2D Sci-Fi MMORPG played right on your web browser.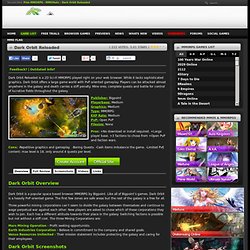 While it lacks sophisticated graphics, Dark Orbit offers a large game world with PvP oriented gameplay. Players can be attacked almost anywhere in the galaxy and death carries a stiff penalty. Mine ores, complete quests and battle for control of lucrative fields throughout the galaxy. TypeRacer - Test your typing speed and learn to type faster. Free typing game and competition. Way more fun than a typing tutor!
Ownage Burst Flash Game. ... 404 Error: Now what??? ... BrowserQuest. Realm of the Mad God. Totaljerkface.com - Home Of Happy Wheels - Index. Throw Paper! 3D Pong Game a 3D Ping Pong Game Online. Luftrauser. Games Flash Action.
Keybr.com - Take typing lessons, test your typing speed and practice typing for free! Z-Type.
---