Fotógrafos
Художественное фото. Профессиональный фотограф киева.
Hossein Zare - Latest photos
Bara Prasilova photography
David Chancellor Photographer
Tim Flach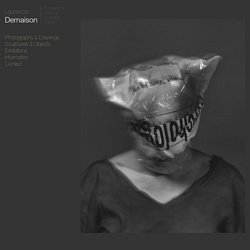 Le travail photographique de Laurence Demaison est exclusivement constitué d'autoportraits (sauf série "Radiopthérapie" et "Si j'avais su" ). Les techniques utilisées – prise de vue, développement, tirage – sont argentiques et réalisées par l'auteur. Aucune manipulation particulière n'intervient au-delà de la prise de vue (sauf inversion chimique des films pour certaines séries) The photographic work of Laurence Demaison is exclusively constituted by self-portraits (except "Radiothérapies" and "Si j'avais su"). The used techniques - shot, development, print - are analogicals and realized by the author. No particular manipulation intervenes beyond the shot (except chemical inversion of films for some series)
Laurence Demaison - Site Officiel
CLANG
Romain Laurent - Photographer
David Caballero
derek hudson photographer
Stefano Bonazzi Selected Digital Works | Personal portfolio of digital artworks
Gabriela Rouiller Photography
Sabina Tabakovic PHOTOGRAPHY / ABOUT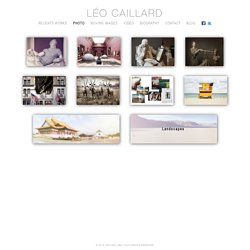 Commissions & editorial FRANCE & UK - Represented by LGA Paris: Olivier Jezequel London: Glenn Wassall olivier@lgaparis.com glenn@lgalondon.com t: +33 1 45 22 53 07 t:+44 20 7240 8222
Léo Caillard Photographer
Ragin
Lucas Foglia
inthoughts // home
Nick Brandt : Photography
Home - P. H. Fitzgerald
Secuencia de fotos de Boy_Wonder
Main : sincerely hana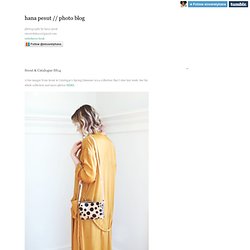 Upstate NY New York - September 2013sincerelyhana.com Switcheroo for Meadham Kirchhoff x Topshop In November I shot some Switcheroos for the launch of the Meadham Kirchhoff x Topshop collection. See more on the Hudson's Bay B-Insider HERE.
Joan Tarrago
Home
Eric Meola
www.kpic.at
SZYMON BRODZIAK photography
JULIE DE WAROQUIER ♦ Photographer - Conceptual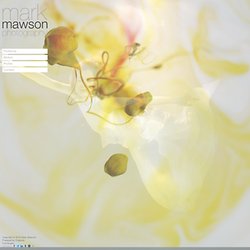 mark mawson photography
Mark is an international award-winning photographer with 20+ years of experience in capturing a full spectrum of people and places and specialises in shooting people, fashion and still life underwater.His Aqueous work has become very collectable and an Aqueous video was projected onto the walls of Buckingham Palace for the backdrop of Sir Paul McCartney during The Queen's diamond jubilee concert. A book of Mark's Aqueous work is available through www.blurb.com He is represented by several galleries and his personal work is in many private collections around the world. The Sophie Maree Gallery, The Hague, www.sophie-maree.comModern ArtBuyer, UK, www.modernartbuyer.comSubject Matter, Japan, www.subjectmatter.jp 2009 Sovereign Asian Art Awards - Finalist2010 International Aperture Awards - Silver2010 Dabomba Creative Awards - Platinum & Gold2011 Dabomba Creative Awards - Gold2012 The London Awards - Shortlisted.
Peter Lik USA - Fine Art Photographer and Luxury Photography
Michael Kenna
Jerry N. Uelsmann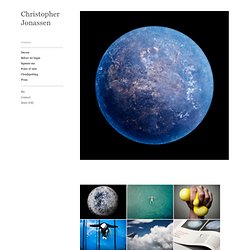 Investigation of worn-out fryingpans.Photography, Fine Arts, Digital Photography2011 Moments of reflection between thought and action.Photography, Fine Arts, Digital Photography2011 Study of hand with yellow rubber duck. Photography, Digital Photography, Fine Arts2011 Looking at people from a different angle.Photography2011 CloudspottingDigital Photography, Fine Arts, Photography2012 Selection of published interviews and featuresPhotography, Fine Arts, Typography2012
Christopher Jonassen Fine art photography
Michael Hall Photography
www.salvatoreelefante.it
Shlomi Nissim | Photographer | שלומי ניסים | צלם
jose ferreira on the Behance Network
ART NUDE PHOTOGRAPHY by TOMAS RUCKER on Photography Served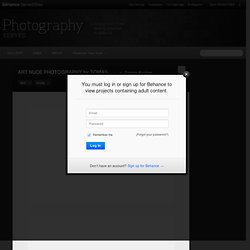 WLYW WE LOVE YOUR WORK We want to present you our work: INSIDE brackets is an international photography magazine dedicated to emerging talents. INSIDE brackets' sole purpose is to connect and bring awareness to all the actors of the photographic world. INSIDE brackets concept revolves around the notion of a studio: a place for artists to enter in order to produce their visions. It is also aims to become a network for professionals and lovers, in which we will privilege an independent identity based on high-quality works of art. if you want to join us, you can became our followers!
Ibai Acevedo » Portafolio basado en sueños reales
.: Eugenio Recuenco :. Online portfolio
Galerie de Terra Kate
Feaverish Photography
Lennette Newell