Comprehensive Sites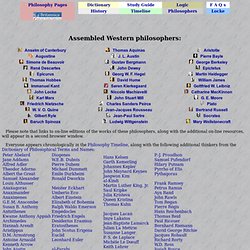 Peter AbelardJane AddamsAlfred AdlerTheodor AdornoAlbert the GreatSamuel AlexanderLouis AlthusserAnaxagorasAnaximanderAnaximenesG.E.M. AnscombeSusan B. AnthonyAntisthenesKwame Anthony AppiahArchimedesHannah ArendtAristippusD.M. ArmstrongAntoine ArnauldKenneth ArrowJohn AustinA.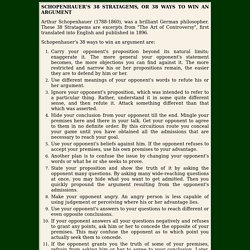 Arthur Schopenhauer (1788-1860), was a brilliant German philosopher. These 38 Stratagems are excerpts from "The Art of Controversy", first translated into English and published in 1896. Carry your opponent's proposition beyond its natural limits; exaggerate it.
First published Sat Jan 25, 1997; substantive revision Wed May 5, 2010 Game theory is the study of the ways in which strategic interactions among economic agents produce outcomes with respect to the preferences (or utilities) of those agents, where the outcomes in question might have been intended by none of the agents. The meaning of this statement will not be clear to the non-expert until each of the italicized words and phrases has been explained and featured in some examples. Doing this will be the main business of this article. First, however, we provide some historical and philosophical context in order to motivate the reader for the technical work ahead.