Mythology
Wicca
Greek. Norse. Atlantis Discovered. By Dominic Utton The fabled "Lost City" of Atlantis is one of mankind's greatest and most enduring mysteries.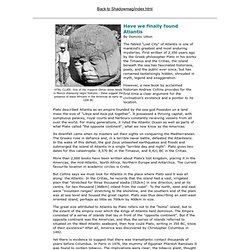 First written of 2,350 years ago by the Greek philosopher Plato in his works the Timaeus and the Critias, the island beneath the sea has fascinated historians, poets, and the public ever since, but has remained tantalisingly hidden, shrouded in myth, legend and exaggeration. Phantoms & Hauntings. Ankou Also known as: Death, The Grim Reaper, Old Father Time, Azrael, The Dark Angel, The Angel of Death, Sammael, Mortis, Mors Head, Mors, Death's-Head, Harvester of Sorrow, The Graveyard Watcher, Aed, The Graveyard Guardian, Donn, Da Derga, Aericura, The Great Leveller, Jack O' The Shadows.
Ankou or Donn was the Celtic personification of Death. Though death often comes unseen, he would also frequently appear as a tall, gaunt or skeletal old man befitted in mourning attire. It is claimed that his head can turn entirely upon his shoulders, and that his eyes are empty black chasms. Unicorns in History. Perhaps as long as 5,000 years ago, a group of sailors found skulls belonging to a race of hideous giants whom the ancient Greeks named cyclops.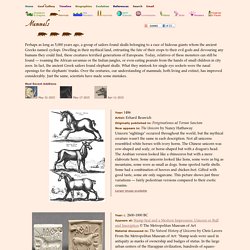 Dwelling in their mythical land, entrusting the fate of their crops to their evil gods and devouring any humans they could find, these creatures terrified generations of Europeans. Today, relatives of these monsters can still be found — roaming the African savannas or the Indian jungles, or even eating peanuts from the hands of small children in city zoos. In fact, the ancient Greek sailors found elephant skulls. What they mistook for single eye sockets were the nasal openings for the elephants' trunks. The Mermaid. About the Author: Heinz Insu Fenkl is the author of Memories of My Ghost Brother and other works.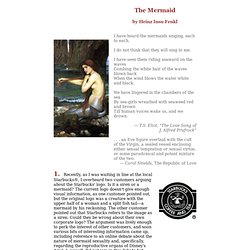 For more information, please visit his Endicott bio page Copyright © 2003 by Heinz Insu Fenkl. This article first appeared in Realms of Fantasy magazine, 2003 . This material may not be reproduced in any form without the author's express written permission. Myths and Legends. Apollo and the Greek Muses Updated July 2010 COMPREHENSIVE SITES ON MYTHOLOGY ***** The Encyclopedia Mythica - SEARCH - Areas - Image Gallery - Genealogy tables - Mythic Heroes Probert Encyclopaedia - Mythology Gods, Heroes, and MythDictionary of Mythology What is Myth?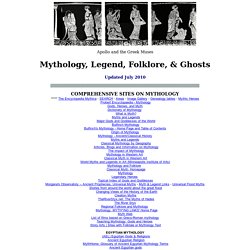 Godchecker - Your Guide To The Gods. Encyclopedia Mythica. Mythical Creatures List, Mythical Creatures A-Z.
---