Lessons, Ideas, and Materials
Data Visualized: More on Teaching With Infographics. A BBC documentary featured Dr.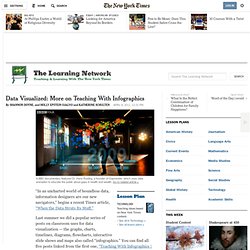 Hans Rosling, a founder of Gapminder, which uses data animation to educate the public about gaps in health and wealth. Go to related article » How To Curate Learning Paths and Engage Students: Curatr. I'm seeing more Scoopit links in my Twitter stream and I'm not crazy about it.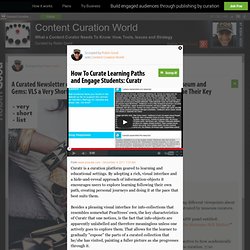 Sure it's quick and easy to share with Scoopit. But it not quick and easy to consume. For me it's all about the econ... Marty Note (here is comment I wrote on Dr. StoryKeepers - StoryMaking Software. StoryMaking is a process facilitated by a variety of tools.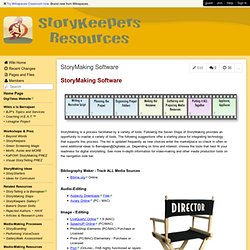 Following the Seven Steps of StoryMaking provides an opportunity to master a variety of tools. The following suggestions offer a starting place for integrating technology that supports this process. The list is updated frequently as new choices enter the marketplace so check in often or send additional ideas to Bernajean@Digitales.us. Depending on time and interest, choose the tools that best fit your readiness for digital storytelling. See more in-depth information for video-making and other media production tools on the navigation side bar.Bibliography Maker - Track ALL Media SourcesBibme.org Online. Educational Crafts. Share My Lesson - Free K-12 Teacher Resources Aligned to Common Core State Standards. Lesson Planning.
TOK. The-Week-In-Rap. Contact Us | Log In The Week in Rap Recommended forGrades 5 to 12 All Units Aligned to April 18, 2014.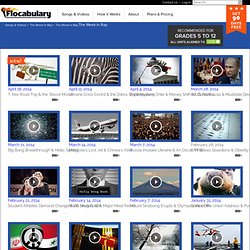 10 Interactive Lessons By Google On Digital Citizenship. 10 Interactive Lessons By Google On Digital Citizenship Added by Jeff Dunn on 2012-07-22 YouTube has a firm place in the current classroom.
Reality TV and E-Learning: The Next Frontier? Three Possible Edu-Reality Shows. You don't want to watch, but once you do, you want more and more.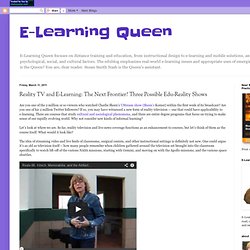 You ask yourself why, and all you can come up with is that there is something cathartic about tragedy (not exactly a new finding -- but ranks up there with the eternal verities) -- and, the Aristotelian ideas / precepts still hold: the tragic hero is compelling because of the essentially flawed nature of his/her beingness, and hubris resides at the core. "There but for the grace of God ... " we intone because we all have a "hubris trigger" in our heart of hearts -- we all would love to be invincible and to somehow transcend / escape angst, pain, fear of death, and death itself. But the tragic hero tends to die -- and to die prematurely -- precisely because he / she tried to cheat death, and to grab onto all the spoils of life -- wealth, glory, fame, progeny -- and the act of grasping is what triggered the downward spiral. Re: Cohen Cash. Lectures: Brenzel. The Essential Value of a Classic Education.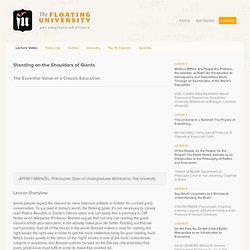 JEFFREY BRENZEL, Philosopher, Dean of Undergraduate Admissions, Yale University Lesson Overview Some people regard the classics as mere historical artifacts or fodder for cocktail party conversation. To succeed in today's world, the thinking goes, it's not necessary to closely read Plato's Republic or Dante's Inferno when one can easily find a summary in Cliff Notes or on Wikipedia. Professor Brenzel argues that not only can reading the great classics enrich your education, it can actually make your life better.
Shakespeare. Literary Devices. Fairy Tales. Think.com, Oracle Education Foundation, Projects | Competition | Library. Online Lang and Lit. AP Visual Literacy Resources - WriteSpace. Teaching Writing. Reasoning, Logic, Using Evidence. Other prompts and AP Lang multiple choice. Cartoons/Graphic Novels.
Turn of the Screw
Freakonomics. Absolutely True Diary of a Part-Time Indian. Post Office. Salem Witches. Successful Leader prompt. Monuments. Libraries. Research. Synthesis. The Extended Essay (IB DP) Writing. Lexiphilia. Rhetorical Analysis. Listen and Write - Dictation. Free English Tests and Exercises Online for ESL, TOEFL, TOEIC, GRE, SAT, GMAT. Language Arts Presentations in PowerPoint format, Free Interactives. Holt Literature & Language Arts Home Page. Functional Grammar.
Ed Tech Tools. The 5 Minute Lesson Plan by @TeacherToolkit. Language Arts Presentations in PowerPoint format, Free Interactives. The History of the English Language in Ten Animated Minutes. Yesterday, the Open University released 'The History of English in 10 Minutes,' a witty animated sequence that takes you through 1600 years of linguistic history.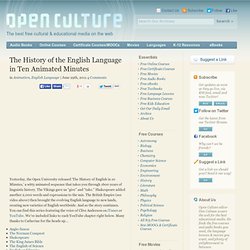 The Vikings gave us "give" and "take." Shakespeare added another 2,000 words and expressions to the mix. The British Empire (see video above) then brought the evolving English language to new lands, creating new varieties of English worldwide. And so the story continues. You can find this series featuring the voice of Clive Anderson on iTunes or YouTube. Kerpoof Studio. Fun 4 the Brain - English Games. This fun English game has some silly pandas to help teach the parts of speech.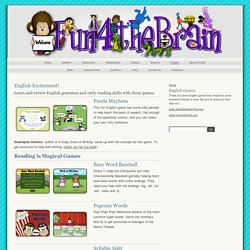 Get enough of the questions correct, and you can make your own silly sentence. Sharlayne Overton, author of A Daily Dose of Writing, came up with the concept for this game. To get exercises to help with writing, check out her fun book! Strike 1! Help the Chimpunks win their Championship Baseball gameby helping them read base words with suffix endings. Fantastic Book Trailers And The Reasons They're So Good. There tends to exist a general skepticism toward book trailers.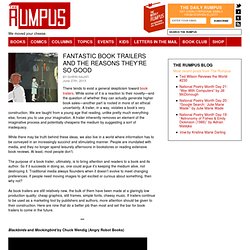 While some of it is a reaction to their novelty—and the question of whether they can actually generate higher book sales—another part is rooted in more of an ethical uncertainty. A trailer, in a way, violates a book's very construction. We are taught from a young age that reading, unlike pretty much everything else, forces you to use your imagination. Free Interactive English Games - Fun Learning Activities. The Pleasures and Perils of Rereading. In his often anthologized essay "On Reading Old Books," William Hazlitt wrote, "I hate to read new books. There are twenty or thirty volumes that I have read over and over again, and these are the only ones that I have any desire to ever read at all." This is a rather extreme position on rereading, but he is not alone.
Larry McMurtry made a similar point: "If I once read for adventure, I now read for security. How nice to be able to return to what won't change. When I sit down at dinner with a given book, I want to know what I'm going to find." We Can't Teach Students to Love Reading - The Chronicle Review. By Alan Jacobs While virtually anyone who wants to do so can train his or her brain to the habits of long-form reading, in any given culture, few people will want to. And that's to be expected. The Art of Reading: How to Read A Book. One of the secrets to acquiring knowledge is to read. A lot . But reading alone is not enough.
How to Read Faster: Bill Cosby's Three Proven Strategies. Jewish Literacy as the Road to Riches: The Chosen Path of the 'Chosen Few' | The Business Desk with Paul Solman. SQ3R. Literacy-Based and Other Guessing Games. Research Databases & Archives. National Libraries. Digital public library of america - Google Search. Smithsonian Libraries : Digital Library. Library of Congress Home. Teacher's Guides and Analysis Tool - For Teachers. The New York Public Library. Information Research. Drawing Lessons. Notetaking. Text Compactor: Free Online Automatic Text Summarization Tool. N I N E S. History of Philosophy without any gaps. Our Third Annual Summer Reading Contest.
eBooks. Grading.
Kansas 8th Grade Graduation Exam 1895. Critical Thinking On The Web. Creative Thinking Is a Specific Process That Can Be Replicated. What Is Intelligence? Just a Byproduct of Cooperation. | IdeaFeed. Discrepant Events. Are we asking the right questions? - Ideas. About L2L | Look to Learn. Brain Games & Brain Training - Lumosity. Six Tips for Brain-Based Learning. Project-Based Engineering for Kids. Social Studies.
Lessonopoly. Resources & Advice § Derek Bok Center for Teaching and Learning. The student authored syllabus.
---