Purses/Totes/Bags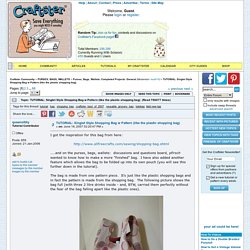 TUTORIAL: Singlet Style Shopping Bag w Pattern (like the plastic shopping bag) - PURSES, BAGS, WALLETS
I got the inspiration for this bag from here: ....and on the purses, bags, wallets: discussions and questions board, pfirsch wanted to know how to make a more "finished" bag. I have also added another feature which allows the bag to be folded up into its own pouch (you will see this further down in the tutorial). The bag is made from one pattern piece. It's just like the plastic shopping bags and in fact the pattern is made from the shopping bag. The following picture shows the bag full (with three 2 litre drinks inside - and, BTW, carried them perfectly without the fear of the bag falling apart like the plastic ones).
There's a really nice feeling that comes along with bringing in your own bags to the store with you.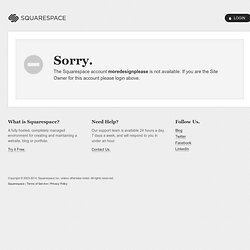 Skip to main content Follow us OnTopic custom content solutions Learn more about how Examiner.com can help your site. Examiner.com <a href="http://ad.doubleclick.net/jump/cdg.examiner2.portland-me/hl/pos1/article;tt=sewing;plc=sanford;chn=home%20%26%20living;subc=hobbies;sect=hobbies;nid=25342396;top=home%20%26%20living;top=hobbies;top=sewing%20projects;top=sewing;top=crafts;top=hobbies;top=free%20patterns;top=free%20sewing%20projects;ed=portland-me;uid=2354806;etid=65119;pgtp=article;tile=1;pos=1;dc_ref=http%3A%2F%2Fwww.examiner.com%2Farticle%2Ffree-sewing-pattern-push-the-envelope-messenger-bag;sz=728x90,950x60,970x250,970x90;kw=;dcopt=ist;ord=646258599?"
Free sewing pattern: Push the Envelope Messenger Bag - Portland Sewing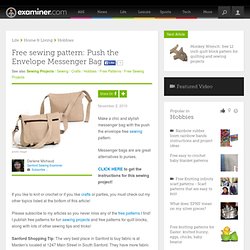 Floral Purse Organizer
Rose Dream
Quilt Fabric Delights Creative - Tutorials - Large Stationery Storage Holder by Melissa Goodsell
We have lots of stationery at our house and storage is always problem, so I created this stationery holder to keep writing sets, envelopes, postcards and stamps a little more organized.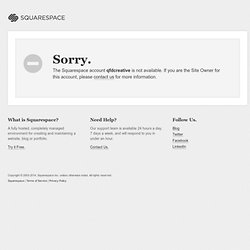 married to a bmw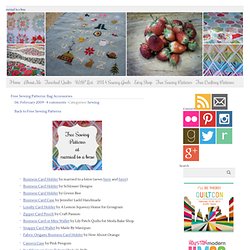 Bag Accessories
married to a bmw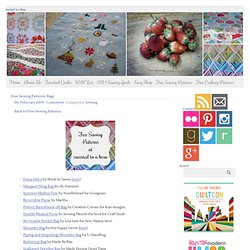 Bags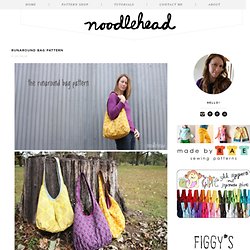 Runaround Bag Pattern
In this pattern you'll find: step-by-step instructions with full color photos for making one Runaround Bag full size print-at-home pattern pieces two interior pocket options magnetic snap option info on how to make the bag with or without the center front pleat includes License to Sell!!! By purchasing this pattern, I also give you (the purchaser of this pattern) the rights to sell Runaround bags made using this pattern (on a home based scale). Additional information regarding the license to sell is included in the Runaround Bag Pattern.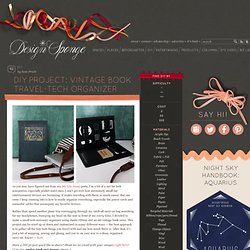 As you may have figured out from my My Life Scoop posts, I'm a bit of a nut for tech accessories, especially pocket-sized ones.
The Itty Bitty Bag
Zipper Installation for the Itty Bitty Bag
Pleather clutch bag tutorial
This is a clutch bag I made recently, using pieces of pleather woven together.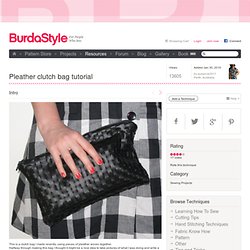 well first off, THANK YOU so much for the warm acceptance and love of my upcoming book. :) i'm excited. and i'm excited to see some of you in houston in october. make sure to say hello. i'll be the one with big DOE eyes trying to hide the fact that i'm about to puke.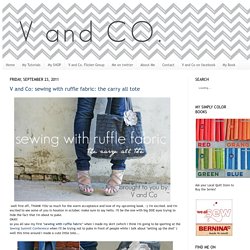 V and Co: sewing with ruffle fabric: the carry all tote
Add a pop of color to any outfit with these simple-to-sew fabric clutches from Robin Grawunder .
Here it is.. Finally.
:::: OutsaPop Trashion recycled style DIY fashion eco sustainable refashion blog ::::: OutsaPop Trashion t-shirt hobo bag tutorial
Some of you may recognize the top shirt/purse as my final project from One Month to Win It, a sewing/crafting contest that I won in April!
Bag Made From A Felted Jumper :)
Mimy bag tutorial
Black Velvet Clutch Bag | Creation | Cut Out
Pattern
Diy Boho Jean Purse
Guitar Shaped Bag | Version | Cut Out
Anthropologie Inspired Bag