Purses/Totes/Bags
TUTORIAL: Singlet Style Shopping Bag w Pattern (like the plastic shopping bag) I got the inspiration for this bag from here:....and on the purses, bags, wallets: discussions and questions board, pfirsch wanted to know how to make a more "finished" bag.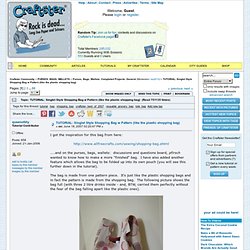 I have also added another feature which allows the bag to be folded up into its own pouch (you will see this further down in the tutorial). The bag is made from one pattern piece. It's just like the plastic shopping bags and in fact the pattern is made from the shopping bag. The following picture shows the bag full (with three 2 litre drinks inside - and, BTW, carried them perfectly without the fear of the bag falling apart like the plastic ones). You start by making your pattern using.....ta da.... you guessed it, a plastic bag. DIY: Recycled T-Shirt Tote Bag. Free sewing pattern: Push the Envelope Messenger Bag - Portland Sewing. Make a chic and stylish messenger bag with the push the envelope free sewing pattern.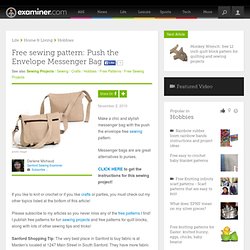 Messenger bags are are great alternatives to purses. CLICK HERE to get the instructions for this sewing project! If you like to knit or crochet or if you like crafts or parties, you must check out my other topics listed at the bottom of this article! Please subscribe to my articles so you never miss any of the free patterns I find! I publish free patterns for fun sewing projects and free patterns for quilt blocks, along with lots of other sewing tips and tricks! Floral Purse Organizer. Bag Accessories. Married to a bmw Free Sewing Patterns: Bag Accessories 06.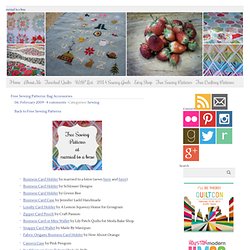 February 2009 · 4 comments · Categories: Sewing. Bags. Married to a bmw Free Sewing Patterns: Bags 06.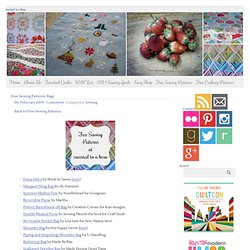 February 2009 · 1 comment · Categories: Sewing Back to Free Sewing Patterns. Runaround Bag Pattern. In this pattern you'll find:step-by-step instructions with full color photos and professional illustrations for making one Runaround Bagfull size print-at-home pattern piecestwo interior pocket optionsmagnetic snap optionincludes License to Sell!!!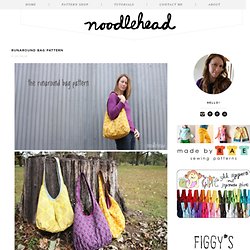 By purchasing this pattern, I also give you (the purchaser of this pattern) the rights to sell finished Runaround bags (on a home based scale). Additional information regarding the license to sell is included in the pattern. Vintage book travel-tech organizer. As you may have figured out from my My Life Scoop posts, I'm a bit of a nut for tech accessories, especially pocket-sized ones.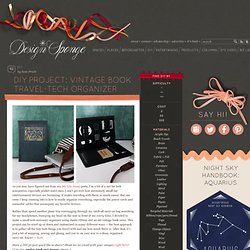 I can't get over how awesomely small our entertainment devices are becoming; it makes traveling with them so much easier. But one issue I keep running into is how to neatly organize everything, especially the power cords and connector cables that accompany my favorite devices. Rather than spend another plane trip rummaging through my catch-all carry-on bag searching for my headphones, bumping my head on the seat in front of me every time, I decided to make a small tech-accessory organizer using elastic ribbon and an old vintage book cover. This project can be sized up or down and customized in many different ways — the best approach is to gather all the tiny tech things you travel with and see how much there is. The Itty Bitty Bag. Zipper Installation for the Itty Bitty Bag.
Pleather clutch bag tutorial. This is a clutch bag I made recently, using pieces of pleather woven together.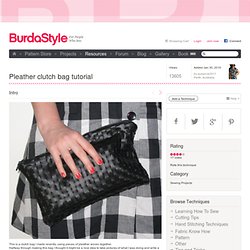 Halfway through making this bag I thought it might be a nice idea to take pictures of what I was doing and write a little tutorial. Of course, this was when I had a half finished bag…hmmm, smart thinking. I anyway wanted to post this tutorial, but I have added some pictures that I made afterwards, so you get the idea. Another warning: I am still a bit clumsy when it comes to sewing and I defenitely don't do things in the right order most of the times. V and Co: sewing with ruffle fabric: the carry all tote. Well first off, THANK YOU so much for the warm acceptance and love of my upcoming book. :) i'm excited. and i'm excited to see some of you in houston in october. make sure to say hello. i'll be the one with big DOE eyes trying to hide the fact that i'm about to puke.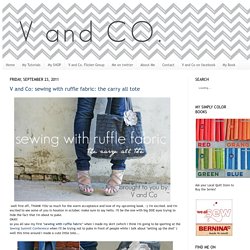 OKAY.so you all saw my first "sewing with ruffle fabric" when i made my skirt (which i think i'm going to be sporting at the Sewing Summit Conference when i'll be trying not to puke in front of people while i talk about "setting up the shot" ) well this time around i made a cute little tote... Fabric Clutch. :::: OutsaPop Trashion recycled style DIY fashion eco sustainable refashion blog ::::: OutsaPop Trashion t-shirt hobo bag tutorial. 10 Free Tote Bag Patterns and Tutorials.
Totes make great handmade gifts.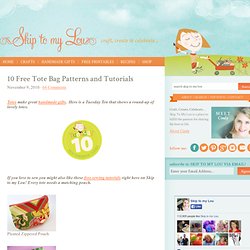 Here is a Tuesday Ten that shows a round-up of lovely totes. If you love to sew you might also like these free sewing tutorials right here on Skip to my Lou! Every tote needs a matching pouch. Upcycle-shirt-to-purse. 45 (plus some) awesome bag tutorials revisited | frugalandthriving.com.au. Bags.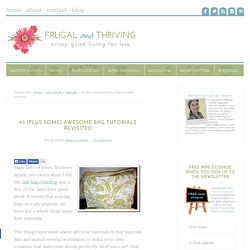 Lots of them. It's been nearly two years since I did the last bag roundup and a few of the links have gone dead. It seems that making bags is really popular, so here are a whole heap more free tutorials. New Green Mama: Reversible Messenger Bag Tutorial. Here's what you will need: Main body -2 pieces of home dec weight fabric or corduroy measuring 14" x 12" (Fabric A) Main body-2 pieces of contrasting home dec weight fabric measuring 14" x 12" (Fabric B) Flap- 1 piece of Fabric A- 12" x 11.5" Renske's minimalist tote bag. A talented seamstress with a mission, Renske Solkesz decided to create her own wardrobe after finding herself frustrated with high fashion prices. When we saw her chic and modern wardrobe creations, we asked if she'd be willing to create and share a fun accessory tutorial with us.
I'm super excited about what she's come up with: an amazing self-closing utilitarian tote! I'm a huge fan of the graphic contrast and the leather and rivet details. Make your own 6-pocket mini pocketbook and stay organized — insatiable need. I'm sure that many of you, like me, are on an eternal quest for organization. I know I'm not alone in finding the Container Store's promise of a perfect, organized life utterly seductive. But here's the thing…I don't really like purging, I love my stuff. Therefore I also love pretty things in which to stash my stuff, so I get to enjoy my fantasy of being organized and contained.
This tutorial is about helping you stay organized, in a quick, easy, and super-cute way. It is a distilled version of the Holland Cox pocketbook, and is a breeze to make. Bag Made From A Felted Jumper :) Mimy bag tutorial. I made this bag for my mother in law who had dropped some hints about how she would like to have a handmade bag for her birthday. This bag has the shape of a tote bag, but I 'pimped' it with a pocket on the outside (closed with flap and wooden buckle) and two simple pockets and a zippered pocket on the inside.
The bag closes with a recessed zipper and has two longer handles, so it can be worn over the shoulder. Technique Materials I used a thick cotton for the outside and a plastic coated cotton for the inside. Because my fabrics were quite thick, I did not have to use interfacing. Black Velvet Clutch Bag | Creation | Cut Out. Pattern. Diy Boho Jean Purse. Guitar Shaped Bag | Version | Cut Out. Anthropologie Inspired Bag.
---