Crochet Projects & Resources
Tutorial: Crocheted Jogless Stripes
A common problem in amigurumi: you want to crochet something striped, but there's this funky looking stairstep "seam" running diagonally where you change colors.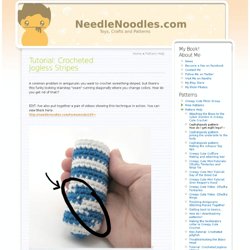 This little crochet trick has been invented and reinvented repeatedly over the years!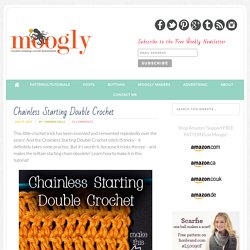 Chainless Starting Double Crochet: Video and Photo Tutorial - moogly
The Crochet Dork (crochet-gifs: Learn to Crochet! Crochet Gif...)
The Invisible Join / Crochet Tutorial on bloglovin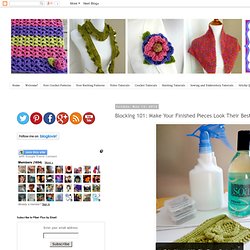 Make Your Finished Pieces Look Their Best
Lay the piece on a towel and press out the excess water between towels. Never, ever wring...this will cause damage to the fibers.
It's Friday, it's Friday!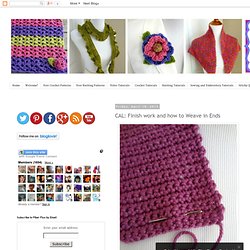 Finish work and how to Weave in Ends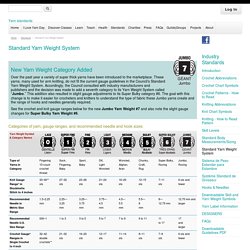 Standard Yarn Weight System |
* GUIDELINES ONLY: The above reflect the most commonly used gauges and needle or hook sizes for specific yarn categories. ** Lace weight yarns are usually knitted or crocheted on larger needles and hooks to create lacy, openwork patterns. Accordingly, a gauge range is difficult to determine.
Most crochet and knitting pattern instructions will provide general sizing information, such as the chest or bust measurements of a completed garment. Many patterns also include detailed schematics or line drawings. These drawings show specific garment measurements (bust/chest, neckline, back, waist, sleeve length, etc.) in all the different pattern sizes. To insure proper fit, always review all of the sizing information provided in a pattern before you begin.
Standard Body Measurements/Sizing |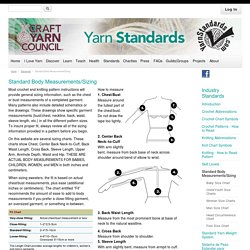 Yarn Labels Explained
Jump to:Parts of a Crochet Hook | Materials | Specialty Hooks | All About Hooks, Part 2 - Hook Sizes All About Hooks, Part 1 - General Info© 2012 Sandra Petit, http://www.crochetcabana.com Buying hooks can be confusing.
Hooks
Welcome to the Craft Yarn Council and Warm Up America!