Crochet Projects & Resources
Chainless Starting Double Crochet: Video and Photo Tutorial. This little crochet trick has been invented and reinvented repeatedly over the years!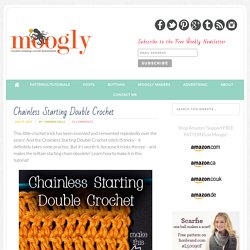 And the Chainless Starting Double Crochet stitch IS tricky – it definitely takes some practice. But it's worth it, because it tricks the eye – and makes the telltale starting chain obsolete! Learn how to make it in this tutorial! The Crochet Dork (crochet-gifs: Learn to Crochet! Crochet Gif...) The Invisible Join / Crochet Tutorial on bloglovin. Make Your Finished Pieces Look Their Best. Lay the piece on a towel and press out the excess water between towels.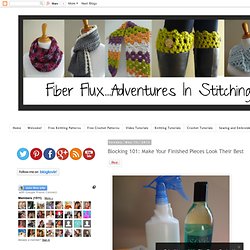 Never, ever wring...this will cause damage to the fibers. Roll the piece up in a towel, and gently squeeze to remove moisture... Now it's time to pin! What I like to do is pin a few all around to get the general shape/measurement, then go back around and place more pins closer together so that you get a nice straight edge. Finish work and how to Weave in Ends. It's Friday, it's Friday!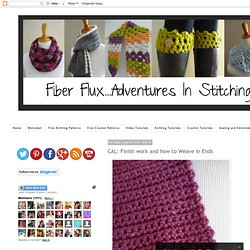 Time to get back to our CAL, I hope you are having as much fun as I am. We have reached the last day of crocheting our cowls together...my how time flies. Next week I will be creating a gallery post on Friday to share with you all of the beautiful photos that have been coming in...so pretty! Standard Yarn Weight System | * GUIDELINES ONLY: The above reflect the most commonly used gauges and needle or hook sizes for specific yarn categories. ** Lace weight yarns are usually knitted or crocheted on larger needles and hooks to create lacy, openwork patterns.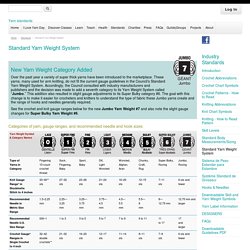 Accordingly, a gauge range is difficult to determine. Standard Body Measurements/Sizing | Most crochet and knitting pattern instructions will provide general sizing information, such as the chest or bust measurements of a completed garment.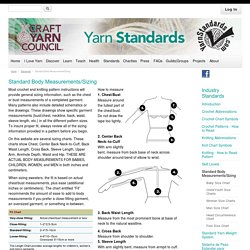 Many patterns also include detailed schematics or line drawings. These drawings show specific garment measurements (bust/chest, neckline, back, waist, sleeve length, etc.) in all the different pattern sizes. To insure proper fit, always review all of the sizing information provided in a pattern before you begin. Yarn Labels Explained.
Crochet Blogs
Hooks. Jump to:Parts of a Crochet Hook | Materials | Specialty Hooks | All About Hooks, Part 2 - Hook Sizes All About Hooks, Part 1 - General Info© 2012 Sandra Petit, Buying hooks can be confusing.
Non-Ami Crochet Projects. Pattern Sites. How Tos. Amigurumi. Welcome to the Craft Yarn Council and Warm Up America!
---