QR Codes
Ways to use QR Codes in the Elementary Classroom and Using Google Docs to Create Them. "Traditional thinking is all about 'what is'.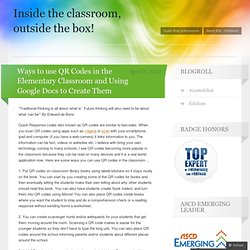 Future thinking will also need to be about what 'can be'" By Edward de Bono Quick Response codes also known as QR codes are similar to barcodes. When you scan QR codes using apps such as i-nigma or scan with your smartphone, ipad and computer (if you have a web camera) it links information to you. 50 QR code resources for the classroom | ZDNet | The Best of QRcode. QR Codes: 10 Mistakes To Avoid When Using Them | a picture is worth a thousand keystrokes.
We are at about the 18 month mark where QR Codes have, and continue to be rapidly adopted as a genuine mobile marketing technology.
Still, despite the explosive uptake in the technology we are noticing that many are still not using it the best ways possible to optimize results. Here are the most common pitfalls and what not to do when implementing QR Codes into your mobile marketing mix: 1. Using QR Codes in your library. Twitter QR Code Bingo. Click Here to access my template.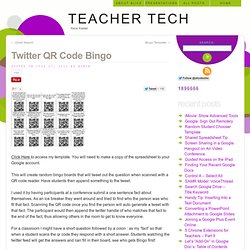 You will need to make a copy of the spreadsheet to your Google account. This will create random bingo boards that will tweet out the question when scanned with a QR code reader. Have students then append something to the tweet. I used it by having participants at a conference submit a one sentence fact about themselves. As an ice breaker they went around and tried to find who the person was who fit that fact. Creating AUDIO QR codes. I wish we had an app which would allow us to record voice , host it, and automatically generate a QR CODE.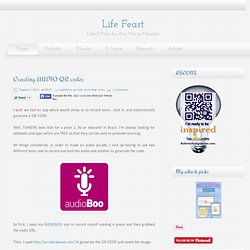 Well, TOKKERS does that for a price :(. As an educator in Brazil, I'm always looking for webtools and apps which are FREE so that they can be used to promote learning. All things considered, in order to make an audio qrcode, I end up having to use two different tools: one to record and host the audio and another to generate the code. QR Codes - the mystery solved. We see these little codes EVERYWHERE and many people still don't understand what they are for.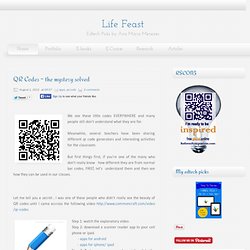 Meanwhile, several teachers have been sharing different qr code generators and interesting activities for the classroom. But first things first, if you're one of the many who don't really know how different they are from normal bar codes, FIRST, let's understand them and then see how they can be used in our classes. Let me tell you a secret , I was one of these people who didn't really see the beauty of QR codes until I came accross the following video. Free Technology for Teachers: Decode QR Codes Without a Camera. Coolcatteacher: QR Code Classroom implemen...
Web20classroom: Love how our Career Center... Revolutionize Vocabulary Word Walls with QR Codes. Mission: To create a more interactive and helpful word wall for my students.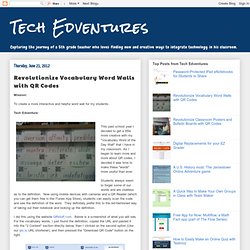 Tech Edventure: More Fun And Resources With QR Codes. (So this is post #500.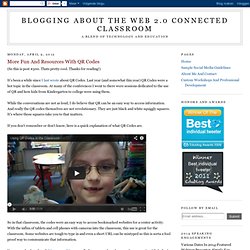 Thats pretty cool. Thanks for reading!) It's been a while since I last wrote about QR Codes. Last year (and somewhat this year) QR Codes were a hot topic in the classroom. QR Code Generator: QR Stuff Free Online QR Code Creator And Encoder For T-Shirts, Business Cards & Stickers. Sharing with QR Codes. My students spent a few weeks on Gothic Literature a bit ago and I was very impressed with some of the stories the students created on their own.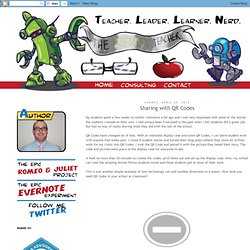 I had always been frustrated in the past when I felt students did a great job, but had no way of really sharing what they did with the rest of the school. QR Codes have changed all of that. With an available display case and some QR Codes, I can share student work with anyone that walks past. I chose 8 student stories and turned their blog posts (where they store all written work for my class) into QR Codes. I took the QR Code and paired it with the picture they based their story. 50 QR code resources for the classroom. As mobile learning and technology is more readily integrated within classroom settings, QR codes can be used as an interesting method to capture a student's attention and make lesson material more interactive.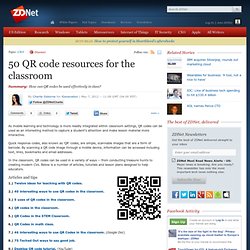 Quick response codes, also known as 'QR' codes, are simple, scannable images that are a form of barcode. By scanning a QR code image through a mobile device, information can be accessed including text, links, bookmarks and email addresses. In the classroom, QR codes can be used in a variety of ways -- from conducting treasure hunts to creating modern CVs.
Teacher Appreciation - Tip #6: Create a QR Code Scavenger Hunt. Get tips and ideas every day in May for Teacher Appreciation Month on how you can thank your favorite teachers -- and support them throughout the year!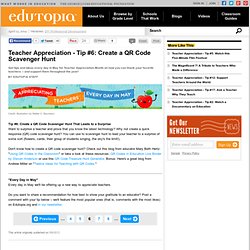 Credit: Illustration by Walter C. Baumann. QR Code Quest Scavenger Hunt- Part Deux! I updated & improved my QR Code Quest Scavenger Hunt lesson I previously blogged about this year & used it again with my AWEsome ESOL kids & 6th graders. I wanted to share those changes with you because it seems as if you like QR codes! Of my top 5 most viewed blog posts 3 have to do with QR codes (and yes, you know I'm barmy for 'em!) In fact, the first posting about this lesson has had, as of today, 17+K hits! WOWIE!
How to set up a QR Code Treasure Hunt. 1. The Background For several lessons, the students had been slowly piecing together the Mystery of the Franklin Expedition in History lessons. Through pictures, snippets of evidence, and a roleplay exercise, the students formulated their own questions for investigation, framed provisional answers, and then reframed their assumptions as more evidence was progressively provided to them.
This 'History Mystery' format is explained in more detail here and is designed to encourage students to help students find problems as well as to solve them. At the end of the research phase, students were required to produce an essay introducing the mystery and answering the five key questions they settled upon as being the most important to solve. Siemens STEM - QR Codes in the STEM Classroom.
QR Codes in the STEM Classroom Welcome to an amazing post that will have you using QR codes in your STEM classroom in no time! This post's author Melanie Wiscount, is an amazing educator from the state of Pennsylvania. She is also a past STEM Institute Fellow and is active across the state of Pennsylvania and the nation in advocating STEM, technology integration, and 21st century skills. Melanie has provided information that you will want to make part of your STEM program and share with other educators.
QR-Code Generator. 46 Interesting Ways to Use QR Codes to Support Learning.
---