EdTech
Edutech for Teachers. Friday Five: 5 Fantastic Apps for the Common Core. The Common Core State Standards are here.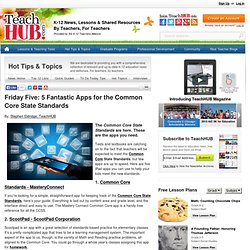 These are the apps you need. Tests and textbooks are catching on to the fact that teachers will be expected to meet the Common Core State Standards, but few apps are up to speed. Smore - Design beautiful online flyers and publish instantly. OLE™ Community - Online Learning Exchange. A Simple Tool for Cleaning Up Your YouTube Viewing Experience. Popcorn Maker. It's Time: Create Smart Policies to Support Student Tech Use. Technology has become a seamless part of students' lives in and out of the classroom, and schools must find ways to integrate it.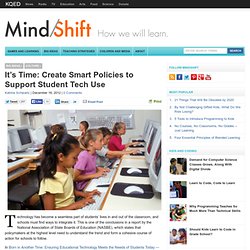 This is one of the conclusions in a report by the National Association of State Boards of Education (NASBE), which states that policymakers at the highest level need to understand the trend and form a cohesive course of action for schools to follow. In Born in Another Time: Ensuring Educational Technology Meets the Needs of Students Today — And Tomorrow the NASBE focuses on the importance of understanding students' needs, ensuring that teachers are prepared to meet those needs, and shoring up the technical infrastructure that will allow schools to participate. "Our kids are digitally savvy when it comes to gaming, texting, and social networking, but when it comes to information, even the best students can be digital doofuses."
TagMyDoc: Share Documents With QR Codes. The very mention of QR codes will probably incite groans even in the least cynical of technophiles.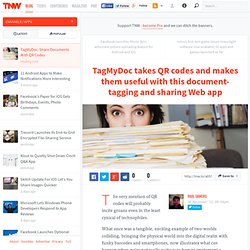 What once was a tangible, exciting example of two-worlds colliding, bringing the physical world into the digital realm with funky barcodes and smartphones, now illustrates what can happen when we're not really quite sure how to implement a fledgling technology. Football teams with QR codes on their shirts? Gmail+1 = Student Email Addresses to Register for Online Services. The Gmail+1"hack" isn't a new trick and I can't remember when I first tried it, but it still works and it still provides a solution to a problem that a lot of teachers run into when they want their students to use a new web tool.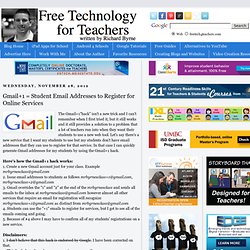 Let's say there's a new service that I want my students to use but my students don't have email addresses that they can use to register for that service. In that case I can quickly generate Gmail addresses for my students by using the Gmail+1 hack. Here's how the Gmail+1 hack works: 1. Create a new Gmail account just for your class. Example mrbyrnesclass@gmail.com 2. Turn Pictures Into Stories With Fotobabble. This morning I shared an old post about Fotobabble on the Free Technology for Teachers Facebook page.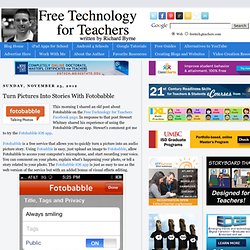 In response to that post Stewart Whitney shared his experience of using the Fotobabble iPhone app. Stewart's comment got me to try the Fotobabble iOS app. Fotobabble is a free service that allows you to quickly turn a picture into an audio picture story. Workarounds for Clipping Web Pages into Evernote on iOS. Cyberkidz preschool games for toddlers - at home or at Kindergarten. Great cybersafety site from the FBI for Teachers & Students.
With school back in session, one topic that's on many class curriculums around the nation is cyber safety.
After all, it's a hyper-connected world—with texting, social networking, e-mail, online gaming, chat, music downloading, web surfing, and other forms of wired and wireless communication now a regular part of children's lives. The FBI has a new program that can help. Today, as part of its longstanding crime prevention and public outreach efforts, the FBI is announcing a free web-based initiative designed to help teachers educate students about cyber safety. It's called the FBI-SOS (Safe Online Surfing) Internet Challenge—and it was developed with the assistance of the National Center for Missing & Exploited Children and with the input of teachers and schools.
Jumpshare. Systems Manager. How does Systems Manager work?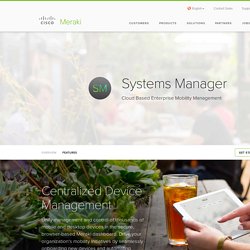 Systems Manager lets you configure, monitor, and support devices in your organization. 100% cloud based, Systems Manager eliminates costly, complex management appliances and software. To get started, simply create a Cisco Meraki dashboard account and enroll your devices in Systems Manager. These devices will securely connect to the Cisco Meraki cloud, enabling you to deploy applications, set restrictions, monitor, and diagnose your devices through a simple web application. Apps - Muzy. JAM with Chrome. RealtimeBoard. About ABC Splash. ABC Splash brings you the best Australian content from across ABC TV and Radio plus high-quality video from around the world. a new world-class education website for Australia packed with hundreds of videos, audio clips and games watch and play at home and in school See volcanos erupt and microbats fly.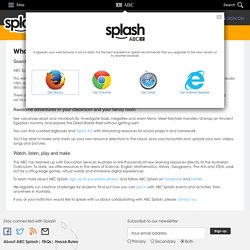 USB Flash Diskette. I made this USB flash diskette a couple of months ago after salvaging floppy disks for garbage from our school's computer laboratory.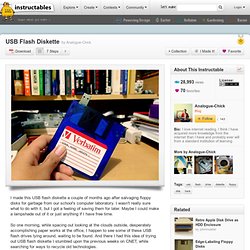 I wasn't really sure what to do with it, but I got a feeling of saving them for later. Maybe I could make a lampshade out of it or just anything if I have free time. Unused Words - Discover a new word every day. Repetition is Key! Working Towards Multiple Exposures of New Vocabulary | LessonWriter Blog. Anyone over 25 can surely remember making vocabulary flash cards, writing words over and over to learn the spelling, and generating example sentences to try and cement the meaning of new words.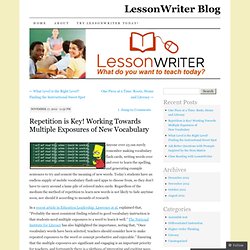 Today's students have an endless supply of mobile vocabulary flash card apps to choose from, so they don't have to carry around a lame pile of colored index cards. Regardless of the medium the method of repetition to learn new words is not likely to fade anytime soon, nor should it according to mounds of research. TrueTube. Home - GameSalad. Geocube - The world of Geography at your fingertips. Inkle » inklewriter. Write as you play The inklewriter lets you write as you play, branching the story with choices, and then linking those branches back together again. It keeps track of which paths you've finished, and which still need to be written. There's no set-up, no programming, no drawing diagrams – so there's nothing between you and the empty page. Omeka. 7 Great YouTube Channels for Science. Below are some great YouTube channels for science. If you are a science teacher and you need some useful resources where you can search for and find educational science videos, then the list below would be of great help.
Some of the channels listed below have thousands of subscribers featuring some of the best science videos online. This is one of the gifted science teachers who shares highly educational videos showing students and learners how to integrate science into day to day life. Google Documents and Common Core Standards. As I mentioned in my previous post, today I spent the day working with teachers on using Google apps to address some Common Core standards. One of the things that I love about working with other teachers is the opportunity to learn from other teachers.
During my afternoon workshop I talked with a Language Arts teacher who uses the commenting features in Google Docs and Google Presentations to have students identify and label bias and propaganda in examples that he shares with them. Some technology schools should stop buying TODAY. For about as long as I can remember I have carried a Swiss Army knife in my pocket with my change.
It has a small blade less than an inch and a half long, a screwdriver blade/file, a small pair of scissors, a toothpick, and tweezers. My understanding is that actual members of the Swiss Army can use such a knife to kill an enemy in a dozen different ways, but I use mine primarily for opening boxes, trimming my finger nails, and cutting tags off things. None of the tools is as good as having a dedicated tool. The scissors are small; the screwdriver is hard to use; the tweezers are flimsy. Infinity Ring: Read the books and play the games. Today our guest post comes from Joy Burlak, Education Resource Centre Manager at Sunbury Downs College. Joy explains how the Infinity Ring series of books and games is taking her school library by storm. A poster came across my desk from Scholastic, promoting 'Infinity Ring' "Fix the past. Save the future. Read the book. Follow the guide. InstaBlogg - Instant blog posts. Empressr - The Best Online Rich Media Presentation Application.
TheLearnia - Learn with your friends. Bibliography Templates for Google Documents. Ken-a-vision. Fraudulant Fabrications. NounProject. Do the Two Step to Protect Your Google Drive, Dropbox, and Box Files. 360 Degree Aerial Panorama | 3D Virtual Tours Around the World | Photos of the Most Interesting Places on the Earth | AirPano.com. Infuselearning | Empowering The BYOD REVOLUTION. Edcanvas. Historypin | Home. 7 Web 2.0 Tools for Students. Sketchometry. Climate Science Info Zone - Home. Login to your Account. Cramberry: Create & study flash cards online. Watch free documentaries online | Chockadoc.com. Activities - Stop Frame Animator. Home. Start a Computer Programming Club at Your School - Digital Education. PicView. Construct 2 the HTML5 Game Maker - Scirra.com. Welcome to RoboMind.net, the new way to learn programming. Highlight Web Pages, Share Your Notes | Annotary. Get 25GB of Box Storage with Fetchnotes.
Video - Breaking News Videos from CNN.com. SoundCloud - Share Your Sounds. Have Fun Teaching. Justbeamit.com. DNA of a 21st Century Educator (v2) Mobento. SchoolNotes 2.0. ClassJump.com - free websites for teachers. Update Your Browser. Online annotation tool. Sketch and doodle your brains out. Dictation - Online Speech Recognition. 30 in 60 @ Blackfoot ETC 2012. One way to grow a networked teacher, is to grow a networked learner #pln " Cat's Pyjamas. 65 Years Ago a UFO Probably Maybe Possibly Crashed on Earth at Roswell.
Shelfster - Capture information from everywhere and create useful documents. ScootPad :: Practice. Learn. Succeed! Pastelink.me | the easiest way to share files online. Dictionary definitions you can understand - YourDictionary. Dairy Interactive - Virtual Tour - Videos. A Simple Guide to All That Teachers Need to Know about Digital Citizenship.
---